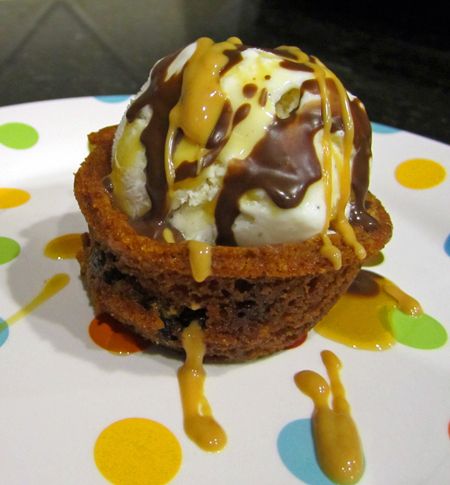 Have you ever prepared a chocolate chip cookie recipe that came out as flat as a pancake? I'm talking so thin, when you hold it up you can see patches of light coming through. I have recently and I was quite disappointed because I thought they were going to be nice and soft and chewy. Instead, they came out wafer thin. I didn't even bother taking pictures of them. We ate about 3 or 4 of them before throwing away the whole lot of them. The problem was, when I prepared the recipe, I only baked half of it. The rest I stuffed into a freezer bag and popped in the freezer for another night when we had the craving for fresh, warm chocolate chip cookies. Since the cookies weren't that great, the bag just sat there in the freezer taking up room for a few weeks. Until I had an idea...
What if I baked them in a cupcake tin? Maybe the shape of the cupcake tin would stop them from spreading out all over the cookie sheet. It would retain its shape and stay a little thicker. Right?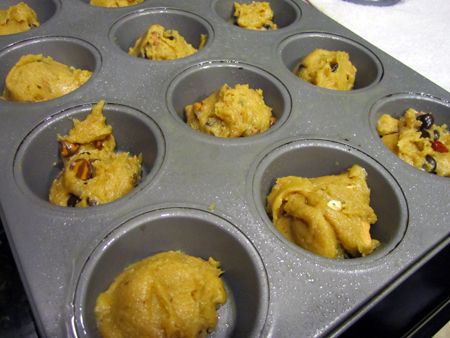 Right. It turned out to be quite a nice little dessert creation.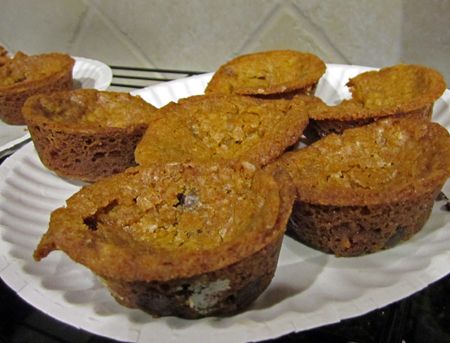 As they cooled, they sank a little in the middle - making a perfect cookie cup for a scoop of ice cream!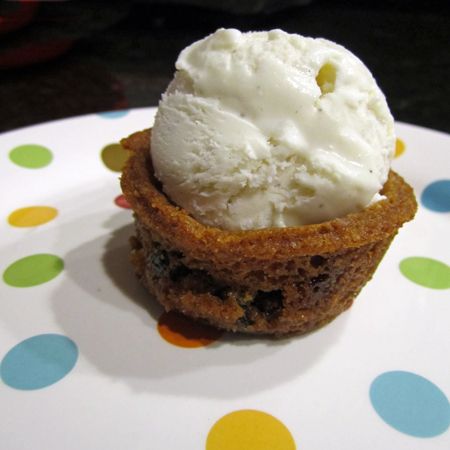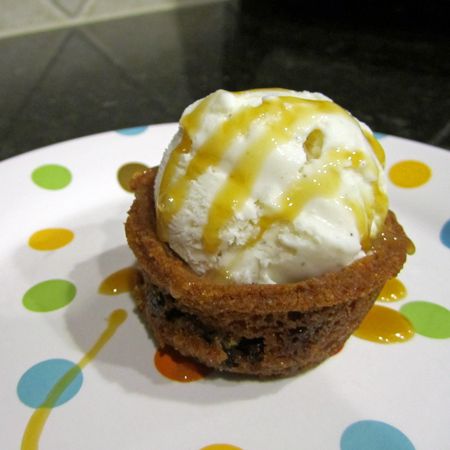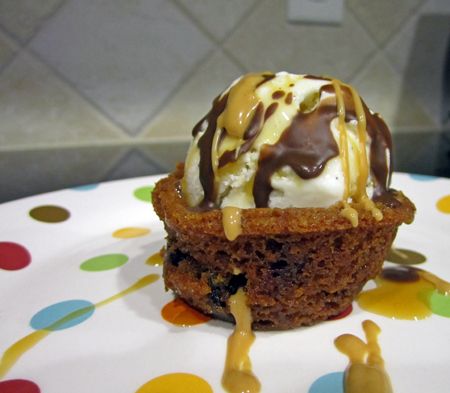 For the cookie recipe, I used
Vanilla Pudding Chocolate Chip Cookies
from the Toronto Star (via
The Canadian Baker
). The reviews of the recipe were great, so I was expecting a really good cookie. Maybe I did something wrong, because mine were not so. I'll have to give this recipe another shot, but I have another Chocolate Chip Cookie recipe using Vanilla Pudding that I want to try too!
Vanilla Pudding Chocolate Chip Cookies
from
The Canadian Baker
Ingredients
:
1 cup unsalted butter, melted & cooled
1 cup lightly packed light brown sugar
1/2 cup granulated sugar
102 g box instant vanilla pudding mix (or if you have a larger box, weigh it out on a scale)
2 tbsp cold
2 large eggs, room temperature
2 tsp pure vanilla extract
2 cups all-purpose flour
1 tsp each: baking powder, baking soda
2 cups milk chocolate chips (I went crazy with my Chips and used Chocolate Rocks, Hershey's Special Dark Chips & Toffee Bits)
Preheat to 350. In the bowl of an electric mixer, beat the butter and sugars until creamy. Stir in pudding mix and milk. Add eggs and vanilla. Next, add the flour, baking powder and soda. Stir until batter is smooth. Stir in your choice of chips.
Drop heaping tablespoons of dough on non-stick cookie sheets. Bake about 12 minutes or until edges are lightly browned. Cool 10 minutes on cookie sheet. Transfer cookies to wire rack to cool completely.