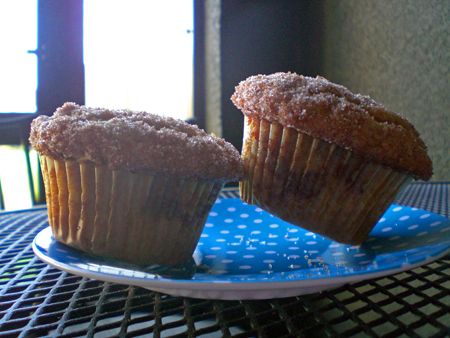 I don't normally drastically alter a recipe, especially not the first time I'm using it. Sometimes I'll make fairly minor substitutions or combine parts from different recipes, but I don't generally change a recipe all that much the first time around. This weekend for
Sweet Melissa Sundays
, however, I seem to have changed that a little bit.. partially on purpose and partially by accident. Chaya of
Sweet & Savory
, our host this week, chose Orange Blueberry Muffins with Pecan Crumble from the Sweet Melissa book. While I am an enormous blueberry fan (there was a long period of time where I literally ate them every single day), the fiance is
not
, and on top of that, I didn't have enough time to go get blueberries. Plus, neither of us are really in to Orange in our sweets. But I really wanted to make more of Melissa's muffins! We loveddd the Pear Cranberry Muffins with Gingersnap Crumble, and unfortunately I didn't have a chance to make either the Fresh Peach Muffins or the Carmalized Onion, Sage, and Chedder Muffin when they came up (both of which I had really wanted to make!).
Rather than forgo SMS this week, I changed up the recipe a bit so that it was something I already had all the ingredients for and that the fiance would enjoy. I started with Melissa's Sweet Muffin base recipe (p.5-6). After reading everyone's notes on the SMS site, I heeded their advice and cut back on the dry ingredients and upped the liquid a wee bit. I halved the recipe, so I used 1 1/4 C Flour and 1/4 C heavy cream and 1/4 C milk. Also, I added 3 Tablespoons of
Big Train Vanilla Chai
: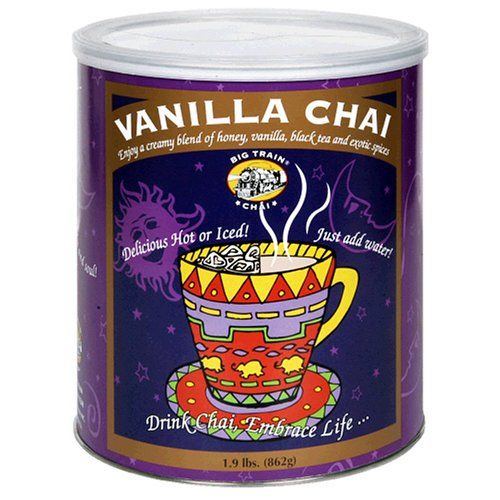 I had planned on making the Pecan Crumble (everyone on the boards raved about them!). But it turns out I had used all of my pecans up and had none left. So, I just went with a cinnamon+brown sugar+granulated sugar topping.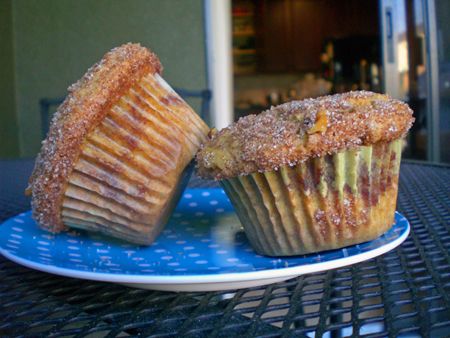 The end result was great. A nice light breakfast muffin. The chai flavor was subtle but there - the spice was not overpowering at all. Cinnamon-sugar sprinkled on top added a nice crunch. And I think the more liquid, less flour change to the recipe was necessary. These muffins came out a little crumbly, but not too heavy or dry. This recipe is definitely a keeper.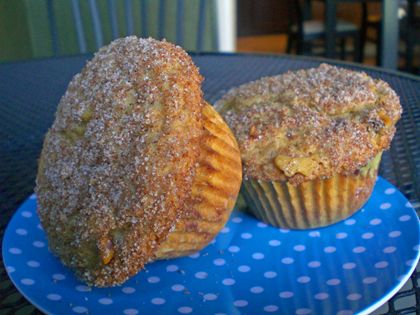 Check out Chaya's blog for the recipe for
Orange Blueberry Muffins with Pecan Crumble
! And see the
SMS blogroll
to see how the recipe came out for everyone else (maybe theirs actually had orange, blueberry, and pecan like it was supposed to!).