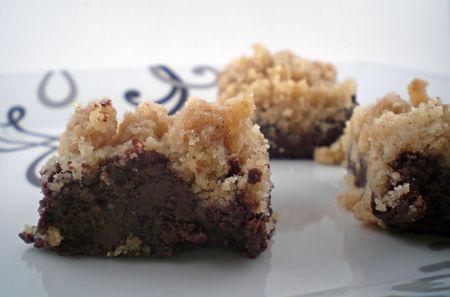 I have really been enjoying this small break between classes. There's only a few weeks from the time Spring semester ends and Summer A semester begins, but I have tried to get the most out of this short time. I've been reading (leisure reading, not required class reading-imagine that!), lots of wedding planning, laying in the Florida sun, kayaking, wave runnering, and baking... Sadly, Summer A begins on Monday (already????? ARG) but I just keep telling myself - its only 8 weeks long! And then I'll be DONE WITH CLASSES for my masters degree. All I will have left after that is a full-time, one semester long internship and I will graduate fully certified to teach art. :)
So during this brief break from school work, I've actually been able to bake more often than just once a week which is something that is nearly impossible during the semester. Any break time I get during the semester, I either get a head start on upcoming assignments, or I take a moment to relax. But since I've been able to bake more, I keep getting Baker's Block. Is that a thing, baker's block? It's when I want to bake, but can't think of what to make! I find that I often fall back on a few different desserts. Blondies and Brownies are near the top of that list. Sure, I'll try out new recipes, but its usually a new recipe for a brownie or blondie. I think this is for a few reasons. 1.) Everyone loves them 2.) They pair oh-so-well with ice cream and 3.) They're adaptable - use a different recipe, change up the mix-ins, and you can have a new take on a familiar, old-favorite. But while searching the other day through my oodles and oodles of Bookmarked "Make This!" links, I found something that sounded a little different than just using peanut butter chips instead of chocolate chips. Imagine what would happen if a Fudgy Brownie (so fudgy its on the border of being fudge and not a brownie at all) and Crumb Cake. What do you get? A crazy delicious hybrid:
Crumb Cake Brownies
. I got the idea from
Donna of My Tasty Treasures
, who got the recipe from Womans Day Magazine Holiday Cookies Jan 2009. Thanks for sharing another great recipe, Donna! I took the idea for this recipe - a bottom brownie layer topped with Crumb Cake or Coffee Cake topping. In the original from Womans Day, it was a Brownie Cake, but I subbed in a regular ol' brownie base to make it even fudgier and indulgent-er. YU-UMS.
For my brownie base, I chose
Max Brenner's Brownie recipe
, via Anna at Cookie Madness (who did all the work for me and scaled it down!) For the topping, I chose my favorite Crumb Cake topping from
Epicurious
. For me, it yielded 16 super rich Crumb Cake Brownies.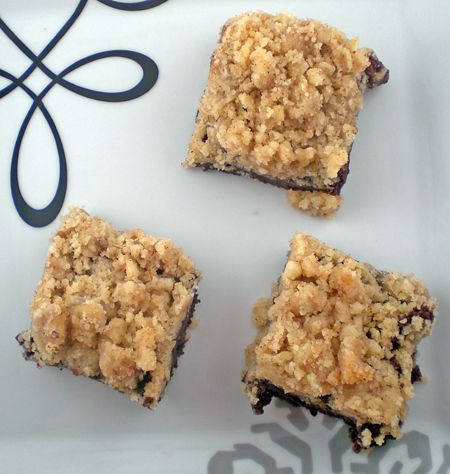 Small Batch of Max Brenner Brownies
, adapted from
Cookie Madness
Ingredients
:
1/3 cup unsalted butter
1/3 cup heavy cream
10 ½ ounces dark chocolate (approx. 70%), roughly chopped
1 1/4 teaspoon vanilla extract
2 large eggs, room temperature
1/2 cup granulated sugar
1/4 generous teaspoon sea salt
1/3 cup all-purpose flour
1 batch of Crumb Topping
Preheat to 350° and line a 8" square pan with parchment. Put the chopped chocolate in a medium glass mixing bowl.
Set the butter and cream over medium heat and bring to a boil. When it has reached a boil, pour on to the chocolate and let it sit to allow the chocolate to soften and melt. After a minute or two, stir until chocolate is completely melted and mixture is smooth. Set aside to cool for about 10 minutes (now is a good time to prepare your crumb topping!).
Add vanilla to the slightly cooled chocolate mixture. Whisk in eggs, one at a time. Whisk in sugar and salt.
Add the flour to the chocolate mixture. Stir gently until just combined, don't overmix! Crumble the crumb topping evenly over the brownie batter.
Crumb Topping
, adapted from
Epicurious's Jam Crumb Cake recipe
Ingredients
:
6 TBL unsalted butter, melted and allowed to cool slightly
1/4 cup packed light brown sugar
1/4 cup granulated sugar
3/4 teaspoon cinnamon
1/8 teaspoon sea salt
1 cup plus 2 tablespoons all-purpose flour
Whisk together melted butter, both sugars, cinnamon, and salt until smooth. Stir in flour, then blend and poke with a fork until it becomes crumbs. Sprinkle crumbs over top of brownie batter. Bake 25-30 minutes, or until a toothpick inserted in the center comes out almost clean. Cool in the pan on a cooling rack. Remove from pan before cutting.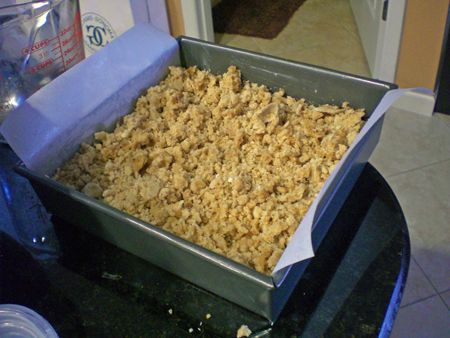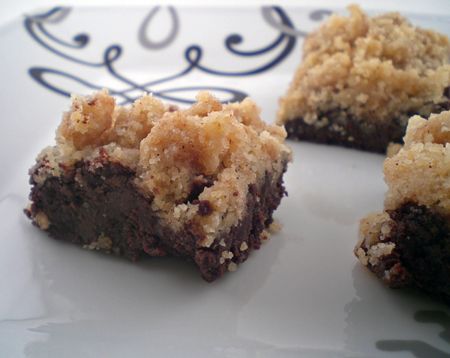 These came out really, really good. The brownie base is SUPER rich, and SO fudgy that it is on the verge of being called fudge. It is very soft - one of the comments I got from tasters was that it has a consistency totally different from a regular brownie. In fact, I think the crumbliness of the Crumb Cake Topping was a necessary addition to balance out the texture of the brownies. A definite would-make-again!