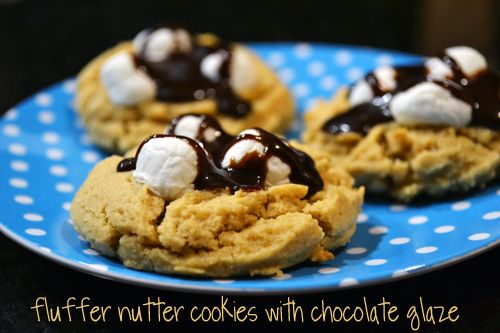 Growing up I enjoyed my share of Fluffernutter sandwiches. It was a great way to eat "lunch" while simultaneously having dessert. As an adult my palette has advanced far far beyond fluffernutters, because now I add Nutella to my peanut butter and fluff sandwiches :) Ok, so maybe you're never too old for a fluffernutter. These cookies have everything that makes a fluffernutter a fluffernutter: Marshmallows and Peanut Butter, with the addition of a rich chocolate drizzle. The recipe for "Fluffernutter Chocolate Gobs" comes from Bakergirl. These were so good, I made them twice in 3 days. Yikes.
Fluffernutter Cookies with Chocolate Glaze from Bakergirl
makes about 24 cookies
Ingredients for the Cookies:
1/2 cup unsalted butter, softened
3/4 cup creamy peanut butter (I used Skippy)
1/2 cup granulated sugar
1/2 cup packed brown sugar
1 egg, room temperature
1 teaspoon pure vanilla extract
3/4 teaspoon baking soda
1/2 teaspoon salt
1 3/4 cups all-purpose flour
Mini marshmallows
Ingredients for the Chocolate Glaze:
3 tablespoons unsalted butter
2 tablespoons cocoa powder
1/2 cup powdered sugar
1/2 teaspoon vanilla extract
1-2 tablespoons milk, depending on how your desired consistency
Preheat oven to 350°F. Combine flour, baking soda, and salt in a bowl and set aside.

In the bowl of a stand mixer, beat butter, peanut butter, granulated sugar, and brown sugar for 2 minutes until light and fluffy. Add in egg and vanilla.

Gradually add in flour mixture on low speed and mix until it is just incorporated. Chill dough for 15 minutes in the refrigerator.

Using a 1.5 Tablespoons cookie scoop, place on a parchment lined cooking sheet and bake for 7-9 minutes, until edges are very lightly browned. Remove from oven and pat down the cookies with a spatula to flatten them slightly. Place 5 or 6 mini marshmallows on top of each cookie and return to the oven for 2-3 minutes, until marshmallows are melted. Let cool completely.

When cooled completely, make the glaze by melting the butter in a small saucepan over medium heat. Stir in the cocoa powder and mix until smooth. Remove from heat and stir in vanilla.

Slowly whisk in the powdered sugar, gradually adding the milk as needed to get it the desired consistency (you want it thin enough to drizzle, but thick enough that it won't run all over- a little thicker than molasses). Whisk until no lumps remain. Spoon a small amount over the top of each cookie. Glaze with set slightly upon cooling.