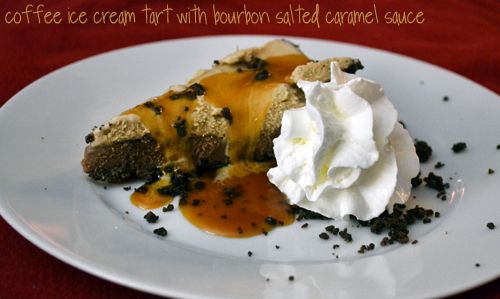 The
Club: BAKED
bakers are at it again. This time the recipe we're all making (making, since no baking is required!) is
Mississippi Mud Pie
aka
Coffee Ice Cream Tart
. It involves a homemade chocolate cookie crust with a bourbon chocolate fudge filling topped with coffee ice cream.
The original recipe tops the whole thing off with a chocolate topping, but I thought there was enough chocolate already so I made a
Bourbon Salted Caramel Sauce
(Good decision! Recipe found here). Besides the caramel sauce, the only other adjustment I made to the original recipe was to omit the nuts and use chocolate animal crackers instead of chocolate wafer cookies (like a few others, I couldn't find these at any local stores either!). I loved the crust that resulted - it reminded me of the chocolate crunchies found in store-bought ice cream cakes... and who doesn't love those?? The whole pie was reminiscent of an Ice-Cream-Cake version of one of those frozen blended coffee drinks... yum.
We really enjoyed this dessert, especially with the Bourbon Salted Caramel Sauce. The saltiness provided a nice counterpart to all of the sweetness. But hands down our favorite part of the cake was the crunchy-like cookie crust. Be sure to visit the Club: BAKED site to see how this pie came out for the other bakers. Stop by Jess' blog, The Saucy Kitchen, for the recipe. Thanks for hosting, Jess!