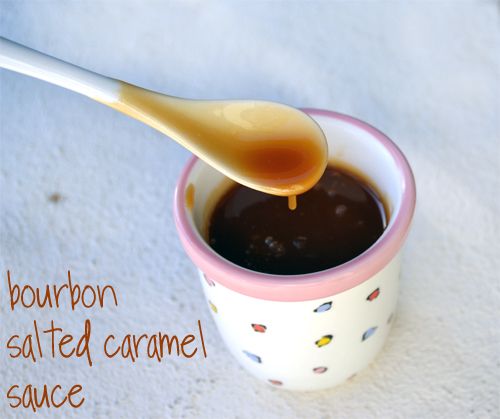 The salted caramel sauce that topped the Coffee Ice Cream tart I made recently became the star of that dish. Its taste fell somewhere in between butterscotch and caramel and with the addition of sea salt and bourbon, it had such a unique, grown-up taste. It was great on the coffee ice cream tart... but I have a feeling it'd be great on nearly anything. It can be stored in the fridge, and then microwaved and served warm.
Homemade Bourbon Salted Caramel Sauce, adapted from Lick My Spoon
Ingredients:
6 tablespoons unsalted butter
1/2 cup heavy cream
1/4 cup water
1 1/2 teaspoons diamond crystal fine sea salt
1 1/2 tablespoons Kentucky bourbon
Heat the sugar and water in a medium saucepan on medium-high heat and stir occasionally until the sugar dissolves. Stop stirring and allow the mixture to come to a boil, swirling the pan occasionally.
When the mixture becomes dark amber, add the butter. The mixture will foam up, whisk until the butter has melted. Once the butter has melted, remove the pan from the heat.
Add the heavy cream and whisk to incorporate. Add the sea salt and bourbon and stir until smooth.
Allow to cool in the pan for a few minutes, then pour into a glass container and let cool to room temperature. Don't worry if the sauce seems too thin at first, it will thicken as it cools. Store in the refrigerator for up to 2 weeks. Warm in the microwave before serving.