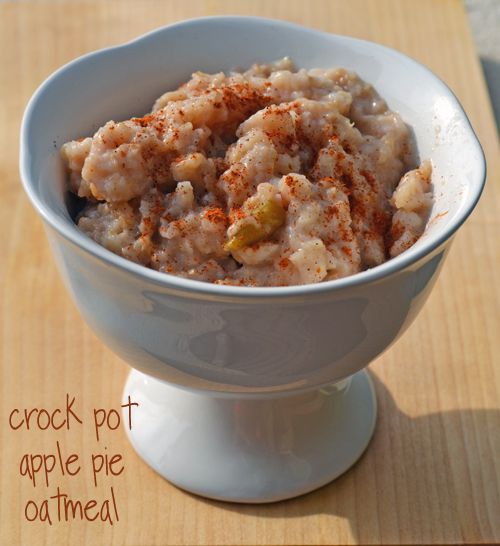 I know I'm a bit late, but Happy New Year! What are your goals for 2012? One thing I'm trying to do this year is to eat a more nutritious breakfast. It is so easy to grab a pre-packaged granola bar when leaving for work, but with just a little preparation, you can have individual servings of a healthier breakfast ready quick in the morning.
This Apple Pie Oatmeal is made in a crock pot and is frozen in 1/2 cup servings. Stick 1 serving in the refrigerator the night before, and it should be thawed by morning. What's better is that there is less than 1 teaspoon of sugar per serving, and it is full of flavor from the granny smith apples and cinnamon. All I do is add 2 tablespoons of low fat milk, microwave, and add a sprinkling of cinnamon and spoonable Truvia and I'm good until lunch. I'm going to try this recipe again soon using all Truvia and no sugar. But for now this is a good start!
Crock Pot Apple Pie Oatmeal adapted from Kalyn's Kitchen
Ingredients:
3 medium Granny Smith apples
1 tsp fine sea salt (this is my absolute favorite!)
6 cups water (depending on how thick you like your oatmeal)
3 cup rolled old fashioned oats
milk and spoonable Truvia for serving
Roughly chop apples into ¼ to ½ inch pieces, leaving the skin on.
Spray the slow cooker lightly with nonstick spray. Then add apples, brown sugar, cinnamon, salt, and water. Stir together and cook on high for 2 hours.
Add oatmeal and stir ingredients together, then continue to cook on high for an additional 1 to 1 ½ hours, depending on how soft you'd like the finished oatmeal to be.
Allow to cool, and then scoop ½ cup servings into silicone muffin tins. Freeze, then remove from the muffin tin and store in freezer in a freezer bag.
To serve, allow to thaw and then microwave with 2 Tablespoons of non fat milk. Stir until you reach a normal oatmeal consistency. Sprinkle with cinnamon and Truvia.
When the oatmeal is done cooking, I scoop 1/2 cup portions into a silicone muffin pan and freeze.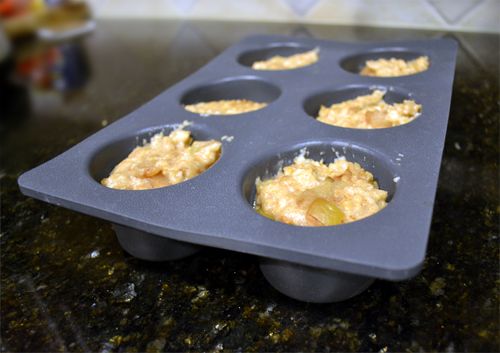 When frozen, remove the oatmeal pods from their muffin pan and store in zippy bags.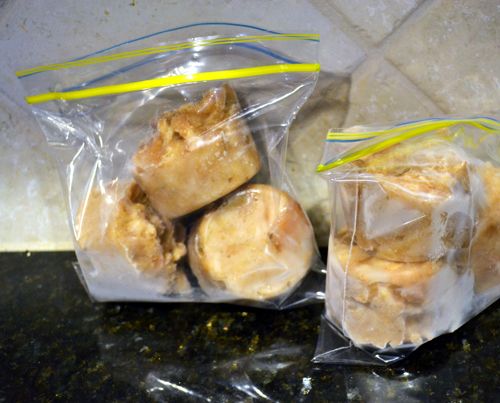 Then, just add a little milk, microwave and stir, and serve with cinnamon and Truvia. Voila!