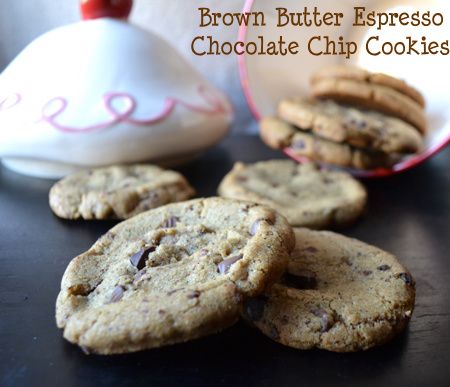 In my opinion, a chewy, soft chocolate chip cookie beats a crunchy chocolate chip cookie any day. I love dry, crumbly cookies like shortbread, but when it comes to Chocolate Chip Cookies, they just need to be tender.
When I first made these cookies, I baked up about half of the batter, and froze the rest. The first batch came out over-baked them so they were too crunchy for my liking. But the delicious toffee-like smell of the browned butter and the coffee aroma from the espresso powder was too tempting, and I had to try again for a soft, chewy cookie. The second batch I baked up were made straight from frozen. I adjusted the baking time and this time they came out perfect. They had a slight crunch to the exterior, but gave way to a perfect, soft and chewy chocolate chip cookie center. The browned butter adds a nice complex flavor to these cookies, but the espresso flavor is too subtle to really notice in the final product... but that didn't stop us from quickly eating up the whole batch.
Brown Butter Espresso Chocolate Chip Cookies adapted from Healthy. Delicious.
Ingredients:
1 stick unsalted butter
1 Tbsp espresso powder
1 tablespoon water
2 cups all purpose flour
1/2 tsp baking soda
1 pinch fine sea salt
1 cup light brown sugar
1/2 cup granulated sugar
1/2 tsp pure vanilla extract
1 large egg, room temp
3/4 cup chocolate chips/chunks: (I used half Milk Chocolate Chips, and half chunks I created by chopping up a block of Callebaut dark chocolate)
Directions:
In a large bowl, combine flour, baking soda and salt. Set aside.
Place butter in a small saucepan on medium heat. Stir occasionally until melted. Continue cooking until the butter foams up a bit at the top and then turns a golden brown color - at this point it will have a slightly nutty aroma (around 5 minutes). Remove from heat and allow to cool slightly.
In a small bowl, combine the butter, sugars, and vanilla. Beat in the egg.
In a small glass measuring cup, microwave the 1 Tbsp water until it boils (only takes a very short time!). Then, add the espresso powder and stir. Add to the butter mixture.
Gently mix the wet ingredients into the dry ingredients. Add the chocolate chips. [(My dough was very dry. I pressed it together into a log (about 2 - 2.5 inches in diamter), rolled it in plastic wrap and put it in the fridge for about 30 min to an hour. After chilling, it was stiff enough to be sliced and hand-shaped into half inch thick cookies. At this point, you could bake right away (but you'd have to decrease the baking time or you will over bake them!!) however, I suggest you freeze the dough mounds until firm before baking.)]
Preheat to 365. Place cookies on a Silpat or parchment lined cookie sheet. If baking from frozen, bake 11-13 minutes or until edges look set and centers still look slightly moist. Allow to cool for 5 minutes on the pan, and then remove to cool the rest of the way on a cooling rack.
Yields about 20-25 cookies.