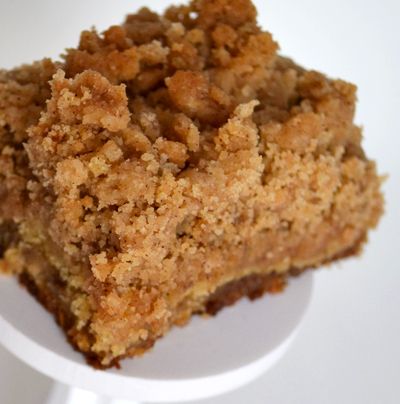 Lately, my mornings have either consisted of going to school to fill in as a substitute teacher, or sitting on the couch with coffee and checking the employment page of the local school district to check for openings. Sometimes my mornings include putting resumes in envelopes with care and rushing to the post office, wishing them well when I send them off to their destination. On those mornings, this Cinnamon Coffee Crumb Cake makes the perfect breakfast to go along with my morning coffee and job hunting.
This is quite possibly the best Crumb Cake I've ever tasted. It is a glorious combination of a Cinnamon Swirl Coffee Cake with a thick, buttery Crumb Cake topping. The cinnamon swirl in the middle makes the cake very moist (an almost under-baked texture in parts) and the high ratio of crumbs to cake balances out that super moistness perfectly.
Cinnamon Swirl Coffee Cake with Crumb Topping:
For the Cake (adapted from Epicurious):
1-1/2 Cups all purpose flour
1-1/2 tsp baking powder
1 cup vanilla greek yogurt
1 tsp baking soda
1 stick unsalted butter, softened
1-1/3 cup granulated sugar
2 large eggs, room temp
1 tsp vanilla extract
1/3 cup firmly packed light brown sugar
1 tsp cinnamon
a pinch of fine sea salt
Directions:
Lightly grease an 8x8 or 9x9 square cake pan and line with parchment. Preheat to 350.
In a small bowl, mix together 1/3 cup granulated sugar with the brown sugar and cinnamon. Set aside.
In a medium bowl, whisk together the flour with the baking powder and salt. In a separate bowl, combine the yogurt and the baking soda and stir. Set both bowls aside.
In the bowl of an electric mixer, beat the butter until light and fluffy. While mixer is on low, pour in the granulated sugar and continue to beat. Add the eggs one at a time beating well after each addition, scraping down the sides of the bowl if necessary. Beat in the vanilla.
Stir in the flour mixture in 3 parts alternately with the yogurt mixture, beginning and ending with the flour mixture. Stir until well combined.
Pour half of the batter into the prepared pan. Sprinkle half of the cinnamon-brown sugar mixture on top. Then, pour the rest of the batter on top of the cinnamon sugar mixture. Top off with the remainder of the cinnamon sugar mixture. With a knife, gently swirl the cinnamon sugar mixture into the batter (not all of it will get swirled in and that is ok).
Over the cake batter, squeeze handfuls of the Crumb Topping Mixture (see recipe below) together to crumble into small clumps. Drop evenly over the cake batter, covering completely (the crumb layer will be thick!)
Bake in preheated oven for 45-55 minutes, or until a tester comes out clean with only moist crumbs on it. Allow to cool on a wire rack.
For the New York Style Crumb Topping (adapted from Epicurious):
1/2 cup packed light brown sugar
1/4 cup granulated sugar
around 1-1/2 to 2 tsp ground cinnamon (depending on how cinnamony you want it)
1/4 tsp fine sea salt
1 stick unsalted butter, melted and allowed to cool slighlty
1 - 1/4 cup all purpose flour
Whisk both sugars, cinnamon and salt together in a medium bowl. Add the warm melted butter and stir to blend. Add flour and toss with a fork until moist clumps of crumb topping form.
Yes, each slice of this deserves to be served on its own pedestal.
And... now it's time for a

Giveaway

! Recently, the kind people at Thomas Nelson publishing company offered me a copy of their new book: Dining with Joy. This book has been a fun and very welcome distraction during my job searching days. It is a quick, easy read about a woman named Joy who was thrust into the role of TV Cooking show host, following her father's death. Readers follow Joy's ups and downs in the Television business and foodie world, as well as in her personal life.
Joy was pretty lucky in that she was named JOY. I mean, "Dining with Joy" - that's a pretty darn cute name for a cooking show whose host's name is Joy.
To enter this contest, simply leave a comment below telling me what you would call your own TV cooking show if you had one. I'd probably have to be on HBO and call my show "The Angry Baker" because I tend to get frustrated (and even curse a bit) while I'm baking. If anyone has ever made a super silly mistake while preparing (and subsequently destroying) a recipe - one of my trademarks - then you'll understand :)
Want an extra entry? Mention this contest on Facebook and include a link to this Post in your mention. Leave a separate comment below telling me you've done so.
Want ANOTHER extra entry? Mention this contest on Twitter and include a link to this post in your mention. Leave a separate comment below telling me you've done so.
Contest will end Jan. 27th at midnight and I'll announce the winner on Fri. the 28th.