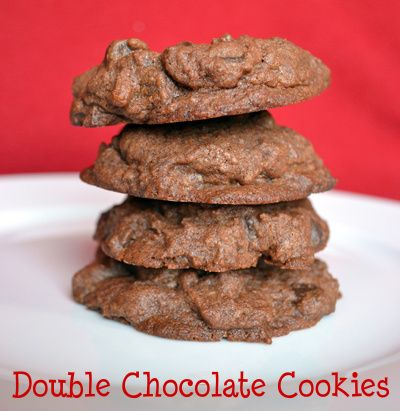 There are some recipes that I find while browsing online and immediately bookmark with the intentions of making one day. Sometimes these stayed bookmarked for months and months, probably even years (since I never clear out my bookmark list). I seem to think that some day I will actually get around to making these. However, every now and then I find a recipe and make it within a day. This was one of those recipes, and I must have a baking sixth sense about these things because these cookies were absolutely delicious. I might even have to make them again in a day or two since they're all gone and the thought of that makes me quite sad.
These have everything you could want in a cookie: quick, easy to put together. chocolatey, but not too chocolatey. thick, not flat or thin. soft and moist, not crispy. They taste like the combination of a brownie, a cookie, and chocolat cake. I think you should probably make these... now.
Ingredients:
2 sticks unsalted butter, room temp
1 1/4 cup granulated sugar
1/2 cup unsweetened cocoa powder
2 1/4 cups all purpose flour
1 cup hershey's special dark chocolate chis
1/2 cup milk chocolate chips
Preheat the oven to 350 and line baking sheets with silicone baking mats. In a medium bowl, combine flour, baking powder and salt and set aside. In the bowl of an electric mixer fit with the paddle attachment, beat the two sticks of butter until light and fluffy. With the mixer on low, gradually add the sugar. When all sugar is incorporated and mixer is light and fluffy, add the eggs one at a time. Scrape down the bowl with a spatula. Add in the cocoa powder and mix until incorporated. Add the flour mixture and mix just until combined, don't overbeat. Fold in the chocolate chips briefly.
Using an electric scale, divide the dough into 2 ounce dough balls. Drop lumps of dough on to the prepared cookie sheets about two inches apart. Flatten balls of dough very slightly with your palm or the bottom of a glass. Bake 13-15 minutes or until no longer wet looking. Let cool on the baking sheet 5-10 minutes before moving to a wire rack to cool completely.