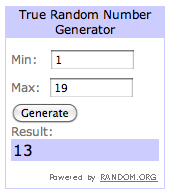 The thirteenth comment was Small Town Oven:
Mmm my dad is most definitely loving coffee cakes right now so this is getting packed for the next time I head home! I think I'd name my show after my blog, Small Town Oven :)
Congratulations to Sharlene of Small Town Oven! You've won the "Dinner with Joy" book from Thomas Nelson Publishers! Sharlene's comment was:
So, Congrats Sharlene! I hope you enjoy the book! And I hope your dad enjoys this coffee cake next time you go home! (I think he will, it really was very tasty) :) I'll be sending you an email asking for your address so Thomas Nelson can send the book directly to you!