My dog, Sadie, has been known to make the occasional cameo on this blog. Not only is she a recurring character on Ice Cream Before Dinner, she is also one of the loves of my life. Yes, I'm one of those crazy dog people. In fact, I bet I'm one of the few crazy dog people whose dog has earned a free flight with Jet Blue. Yep, she is a frequent flyer.
Anyway, for Christmas a family friend gave Sadie Fido's Make Your Own Cookies dog treat mix.
Sadie may look small and petite, but she is a total piglet... kind of like me.
With all the baking I do for humans, and knowing how obsessed I am with my dog, it is a strange thing that I've never made dog treats from scratch before.
So I was eager to bake these up for her. I added two tablespoons natural chunky peanut butter and about 1 - 2 teaspoons of honey to the mix.
Sadie waiting very patiently for her homemade pup cookies: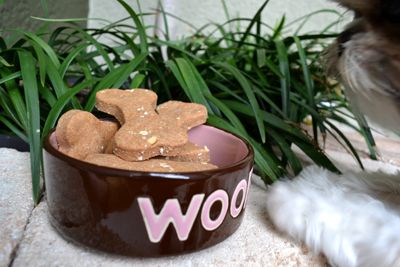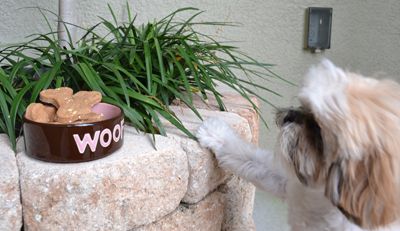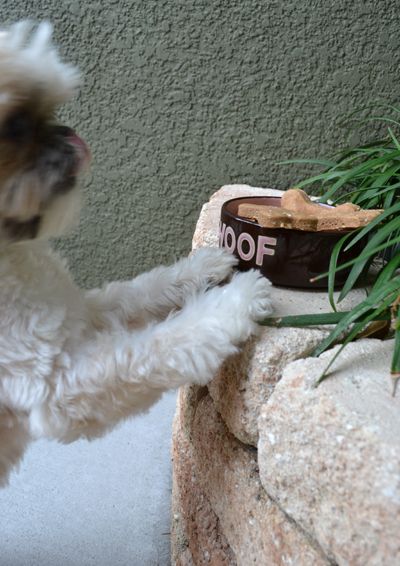 She really loves these. And having read the ingredients list on the package, I feel good giving them to her knowing how healthy they are for her. I'm going to use these to train her to shake hands... thats my current mission. Now that I know she'd appreciate some home-made puppy cookies, I want to make some from scratch when these are all gone. Does anyone have a trusty dog treat recipe they use for the puppylove in their life?