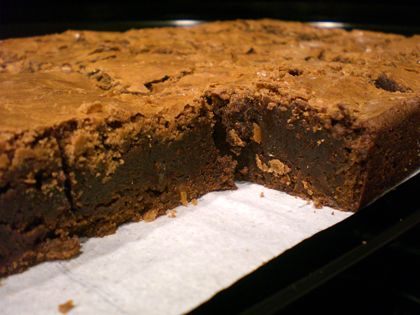 No matter how many delicious brownie recipes I find, for some reason I'm always more than willing to try out new ones. Rather than stick with the tried and true, taste test approved brownies I've made in the past, I often find myself looking for new ones to experiment with. Sometimes the results are disappointing and I wish that I'd stuck with a personal favorite. But other times, such as this one, the new recipes produces some terrific results. I recently came across, "
Better than Ultimate Brownies
" on
Gourmeted.com
. What struck me was the photos - super fudgey, moist looking inside, while they still had those crisp tops - YUM. These "Better than Ultimate" brownies were adapted from the original recipe
found here
for "Ultimate Brownies" on about.com. I made a few more substitutions and changes to the recipe from Gourmeted, and have posted my changes below.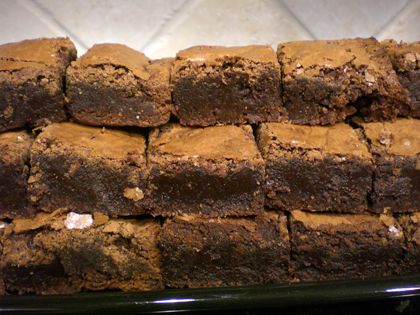 They came out great - exactly like they appeared in the picture. That perfect thin crust top, with a perfectly moist, fudgey center.
They were enjoyed by all at the New Year's Party. :)
Nearly Perfect Brownies!
adapted from "Better than Ultimate Brownies" on
Gourmeted.com
Ingredients
:
4 (1) oz squares of unsweetened chocolate
3 oz of semi-sweet chocolate chips
3 tablespoons natural unsweetened cocoa powder
1 cup unsalted butter
5 eggs
2 3/4 cups sugar
1 tbsp vanilla
1 1/2 cups all purpose flour
1 tsp sea salt
Grease one 9 x 13 pan. Line the bottom with parchment and lightly grease the parchment.
In a small saucepan over low heat, melt chocolate squares, chips, cocoa powder, and butter. Set aside after it has melted and combined.
Beat eggs, sugar and vanilla at high speed for 10 minutes. Put the guard on your stand mixer bowl - this gets splashy! Add the melted chocolate mixture, salt and flour and mix until just blended. Let the batter sit on the counter for 20 minutes before pouring into the greased pan (half way through this would be a good time to
preheat the oven to 375
). Let air bubbles escape by dropping the pan on to a counter a few times.
4.Bake for 30 minutes and test with a toothpick. If it comes out clean with only a few crumbs, remove to a cooling rack. Let cool completely before cutting.