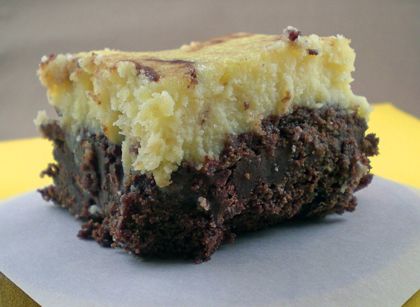 I have seen
Black Bottom Brownies
in so many blogs and magazines. Brownies with Cheesecake on top? Sounds delicious! But for some reason I've never got around to making them. For me, cheesecake is one of those things I'll eat and enjoy if it's on the holiday dessert table, but other than that it's not something I crave. Maybe that's why I've never made them. So I'm glad that this week for Sweet Melissa Sundays Cynthia of
Bakingtherapist
picked Sweet Melissa's
Black Bottom Brownies
as the recipe for the week. It forced me to finally try these goodies!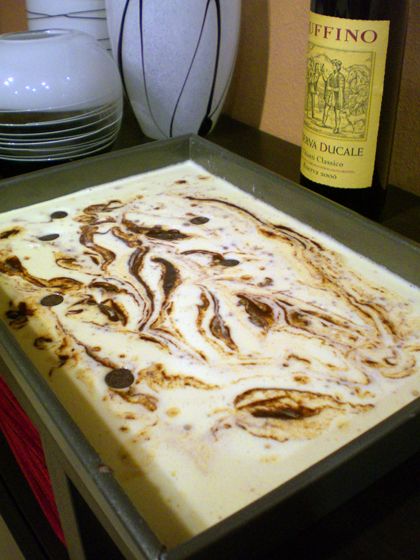 I baked just as the recipe stated. I was trying to think of a fun way to flavor the cheesecake (coffee? caramel?), but I couldn't come up with anything that really struck me so I made the basic cheesecake recipe. Melissa said to just pour the cheesecake mixture on top and sprinkle with chocolate chips, but I decided to swirl it together a little bit. By the way - What did your chocolate chips do? When I put them on top they just sank! I used less than half of the chips she called for in the recipe (12 ounces!) and it was more than enough.
Fortunately I had read the
P&Q
on the SMS site, and saw that some people baked for only an hour. I'm glad I saw this because mine were ready to go after 60 minutes rather than the 75 stated in the book.
The result was great. The brownies are very dense (maybe because I swirled it a bit) and the chips add a nice occasional crunch. If I try these again, I might do what I originally intended and flavor the cheesecake... mmm maybe bailey's???
Check out Cynthia's blog,
Bakingtherapist
, for the recipe. And take a peek at the other Sweet Melissa Sunday bakers' results
here
!