If I didn't keep this blog, there would be no way I'd remember which recipes I've made. I wouldn't be able to re-make anything if it were a big hit because I wouldn't be able to find the recipe I made it from. I have about a gajillion bookmarked on the computer, and I'd never be able to remember which one it was. That was the original reason I started this blog - to keep track of all the things I've made - along with pictures to remind me, and a short little commentary about how it came out. Of course I have a few tried and true recipes that I have written on recipe cards, but even then, those sometimes get lost or dirty and the bloggy is a great fall back. In fact, I think I have temporarily misplaced my handwritten recipe card from a hundred years ago for
one of my absolute favorite
recipes, and if it weren't for me having posted it on the blog it might have been lost forever... which in this recipe's case would have been a great tragedy. Does anyone else out there rely on their blog in this way? That is one of my favorite things about having this little hobby. It's like a baking diary. It makes me feel a little bit organized, even though when it comes to making things in the kitchen, that really couldn't be farther from the truth :)
I made these cookies quite a few weeks ago (well before Christmas) so I am impressed with myself for not having lost the recipe by now! All of them were made from recipes by fellow bloggers. With each recipe, I put links to the lovely blog from which I borrowed the recipe. The first is
Giant Oreo Cookie Cookies
- using chopped up, ground oreo's as an ingredients. I found it on
Sugar Cooking
, and knew immediately I'd have to make it for us oreo lovers. One response to this cookie was, "Now
this
is a cookie!" These were a big hit... the oreo is a subtle but delicious addition to a great chocolate chip cookie recipe. The only real changes I made were the crush the cookies more finely than just rough chunks, reduce the amount of oreos, and lessen amount of chocolate chips.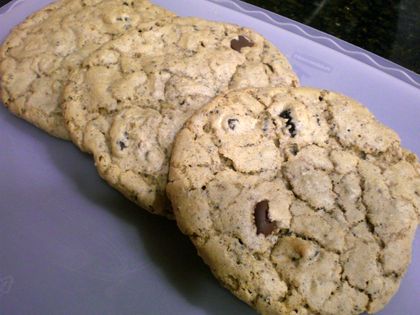 Giant Oreo Cookie Cookies
adapted from
Sugar Cooking
the recipe states it makes about 20-30 cookies, but using 1/4 of dough, i only got about 12 - 14 of them!
Ingredients
2 cups all-purpose flour
1/2 teaspoon baking soda
1/2 teaspoon salt
3/4 cup unsalted butter, melted, and set aside to cool slightly
1 cup packed light brown sugar
1/2 cup granulated sugar
1 tablespoon pure vanilla extract
1 egg
1 egg yolk
1 cups semisweet chocolate chips
15 oreos, ground
Preheat to 325. Line cookie sheets with parchment.
Sift flour, baking soda and salt together and set aside.
In a medium bowl, cream together the melted butter, brown sugar and granulated sugar until well blended. Beat in the vanilla, egg, and egg yolk until light and creamy. Mix in the sifted ingredients until just blended.
Add in the crushed oreos. Beat on low to incorporate.
Stir in the chocolate chips. Drop cookie dough 1/4 cup at a time onto the prepared cookie sheets. Cookies should be about 3 inches apart.
Bake for 14 to 17 minutes in the preheated oven, or until the edges are lightly toasted. Cool on baking sheets for a few minutes before transferring to wire racks to cool completely.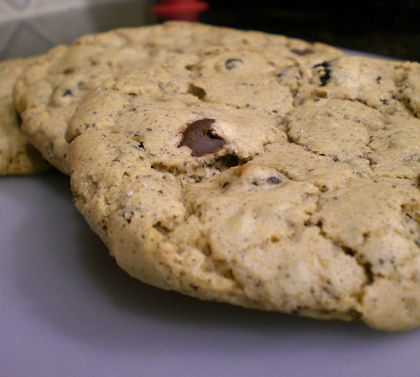 Close up! You can see the dark flecks of oreo - Yum...
The second cookie recipe is based on
Snickerdoodle Blossoms
from
3 B's
, adapted from
Keeper Worthy Recipes
&
Lick the Bowl Good
.
I made them as cookies, on a cookie sheet instead of doing them in the muffin tins... but I wish I had done the muffin idea! This recipe was so good I will definitely try them again and make them into a cute mini muffin shape next time. I swapped out the hershey kisses and opted instead for Chocolate Covered Brownie Dough Bites...yummm. I used the brownie bites in some and made others just as plain ol' snickerdoodles. Mine baked out kind of flat... they spread a lot and flattened out. But they were still incredibly SOFT and delish. A definite would-make-again.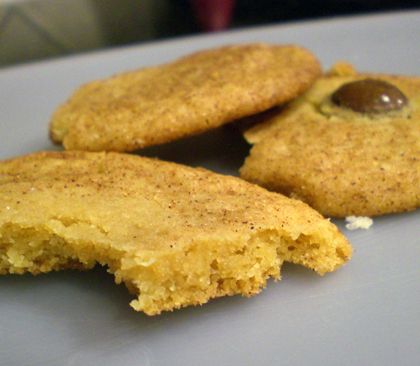 Snickerdoodle Not-So-Blossoms
from
Snickerdoodle Blossoms
of
3 B's
, adapted from
Keeper Worthy Recipes
&
Lick the Bowl Good
.
makes about 4 dozen
Ingredients
:
1/2 cup granulated sugar
1/2 cup firmly packed light brown sugar
2 sticks unsalted butter, soft
1 egg, room temp
1 teaspoon pure vanilla extract
1/4 teaspoon fine sea salt
2 cups all-purpose flour
1 teaspoon baking soda
48 chocolate candies of your choice (chocolate kisses, chocolate covered brownie dough, etc)
For the cinnamon sugar:
1/4 cup sugar
1 tablespoon ground cinnamon
Preheat 375 F.
Combine 1/2 cup sugar, brown sugar and butter in large mixer bowl. Beat on medium until creamy. Add egg, vanilla and salt and beat until mixed. Reduce speed to low; add flour and baking soda. Beat until well mixed.
Refrigerate about 1 hour, or until firm enough to shape into 1 inch balls. Work fast before they get soft! Combine the 1/4 cup sugar and cinnamon in a small bowl. Roll dough balls in cinnamon sugar.
Place 2 inches apart onto parchment lined cookie sheets. Bake for 8 to 10 minutes or until very lightly golden brown. Immediately press 1 chocolate kiss in center of each cookie. (
OOPS
- I added my chocolate candy to the center of the cookie BEFORE baking. But I think either way they would have spread out flat.) Remove from cookie sheets; cool completely on a wire rack.
And FINALLY, the last cookie recipe is for
Soft Sugar Cookies
. These were by far the softest sugar cookies I have ever made. And possibly even my favorite sugar cookie I've ever prepared. They maintained their height nicely without spreading too much. My only beef is that the dough is thin and even after a little chilling (which the recipe doesn't call for) is hard to roll into a ball to roll in the sugar. But non-stick spraying a cookie scooper helped a lot with this process. I saw these on
Delish Blog
, which they adapted from America's Test Kitchen Family Cookbook, 2006. The only change I made was to add some turbinado sugar to the granulated sugar used for rolling the dough balls in for some extra crunch. They came out perfectly SUPER-SOFT on the inside, with a sugary crust on the outside. Definitely would make these again!!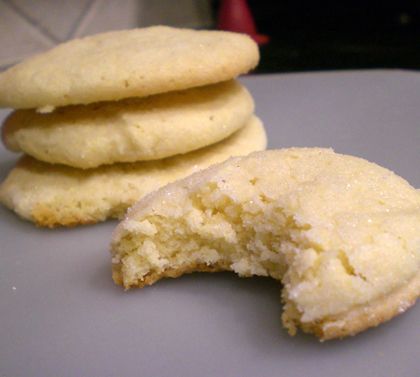 Softest Sugar Cookies
from
Delish Blog
, adapted from America's Test Kitchen Family Cookbook, 2006.
makes about 2 dozen cookies
Ingredients
:
2 1/2 cups all-purpose flour
2 cups granulated sugar
1/2 tsp baking powder
1/2 tsp salt
1 3/4 sticks unsalted butter, softened
1 Tbsp pure vanilla extract
2 large eggs, room temp
extra granulated sugar mixed with some turbinado sugar for rolling
Preheat to 350 F. Mixed 1/2 cup of the sugar with some turbinado sugar in a small bowl for coating. Set aside. In a separate bowl, whisk flour, baking powder, and salt together. Set aside. Beat butter and rest of the sugar (1 1/2 cups) together in a large bowl using an electric mixer on medium speed until light and fluffy. Beat in the vanilla, then the eggs one at a time, until combined, only about 30 seconds. Reduce the speed to low and mix in the flour mixture until just combined. Chill the dough for about 30 minutes. Line cookie sheets with parchment. Using wet hands, roll 2 Tablespoons of dough into balls, then roll in sugar to coat. Place balls on sheets, spaced about 2 inches apart. Very slightly flatten cookies with a flat surface (the bottom of a glass, measuring cup, spatula, etc).
Bake cookies until edges are set and just barely beginning to brown but the centers are still soft and puffy, about 10-12 minutes. To keep these soft, you DON'T want to overbake them! Leave cookies on baking sheet after removing from oven for 10 minutes, then transfer to a wire rack and let cool completely.