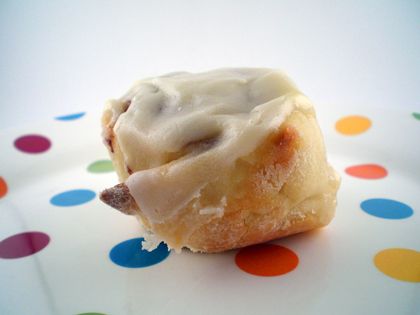 When family is visiting and you have a bit of time to kill in the morning before everyone is awake, what do you do? Prepare this recipe for Quick, Delicious Yeast-Free Cinnamon Buns, of course!
My First Kitchen
's Buttermilk Cinnamon Rolls is a fast, easy way (no yeast required, yey!) to get warm, homemade cinnamon buns on to the table and ready to eat in under an hour. They don't puff up like yeast cinnamon buns and they aren't as flaky as the more time intensive, laborious variety, but they do get you that ooey-gooey doughy, cinnamon-sugary, cream cheese frosted goodness you look for in a good cinnamon bun recipe. I'd go as far as to say that this might be my new go-to recipe for cinnamon buns for a while. All without having to wait for yeast to make the dough rise and get frustrated when it doesn't. Sweet indeed.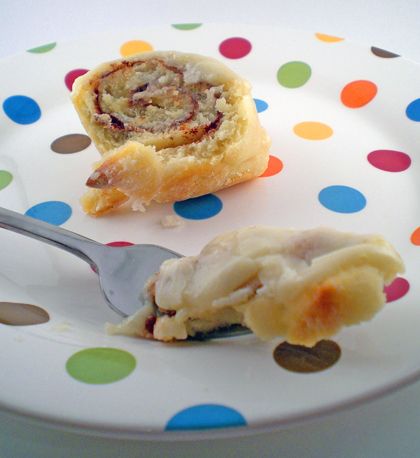 Less-Than-An-Hour Cinnamon Bun Bliss
, adapted from
My First Kitchen
makes anywhere from 7 - 12 depending on how you roll out your dough and how thick you slice your rolls!
Ingredients
:
dough
:
2 3/4 cup all purpose flour, plus extra for dusting
2 tbsp sugar
1 1/4 tsp baking powder
1/2 tsp baking soda
3/4 tsp. fine sea salt
5 tablespoons refrigerated buttermilk powder
6 tbsp melted butter
3/4 cup water, room temp
filling
:
4 tbsp. melted butter
3 tbsp. sugar
2 tbsp. cinnamon
pinch of salt
my favorite cream cheese cinnamon bun frosting recipe
:
2 ounces cream cheese, room temperature
4 tblspn unsalted butter, softened
1.5 c confectioner's sugar
1/2 tsp pure vanilla extract
Preheat to 425°F. Butter a small baking dish (a pie plate, or loaf pan would probably be sufficient). In a bowl, whisk together flour, sugar, baking powder, baking soda, buttermilk powder and sea salt.
Stir in the butter and water.
The dough will be very sticky, so put a very generous amount of flour on to your counter or work space. Plop your sticky dough on to this surface and give it another generous dusting of flour on top.
With floured hands, gently knead the flour into the dough (adding more flour if necessary) until the dough is fairly smooth and without cracks
Using a rolling pin, roll dough out into a .5 inch thick rectangle.
In a small sauce pan, melt the butter for the filling. When it is completely melted, add the sugar and whisk. Finally add the cinnamon and stir. Using a pastry brush, spread on to the dough doing as close to the edges as you can, but leaving a small border on one of the long ends of the dough rectangle.
Roll the dough from the longer side, keeping it as tight as possible as you roll it up. Cut the dough in to sections about 2 inches thick.
Place the rolls in a lightly greased pan, and bake for about 17-20 mins, or until the edges have just begun to turn golden.
While it is baking/cooling on the rack, make your cream cheese frosting. Beat cream cheese and butter together until mixed and fluffy. Add sugar, mix until incorporated. Add vanilla and stir to combine. Spread on still-warm-from-the-oven buns.