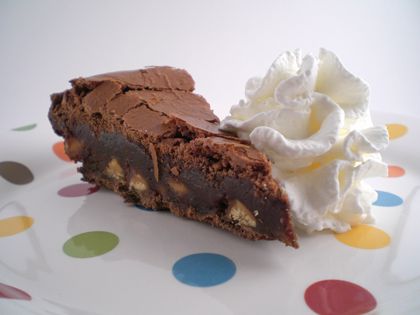 For Sweet Melissa Sundays this week, the recipe of choice was Chocolate Pie Crust, the pick of Donna from
L'Amour de Tarte
. And we could choose whatever filling we like to put in it. Nice choice, Donna! I love that this recipe left a lot of room for creativity. It is so much fun to check out everyone else's post in creative ones like this and see the different things we all came up with.
That being said, I was totally scared to do this. I have never made a pie crust, and judging by the amount of tutorials and advice on how to make a pie crust that flood the internet, I assumed it was a difficult and delicate process. So, I just avoided it all together. That, coupled with the fact that the fiance likes his fruit cold and crunchy, not cooked, soft and squishy, I never had the reason to make my first pie crust. But when it came up next on the list for SMS, I decided to give it a go. Before attempting my pie crust, I tried to read up all about it. I watched
this
and
this
. I looked at
this
step by step (with a different recipe) and a few others to see how the dough is supposed to look as it is coming together. I know the Sweet Melissa book said not to use a food processor, but I don't have the pastry cutter thingy (yet) and in the video, Alton made his in the same food processor I have! So I gave it a go with the Cuisinart. And it came out very nicely! I took about a gajillion pics of this one... of the process and the final product.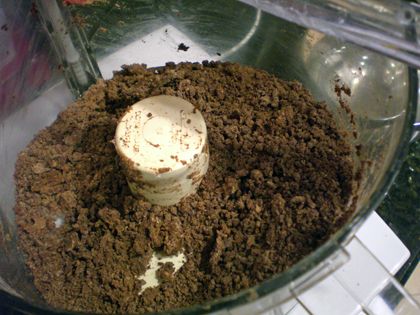 I did the squeeze test, and it stuck together perfectly. Time for making into a bally and chilling!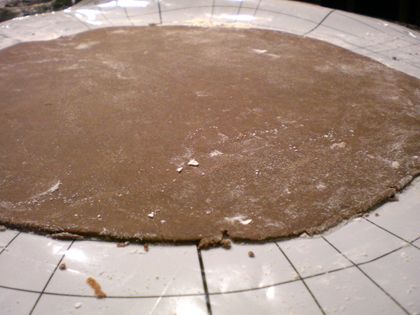 It rolled out perfectly! (with Dan's help, of course. There are certain things I am not good at and Daniel always help me when I get frustrated... rolling out dough, kneading, and crumb coating to name a few! <3 He's the best)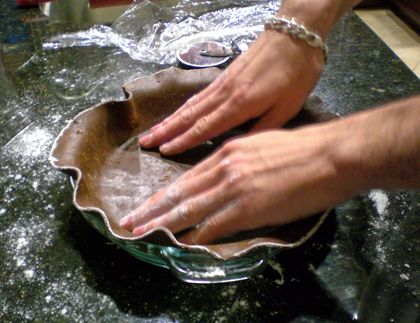 Going into the pie plate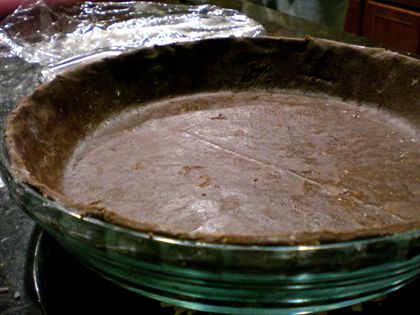 So impressed with ourselves!
So for the
FILLING
... what to do! We could choose any filling we like. Since Daniel doesn't like cooked, soft, squishy fruit, Cherry, Apple. etc. were out. So I went searching for inspiration on
Food Network
. When I came across
Paula Deen's "Corrie's Kentucky Pie"
, I knew I found THE ONE! The user comments and reviews on this one were very positive, and many described it as, a "Brownie Pie". Mmm, since the New Year's Brownies were such a big hit, and Daniel was still craving brownies, I chose
Paula's "Corrie's Kentucky Pie"
as my filling. Since her recipe made 2 pies, I just halved the recipe. I just made a few small changes to the filling, which I listed below. But also make sure to
click here
and check out the original recipe, and the multitude of positive reviews of this pie!
BUT.... before I made the batter.... I added a small secret layer to my already decadent
Brownie Pie with Chocolate Pie Crust
....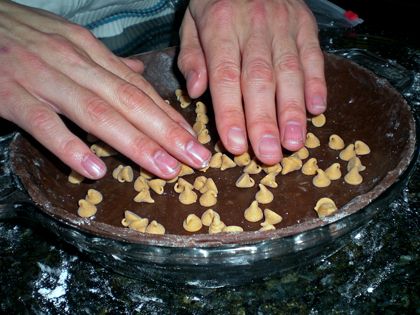 Because isn't every chocolate recipe a little better with a bit of peanut butter???
Brownie Pie with Chocolate Pie Crust
, adapted from
Paula Deen's "Corrie's Kentucky Pie"
enough to fill one 9.5" pie plate
Ingredients
2 large eggs, room temperature
1 cup sugar
4 oz semisweet chocolate. chopped
2 oz bittersweet chocolate, chopped
1/2 cup all purpose flour
3/4 tsp baking powder
1/4 tsp fine sea salt
1 stick unsalted butter, melted and allow to cool slightly
1 Chocolate Pie Crust, from the
Sweet Melissa Baking Book
handful of peanut butter chips.
Preheat to 350 F. In a large bowl, combine eggs and sugar and beat. Add melted chocolate and stir. In a separate small bowl, whisk together flour, baking powder and salt. Add to chocolate mixture, mixing just until incorporated. Stirring in remaining ingredients except for pie shell and peanut butter chips.
Lay your prepared pie crust into an ungreased 9.5 inch pie plate. Sprinkle with peanut butter chips. Add brownie pie batter. Bake 50 -55 minutes. Use toothpick to test for doneness.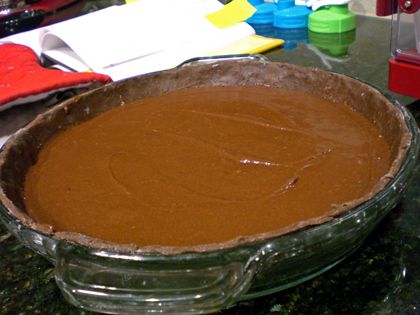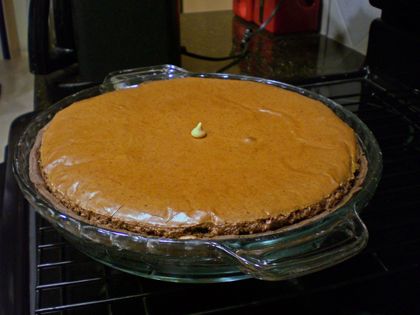 The end product was fantastic. The crust was a breeze to put together - So happy! And I thought it had a great taste. Not very sweet, but I think that mixes well with the sweetness of the filling. And the filling.... amazing. Nice gooey inside with a slight crust to the top. And after it has been allowed to cool and sit, it slices very nicely and cleanly. Perfect served warm with some ice cream. :)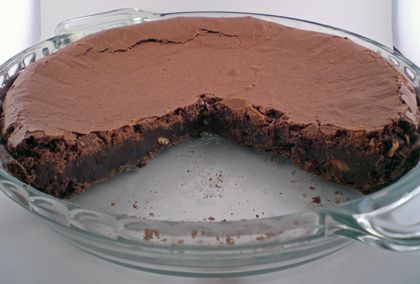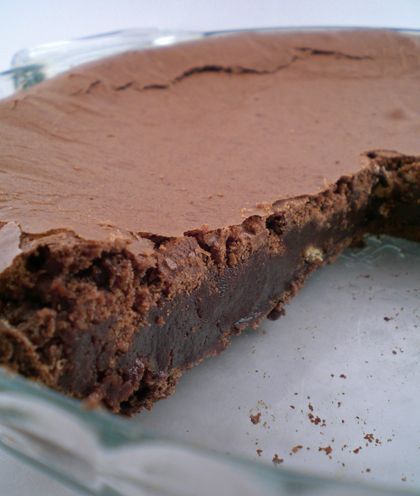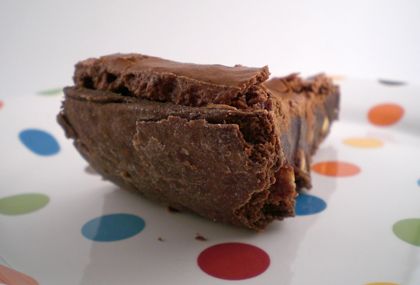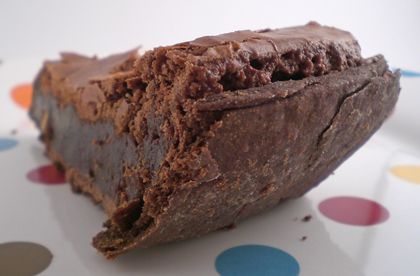 Crust shots!!!!
Really good pick, Donna! Be sure to check our her blog,
L'Amour de Tarte
, for the recipe. And
visit all the SMS bakers' sites
to see their results and crust+filling combo's!