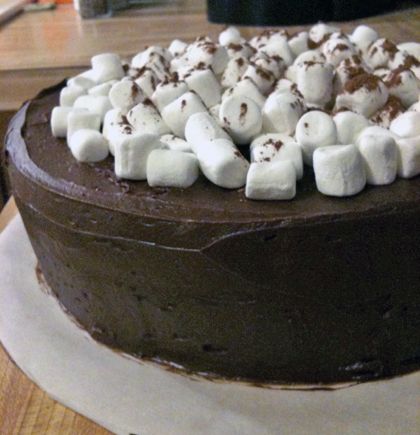 I hope everyone had a great holiday, and I hope you are preparing for a great New Years! It has been a while since I've updated the blog. We travelled to NY for Christmas where we did lots of family-visiting, holiday celebrating, and wedding stuff, so I didn't get a chance to post! But I did take pictures of the things I baked while I was there. :) I apologize for my bad pictures, they were taken with my phoney!
For Christmas, I made the
Hot Chocolate Cake
from
Fine Cooking
, the December 2009/January 2010 issue. The cake came out great. It was a nice and easy recipe to prepare, with delicious results. Very very rich, but very good. It really tasted like hot chocolate. This one was a crowd pleaser. I originally spotted it on
The Bitten Word
, but it is also available on
Fine Cooking's site here
. I made quite a few changes to the recipe, so I will post my version below, but be sure to check out the two sites I mentioned above for some great pictures and comments!
I made the same amount of cake batter that the recipe called for, but instead of dividing it into three 9x2 round cake pans, I baked it in FOUR 9x2 round cake pans. Rather than one tall 3 layer cake, I got 2 good sized two layer cakes to bring to two different houses for Christmas dessert. The cakes still came out a very good size. Plus, it is so rich that a less super-tall slice was more than sufficient. Since I was making 2 cakes instead of one, I made a batch and a half of the frosting (which I probably didn't really need to do because I had a significant amount left over, but for frosting lovers, I suggest making the 1.5 batch like I did). I also didn't make my own marshmallows like the recipe stated. I didn't have a candy thermometer where I was, so I just used store bought mini-mallows. Here's what I did!: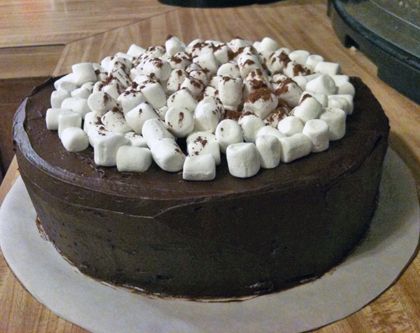 Hot Chocolate Cake
, adapted from
Fine Cooking
and
The Bitten Word
.
For the cake
6 oz. (3/4 cup) unsalted butter + some extra for greasing the pans
3 cups unbleached all-purpose flour
3/4 cup canola oil
2 oz. bittersweet chocolate chips
2 ounces 70% dark chocolate
3 cups granulated sugar
1 cup natural unsweetened cocoa powder
3 large eggs, room temperature
1/2 cup heavy cream
1/4 cup half and half
2 Tbs. pure vanilla extract
2-1/2 tsp. baking soda
1/2 tsp. fine sea salt
For the frosting
3 3/4 cups heavy cream
9 Tbs. unsalted butter
2 tsp vanilla
9 oz. bittersweet chocolate chips
3 cups granulated sugar
9 oz. natural unsweetened cocoa powder; more for decorating
3/4 cup corn syrup
1/2 tsp. fine sea salt
Frosting
:
In a 4-quart saucepan over low heat, combine the cream, butter, and vanilla extract. Stir until the butter is melted and everything is combined. Stir in the chocolate chips until melted. Whisk in the sugar, cocoa powder, syrup, and salt until smooth...make sure the cocoa powder is fully incorporated. Pour into a 9x13-inch pan and freeze until firm, about 2 hours, or refrigerate overnight. I freezed it for 2 hours and then moved it to the refrigerator.
Cakes
:
Preheat the oven to 350°F. Butter four 9x2-inch round cake pans and line the bottom of each with parchment. Butter the parchment. Dust with flour and knock out the extra.
In a 3-quart saucepan, combine butter, oil, chopped chocolate, and 1 cup water. Heat over medium heat until melted.
In a large bowl, whisk the flour, sugar, and cocoa powder. Pour the hot chocolate mixture into the sugar mixture and whisk until combined.
Whisk in the eggs, one at a time, then whisk in the half-and-half and heavy cream, vanilla, baking soda, and salt. Divide the batter evenly among the four prepared pans.
Set two pans on the middle rack, slightly spaced so they don't touch. Bake until a toothpick inserted in the center of each cake comes out clean, 35 to 40 minutes. When finished, repeat with last two cakes. Cool on racks for 10 minutes, using a knife to slide around the cake to release the sides from the pan. Invert the cakes onto the racks, remove the parchment from two of the cakes (leaving parchment on the bottom of two of the cakes) and cool completely.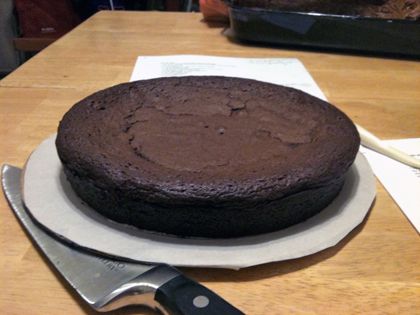 Assembly
:
Remove the frosting from the freezer or refrigerator, let sit for about 10 - 15 minutes. Transfer to the bowl of a stand mixer fitted with the paddle attachment and beat on medium speed for 2 minutes to soften, or use a hand mixer. Change to a whisk attachment and beat at medium-high speed until light and fluffy, about 3 minutes.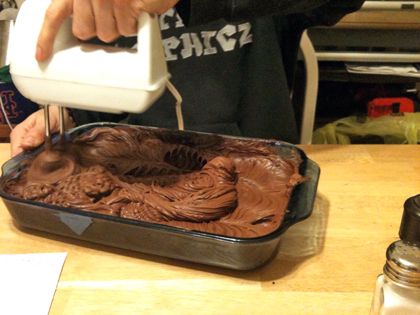 Use a sharp knife to level out the cakes. Put the cake layer still lined with parchment onto a parchment lined cardboard cake round, this will be your bottom layer. But about 1 1/2 C of frosting on top to be your filling, and spread with an offset spatula. Top with the other layer and frosting with offset spatula. If you are careful, you might not need a crumb coat (we didn't need to do one).
Decorate the cake with mini marshmallows, leaving about a 1 inch border around the edges of the cake. Sprinkle some extra cocoa powder for decoration.