Last weekend was the Cocoa Village craft fair here in Central Florida. And we rented a booth for our
aprons
!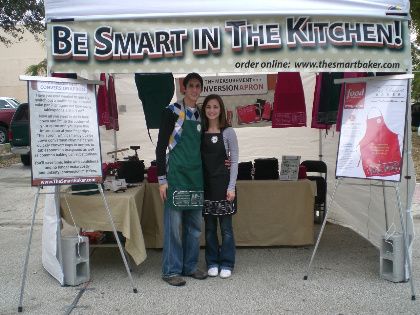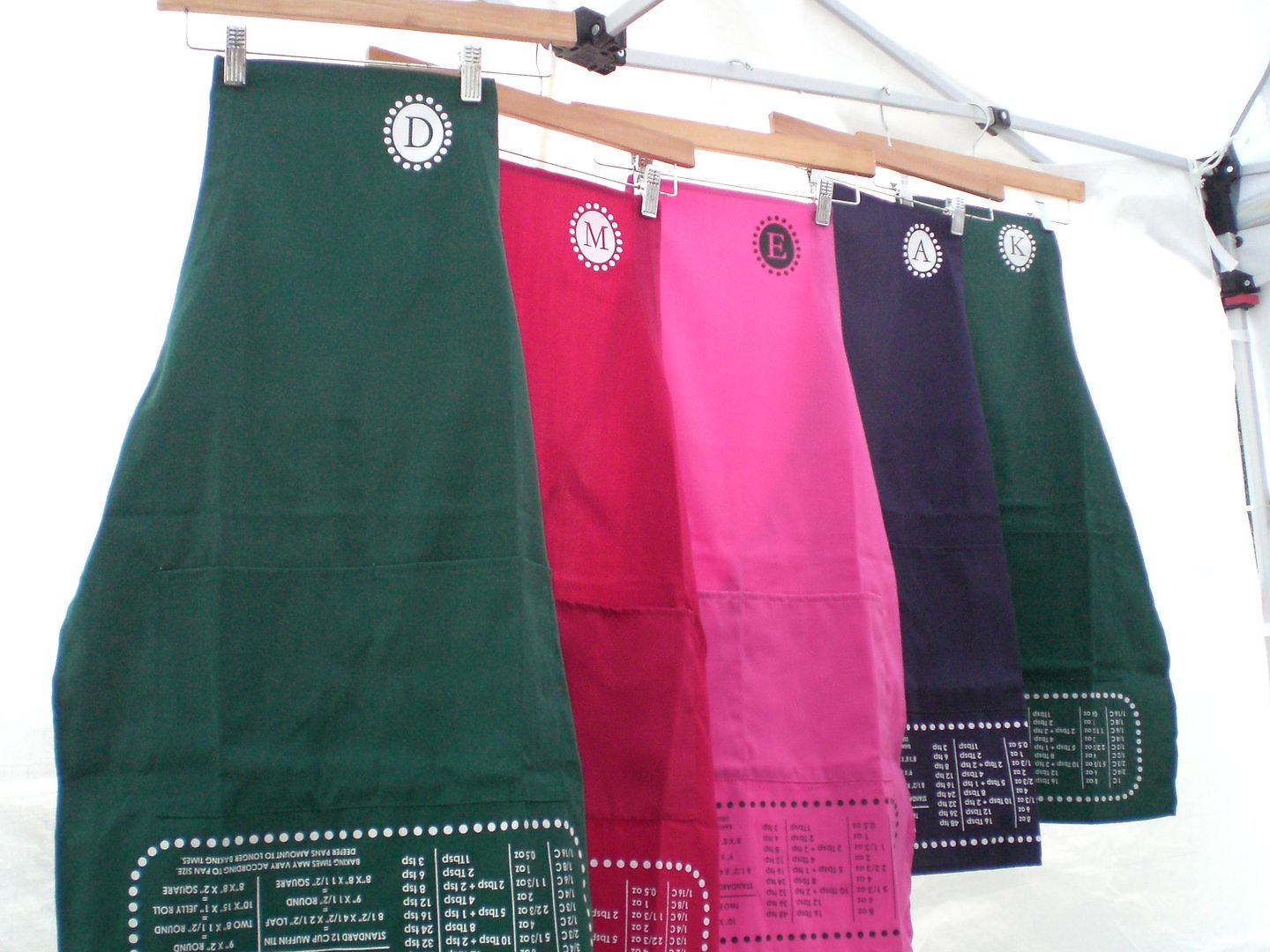 It was tremendous fun! The first day was quite rainy (ok, torrential and cold and windy is a more accurate description), but the second day was gorgeous. We had a great time meeting all the people who came to our booth. It was a success! I look forward to doing more of these types of events.
And now to the baking. School is finally over for the semester and now it's the holidays! With a little time off from school, hopefully I can catch up on some baking. But here is a long overdue dessert (I made it for Thanksgiving!)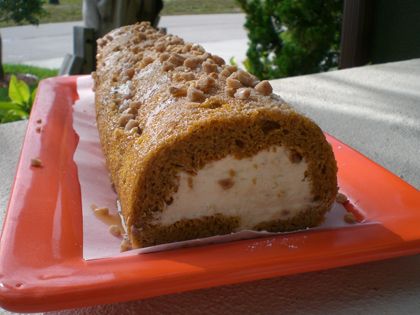 Pumpkin Toffee Roll Cake, from Paula Deen
.
I made some changes to the recipe, and posted them below. But be sure to check out Paula's original recipe
HERE
, and even watch a video of how she made it
HERE
.
Ingredients for Cake Roll
:
3/4 C cake flour
1 1/2 tsp ground cinnamon
1 1/4 tsp ground ginger
1/2 tsp nutmeg
6 large eggs, room temperature. Separated.
1/3 C granulated sugar
1/3 C packed light brown sugar
2/3 C canned pumpkin
1/3 tsp coarse sea salt
Powdered Sugar
Ingredients for Toffee Cream Filling:
1 tsp unflavored gelatin
2 tablespoons grand marnier
1 C heavy cream chilled
1/4 C powdered sugar, sifted
1/3 C Heath bar pieces, and additional 1/2 C for garnishing
Powdered Sugar
Dulce de leche, made from sweetened condensed milk (notes below)
Small amount of store bought caramel sauce
Directions:
Preheat the oven to 375. Grease a jelly roll pan, line with parchment paper, and lightly grease the parchment.
Sift flour and spices together in a small bowl. In a separate bowl, beat egg YOLKS together with the two sugars until it thickens. Add the 2/3 C pumpkin to this yolk mixture. Beat on low until mixed. Add dry ingredients, and continue to beat on low until mixed. In a separate CLEAN bowl, beat the egg whites with the salt until stiff peaks form. Fold whites into the cake batter.
Use an offset spatula to spread the batter into the prepared jelly roll pan. Drop the pan on the counter a few times to release air bubbles. Bake about 15 minutes, or until toothpick comes out clean.
Remove from oven and while it is still hot, dust it GENEROUSLY with powdered sugar. Turn the cake out on to a kitchen towel, and fold one edge of the towel over 1 of the long edges of the cake. Immediately roll up and place edge down in the refrigerator for one hour. After one hour it should be cooled completely - Do not leave it in there much longer or it will crack when you attempt to unroll it!
For Filling:
Pour grand marnier into a small saucepan, and add the gelatin. Let it soften for about 5 minutes. Then stir over low heat until the gelatin dissolves. While this is cooling, beat the chilled cream with the powdered sugar until peaks form. Fold in the gelatin and 1/3 C of Heath Bar chunks.
Unroll the jelly roll cake slowly and gently. Sprinkle toffee pieces on the unrolled cake to taste, and then spread the cream-toffee filling over, using an offset spatula to smooth.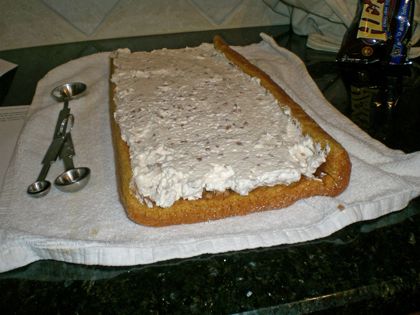 Beginning at the long edge of the cake, roll up the cake using the towel to help you. Place the cake onto a platter with the seam down. Cut small pieces off the ends of the cake to make straight edges. Dust generously with powdered sugar. Pour a small amount of the store bought caramel on top of the roll - just enough to make something sticky for additional toffee pieces to stick to. Sprinkle toffee on top to taste.
For Dulce De Leche:
Pour a can of sweetened condensed milk into a baking pan. Sprinkle sea salt on top and cover with tin foil. Place this baking pan within a larger baking pan filled with warm water. Put in a 425 degree oven and bake for about an hour - or until it turns a nice brownish caramel color. Let cool. If small chunks appear in it, add milk as needed, and use electric mixer to beat until smooth. To serve, warm in the microwave and pour over slices of cake.
I didn't get any pictures of the cake with the dulce :(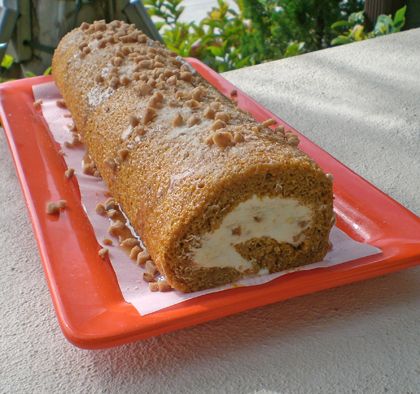 The cake was a hit at Thanksgiving. It is impressive looking and really isn't that difficult to make at all! Would definitely make this again!