What to do when your boyfriend is getting oral surgery, and your blog's name is Ice Cream Before Dinner. What to do, What to do. Well, besides making him a frig full of mushy items to eat, fill your freezer up with homemade ice cream, of course! Now, as you may know, Daniel & I are spoiled by Mix-In loaded ice creams, scooped on top of warm home-made brownies. When your gums are raw, however, and several of your teeth have just been extracted, the possibility of cookie dough chunks, brownies, and other chewing-necessary Additions disappears. But I couldn't make him just
plain
vanilla, so I knew I wanted a gooey swirl of some sort. In comes my obsession,
The Perfect Scoop by David Lebovitz
. Strangely enough, I had never made his basic vanilla ice cream recipes before. So, for my ice cream base, I chose "Vanilla Ice Cream, Philadelphia Style" (p. 25). I liked that it didn't involve making a cooked custard step, and that he described it as having a lighter taste. I was sold. Plus, this doesn't require any eggs, and I needed to reserve my eggs for Daniel's mushy dinner menus. I prepared this simple recipe, and popped it in the frig to chill.
For the swirl, I chose his "Dulce de Leche" (p. 171). I chose this one because from my last attempt at making caramel (See Sweet Melissa Sundays post for Strawberry Turn Overs), I learned it is quite a chore... and one that doesn't always turn out right. This Dulce de Leche required only a can of sweetened condensed milk, a preheated oven, and some patience....
You simply take your 14 oz. can of sweetened condensed milk, pour it into a dish about the size of an 8 x 8, and then put that 8 x 8 (or similar sized dish) inside a larger dish which is filled half way with water. Stick it in the oven for quite a while (see his book for more details) and MAGICALLY, out comes delicious, perfect Dulce de Leche!
Post-Bake Picture: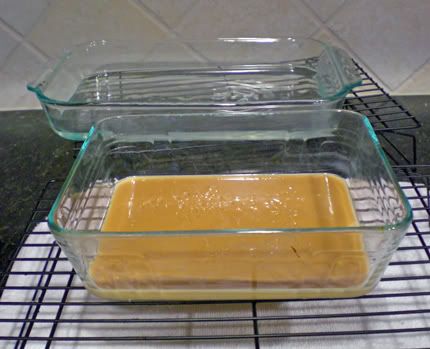 As the Dulce was cooling, I began churning the Ice Cream mixture in my Ice Cream maker. When it was done, the Dulce was just about cool enough to be added to the ice cream.
Take some ice cream, and pour it in your Air Tight, Freezer container of choice. Then, blob some of your Dulce de Leche on top: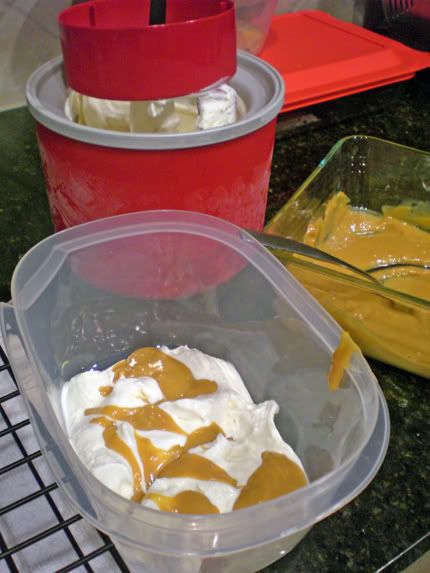 Then, repeat. Make another ice cream layer, followed by another Dulce layer. Repeat until all of the ice cream is gone (there will probably be some dulce de leche left - that is fine! Keep it in a glass, or microwaveable container, so that when you serve your sundaes, you can microwave it and pour it on top of your dessert!)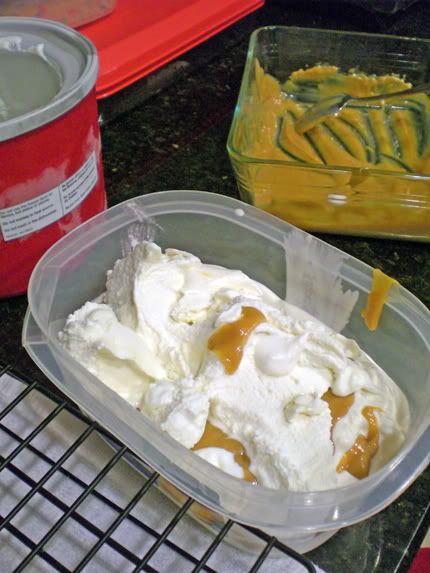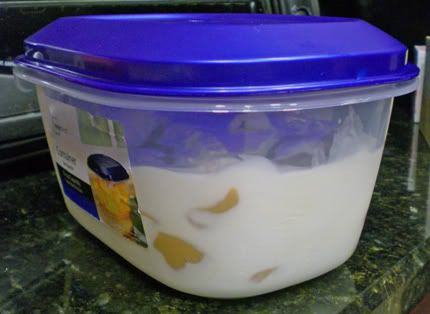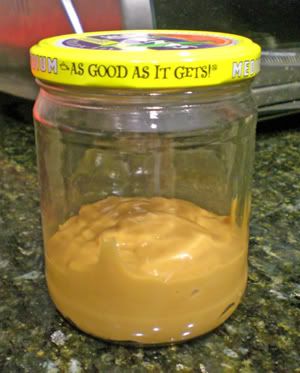 the remaining dulce
Sorry, no glorious Sundae shots this time. But trust me, it
was
delicious.