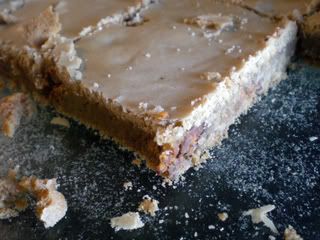 I have found that photographs do not do blondies justice. Or brownies and other bar cookies for that matter. Maybe I just don't know how to photograph them, but their super satisfying delicious flavor does not come across in these photos
at all
and i have four different taste testers that can attest to this. This has been voted
the hands down best blondie recipe ever
. I know, quite a hefty statement, but its possible... these blondies might just be
the one(s)
. Even Al Roker calls them "Platinum Blondies". Ok, that
might
be because of the light color, but I like the think that its named as such because of their equal in jewelry materials. Or the place they would come in in a competition. Because of the great reviews, I made the recipe word for word, besides the omission of pecans and substituting chocolate-caramel swirl chips for the white chocolate chips (and reducing the amount of them). I suppose you can use whatever chips you like, but with these, they were utter perfection.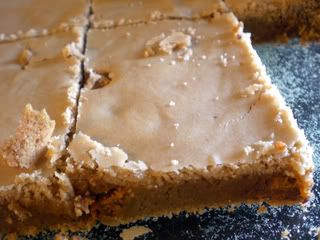 Platinum Blondies
from
Food Network
Ingredients
:
3/4 C + 2 Tblspn Packed light brown sugar
1 large egg
2 Tsp vanilla extract
1 stick butter, melted
1 1/2 C flour
1/2 Tsp baking soda
1/8 Tsp salt
1/2 C
Nestle Swirled Morsels in chocolate/caramel
Non-stick spray an 8-inch square pan. Beat the sugar and egg together until light and fluffy, about 3 minutes. Add the vanilla and butter and beat to mix. In a small bowl, combine flour, baking soda, & salt, and add to the butter mixture, beating until just incorporated. Do not overmix! By hand using a spoon, stir in the chips.
Spoon the batter into the prepared pan and use spatula to smooth the top. Bake for 22 to 30 minutes (mine were done at 22, before the 25-30 that the original recipe said), until the top is dry and golden and a knife inserted in the center comes out with just a few crumbs attached (not wet, but not perfectly dry). Remove the pan from the oven and place on a wire rack to cool.