This week's cupcake flavor? Turtle Brownie Cupcakes! They combine the magic that is Brownies, Cupcakes, and Turtle Candies (chocolate, caramel and nuts, if you are not familiar). For the cupcake recipe, I saw good reviews on
this one
from Epicurious so I decided to go with it. Since they really are supposed to be cupcakes, and since I intended on smothering them in buttercream frosting, caramel, chocolate shavings and almonds, I didn't want them to be SO rich. I altered the recipe as such:
Brownie Cupcakes
3/4 stick of butter
1/2 C Semisweet Chocolate Chips (reduced from 1 1/4 c!)
3 oz unsweetened chocolate
1/2 C Packed light brown sugar
1/3 C Granulated sugar
2 eggs, room temperature
1 teaspoon vanilla
1/2 C A.P. flour
1/4 Tsp Salt
Preheat oven to 350. In the top of a double boiler, melt the butter, and two types of chocolate together. Stir until smooth and lumpless. Remove the top of the double boiler from heat, and whisk in both types of sugar, then whisk in the eggs one at a time. Whisk in vanilla, flour & salt. Divide into 10 wells in a non-stick sprayed cupcake pan (or paper-lined cupcake pan). Bake 20-25 minutes or until a toothpick comes out clean with only moist crumbs. Mine took about 22 1/2 minutes. Remove to wire rack to cool.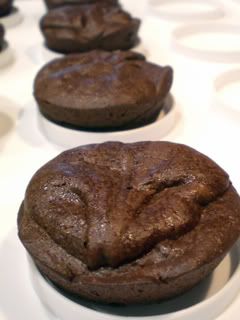 For the frosting, I went with
my usual
(simply because I had some made already... or else I may have attempted a caramel frosting). But the vanilla buttercream complimented the rich chocolate brownie nicely.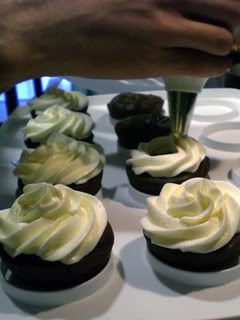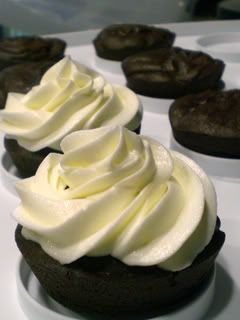 Then, I swizzled some melted caramel from some
caramel bits
I picked up. It was easy to melt in the microwave (which I usually do not do), and easy to use.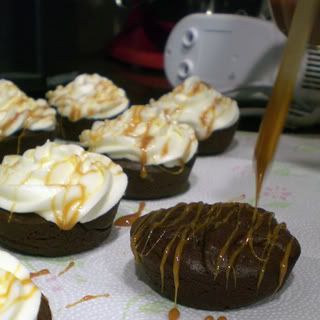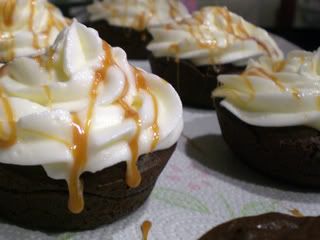 .
Then, to top it all off, some chocolate shavings & almond slivers. VOILA -
amazing
. They taste way better than they look.