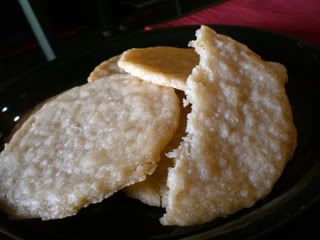 A few months ago my sister Jenn, author of the illustrious
Per Omnia Saecula
, a blog of all things medieval, asked me if I would be interested in doing a joint blog event from time to time. This would involve me baking a medieval dessert recipe, the results of which would be featured on her blog as well as mine. So today, I decided to do the first installment!!
I decided on
"Shrewsbery Cakes"
which I found at
this site
. Below is the original recipe, along with my own.
Shrewsbery Cakes
2 c. flour
4 oz. (1 c.) sugar
6 oz. (3/4 c.) butter
2 T rosewater (or vanilla extract will do)
1/2 t. nutmeg (I used half nutmeg and half cinnamon)
Combine dry ingredients. Cut in cold butter as you would do for a pie crust (this can be done very easily in a food processor using the plastic dough blade). Add the vanilla and pulse to combine. It will look like pea-sized crumbly ballies. Then, you'll need to work it the rest of the way with your hands until a dough forms. Roll out between two sheets of parchment to 1/8-1/4 in. thick. Cut with a round cutter ca. 3 in. in diameter, and bake on parchment at 325 15-20 min., until done, but not browned.
These "cakes" are really cookies. From what I read on the subject, in the period, they didn't have "cookies" as we call them. And there was no baking soda or powder either, so rising is minimal here. But, I'm not the medievalist here, for more info on that, go to Jenn's blog.
She's
the medieval scholar,
I'm
the hungry baker. These were very thin and chewy, and had a nice simple flavor from the cinnamon and nutmeg.
To see the recipe in its original medievally format, more pictures and the little story I created about the Sweet-Toothed Asp, make sure to
visit Jennifer's site!!!