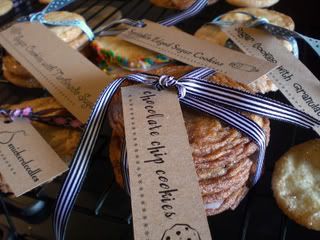 As I mentioned in an earlier post, it was Jenn's birthday recently. I had a few things to send her, so along with her gifts, I sent a goodie box. I made two different kinds of dough, and got 5 different kinds of cookies out of it. For the first type of dough, I went with a Sugar Cookie recipe from Martha Stewart, except I scaled it down and changed it a wee bit. The original is
on her website here
, but below is what I did:
Sugar Cookie Dough
Ingredients
:
1 C Flour
1/2 Tsp Baking Powder
1/4 Tsp salt
1/8 Tsp baking soda
1/2 stick of butter
3/4 C sugar
1/2 egg
1/2 tsp vanilla
1/8 C Ricotta
1 1/2 Tsp Milk
1 1/2 Tsp Key lime juice
Whisk together the flour, baking powder, baking soda and salt. With an electric mixer, beat the butter and sugar together. Add the half an egg and vanilla and mix. In a small bowl, combine the ricotta, milk and key lime juice. With the mixer on low, add 1/2 of the flour mixture, then the ricotta mixture, followed by the rest of the flour. At this point, the dough may be too stiff to mix with the mixer and might have to be done by hand with a wooden spoon.
Note: The key lime juice doesn't add any flavor to the dough. I only used it because Martha's recipe called for sour cream and I didn't have any. I googled for a substitute for sour cream, and a mixture of ricotta, milk and lemon juice came up. But as I had no lemon juice either, I used what I had – Key lime juice. Worked like a charm! Consistency was very similar.
I chilled mine for about a day because this was part of a bakestravaganza for Jenn's birthday. I prepared the dough when I had time, and planned on baking at the very last minute before shipment to ensure they'd be as fresh as possible.
When I was ready to bake it, I removed the dough from the frig, put it in some parchment, shaped it into a log and popped it in the freezer for about 30 – 45 minutes (while I baked another dough for Jenn's birthday-bake-box). After chilling until its firmer, remove the log from the freezer and slice with a sharp knife into 1/4 inch slices. I made my cookies considerably smaller than Martha's – hers were 3 Tablespoons worth of batter, mine were probably about 1 1/2.
While waiting for the oven to preheat to 350, I did a few different things with the cookies… With some, I dipped the top half into regular white sugar.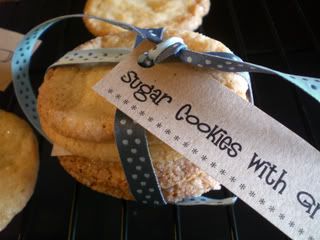 Other cookies were dipped in turbinado sugar (sugar in the raw).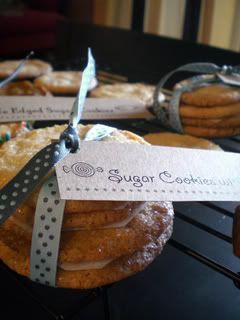 With others, I rolled the log into rainbow sprinkles before slicing.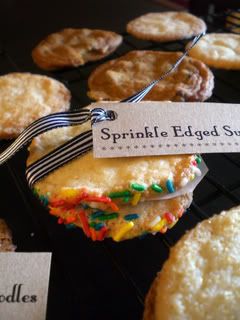 And finally, I rolled some in cinnamon sugar for snickerdoodles.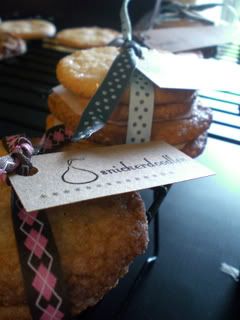 Put slices on parchment lined cookie sheets. Baking times are essential here! My smaller sized cookies with pre-chilled dough only needed to bake for about 15 minutes. Overbaking these guys will
kill
them! Remove them when they first start to brown. Remove to wire rack to cool.
These cookies were good when they were baked the appropriate amount of time and not overdone. They were crispy and chewy, but they were not THE sugar cookie recipe... I still haven't found that yet. They were a bit on the thin side and not as soft as I'd have liked.
I also sent her some chocolate chip cookies using
this
recipe, except I chilled the dough for 36 hours as is so popular to do these days. I honestly liked these cookies better not chilled for 36 hours, they flattened out far too much this way. But they were still good. Quite chewy and had a great taste due to the rest time in the frig.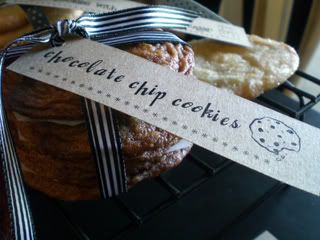 Bagged up for freshness & ready for shipment!
Also to go in this birthday-bake-box, I gave Cupcake Shipment another shot. The
first attempt
was semi-successful...I guess. Well, it got there. In my second attempt, I wanted to improve on the aesthetics of the delivered cupcake. This time, I stuck with the baking in a jar technique. I found much smaller jars so there wouldn't be as much wiggle room available for the cupcake.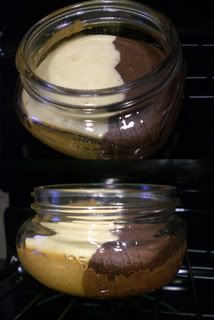 Instead of frosting the cupcake and then sending it on its way, I let the recipient-birthday girl do that. This way, the frosting wouldn't get the cupcake squishy, it wouldn't melt and ooze and mess up the cupcake, and Jenn could control how much frosting she wanted on her cupcake. I put a blob of freshly prepared frosting in a ziplock bag with instructions telling her to snip the corner and pipe the frosting onto her cupcake.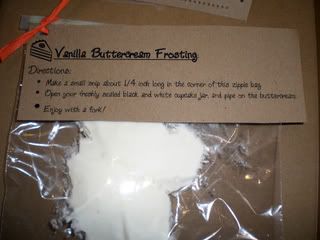 All ready for shipment!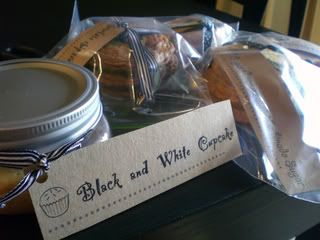 I taped everything very securely to the inside of a shoebox to avoid as much shaking, jiggling and cookie-crushing as possible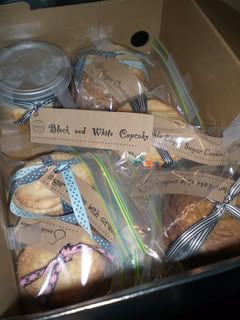 And then I filled the rest of the box with tissue paper for added protection. How were the results, you ask? Well, I don't have a picture from New York yet because Jenn is in the middle of preparing for her
upcoming play
, but the word is that it was SUCCESSFUL! This time she
actually
new it was a cupcake upon looking at it, and said this might be a winning method for cupcake shipment! I am also pleased to report that the cookies arrived there safely as well.