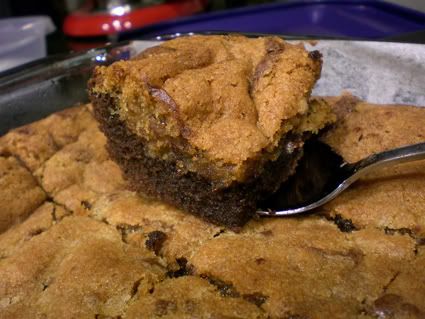 Contest Update
: No, I have not forgotten about the contest. I'm still weighing the options you all have presented - comparing pricing, trying out different methods - It is a much longer process than I thought! There are many good entries and lots of feasible options, so I have to really think about which method would be best for my intended use. But I promise, I will arrive at a decision soon and let you know. For now, entries are still being accepted, so continue to submit if you wish. Please - if you left a comment/entry on
the contest post
, and you do not have a working blogger account and did not leave an email address, please leave it either on that post, or email me with which comment was yours. Or else if you win, I won't be able to contact you to send you your prize! :)
Now, on to the
Peanut Butter Cookie Topped Brownies
- brownie on the bottom, peanut butter cookie on top. As you may or may not have heard, Central Florida has been suffering from the intolerably slow-moving, water-drenching Tropical Storm Fay. We had some strong winds, but the real bad news was in the amount of rain it dumped on us here on the East Coast. Fay moved so slowly (and sometimes not at all), so for a few days, she just sat on top of us and showered us with inches and inches of water. Well... were quite flooded. There have been fish caught in driveways and parking lots, and communities became newly lakeside over night. I did not want to tempt the fates by bringing my petite little Mazda, Mrs. Moneypenny, out into the high waters, so we have been stuck in the house. Needless to say, the entire house is spotless, there is not a speck of laundry left to be done, I've started reading for my thesis, and thank god for exercise TV on demand! When all that was over... there was
still
more time to be bored, and unfortunately, with no one leaving their homes, there will be no Cupcake of the Week needed this week, so I didn't even get to bake that to take up some time! My baking fingers were itching! Daniel wanted brownies to go under his ice cream, and I wanted to make peanut butter cookies. How to reconcile these differences? Do BOTH... together! A while ago, I made
Chocolate Chip Cookie Topped Brownies
, so I used this same basic concept, with a slight spin. On to the recipe!
Ok, maybe mine were a
tad
undercooked, but I didn't hear any complaints about that!
Mocha Brownie Batter
adapted from
Epicurious
Ingredients
:
3 ounces semi-sweet chocolate
1 unsweetened chocolate
3/4 Stick of butter
1 Cup sugar
3 large eggs
1 tsp vanilla
1/4 Cup flour
1/6 Cup cocoa powder, unsweetened
1/2 teaspoon espresso powder
1/4 teaspoon salt
1/8 Cup Ricotta
Slightly less than 1/2 teaspoon lemon juice
3/4 Teaspoon milk
Non-stick spray an 8x8 baking dish, line it with parchment paper, and then non-stick spray the parchment.
In a small saucepan on low, stir chocolates and butter together to melt. Let cool to lukewarm. While this is melting, combine the flour, cocoa, espresso and salt in a small bowl and set aside.
Beat the sugar, eggs, and vanilla until light and fluffy - about 5 minutes. While this is mixing, combine the ricotta, milk and lemon juice and set aside.
Next, add the cooled chocolate mixture to the egg mixture, beating just until combined.
Add the flour mixture, beating just until combined. Stir in the ricotta mixture, and pour into the baking dish.
Peanut Butter Cookie Batter
Ingredients
:
1/2 stick of unsalted butter, softened
1/4 cup peanut butter, smooth or crunchy - whatever floats your cookie boat
1/4 cup granulated sugar
1/4 cup packed light brown sugar
1 1/2 tsp milk
1 egg
1/8 tsp vanilla
1/2 cup + 3 tablespoons flour
1/2 tsp baking soda
1/4 tsp baking powder
1/8 tsp salt
Preheat over to 365.
In an electric mixer, beat peanut butter, butter, and sugars together. In a small bowl, combine flour, baking powder, baking soda and salt and set aside.
Add the milk, vanilla and eggs and beat until combined. Add the flour mixture and beat until just combined.
Drop the batter in teaspoon sized amounts over the top of the brownie batter. It will take a lot of drops of dough to cover the top of the 8x8 dish. When all the cookie dough has been dropped on top, gently use your fingers to spread it. The brownie batter doesn't have to be completely covered, just do as best and you can. Bake for about 35-40 minutes, or until a toothpick inserted comes out clean, with just moist streaks on it.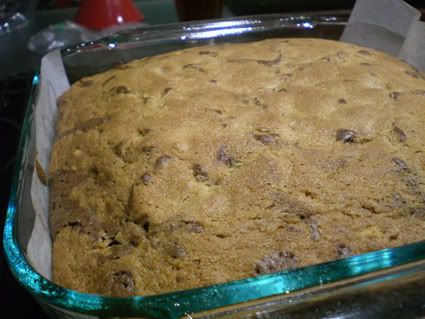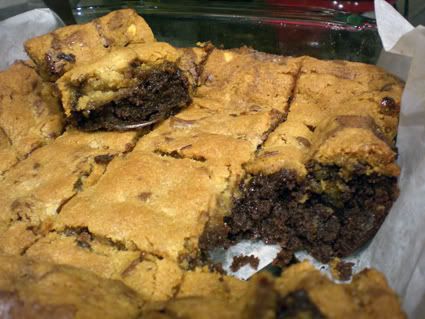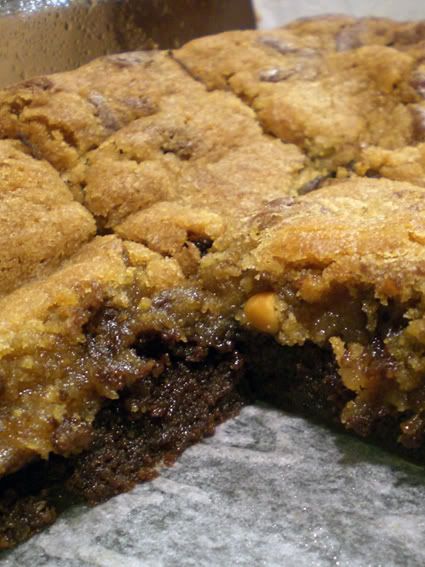 The brownie came out nice and moist, with a little hint of espresso... and a little gooey thanks to being taken out of the oven a few minutes early (oops). The peanut butter cookie portion is nice and chewy, not crunchy and is subtle compared to the brownie flavor, but definitely noticeable. Definitely a would-make-again.