Have you tried the cupcake of the week? No? Not yet? Oh, you don't know the flavor? Well... brace yourself. Are you ready? This week's flavor is...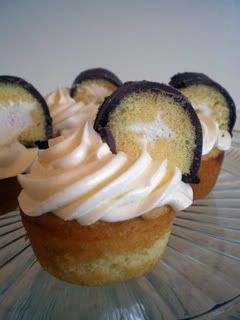 GOURMET TWINKIE-CLONE CUPCAKES!
Golden yellow cake filled with a generous amount of pastry cream, topped with swirls of vanilla buttercream and garnished with a slice of chocolate covered twinkie.
Yes thats right! I've improved on the American classic by taking the tasty treat out of its plastic wrapper and 903823 month shelf-life into a Gourmet Homemade Cupcake Creation. An enormously delicious guilty pleasure. Come on...
everyone
likes twinkies, whether they like to admit it or not.
I searched for twinkie-clone recipes and decided to go with my own take on a recipe from the talented
Joy the Baker
, which she adapted from "Gourmet Cookbook". Below is my scaled version:
Twinkie Clone Cupcakes
Ingredients
:
1 Cup Flour
1 1/2 Teaspoons baking powder
1/8 Teaspoon salt
5 Tablespoons butter, soft
1/2 C Sugar
1 Large egg
1/2 teaspoon vanilla extract
1/16 tsp almond extract
1/2 C Milk
Preheat to 350.
Mix flour, baking powder and salt together in a small bowl and set aside.
Beat butter and sugar together in an electric mixer until light and fluffy. Add egg and beat well.
Add the extracts and beat. On low, alternately add the flour and milk to the butter mixture, beginning and ending with flour. Don't overmix!
Spray cupcake tin with non-stick spray and fill up 8 of the wells evenly with the batter.
Bake for about 13-15 minutes, or until a toothpick inserted comes out with only a few moist crumbs.
Remove from oven, let cool in the pans for about 2-3 minutes then remove to a wire rack to cool completely while you prepare the Pastry Cream.
Twinkie Pastry Cream
scaled from
MiamiHerald.com
Ingredients
:
2 Tablespoons all purpose flour
1/4 C Milk
1/4 Stick butter, soft
2 Tablespoons shortening
1 Teaspoon Vanilla
1/8 Tsp salt
2 C Confectioner's sugar
Combine flour and milk in a small saucepan. Cook over low heat, stirring constantly with a wire whisk, until mixture thickens to about the consistency of condensed milk. Remove from heat and put in the frig while you prepare the 2nd part.
Beat the softened butter and the shortening together with an electric mixer. Add in vanilla and salt, and combine.
Add the chilled flour/milk mixture. Gradually beat in the confectioner's sugar. Continue beating until it reaches desired consistency.
I tried a different method of adding a filling to cupcakes since the cream was the right consistency to do so. This time, I filled a pastry bag fitted with a star tip with the cream, and inserted the tip into the center of the cooled cupcakes. Gently squeeze the pastry bag while pulling out the tip. Stop squeezing before removing the tip.
The frosting covers up the little dot of pastry cream nicely. As usual, I went with my tried and trusted
Buttercream frosting recipe
.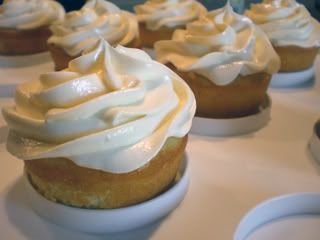 Then, to finish it off... take a twinkie, stick a popsicle stick in it and stick the whole thing in the freezer. When its firm enough, dip it in melted milk chocolate and put it back in the freezer until the chocolate sets. When the chocolate has hardened, use a sharp knife and cut slices to garnish the top of the cupcakes. VOILA! You got yourself one handsome twinkie cupcake! :)