This week's Cupcake of the Week did
not
go off without a hitch. Fortunately, though, things eventually panned out. The idea was to bake a ball of cookie dough right into the center of a cupcake. I elaborated on the chocolate chip theme and decided to add chocolate chips in to the cupcake batter, and also to sprinkle some on the frosting for decoration. The issues began
there
. I thought mini chocolate chips would look and taste better in cupcakes than the regular sized chocolate chips, which might overwhelming the taste of the cookie dough ball. First, I drove back and forth between 2 stores several times to get Mini Chocolate Chips. After finally finding them and bringing them home, I found out upon cutting open the bag that someone had mistakenly put a bag of regular chocolate chips in the mini chocolate chips section. ::sigh:: Oh well, I decided to go with it anyway. First, while the butter was softening, I took some frozen prepared Chocolate Chip Cookie dough that I made a few weeks ago out of the freezer to thaw a bit, until it was soft enough to roll into little ballies, then popped 'em back in the freezer.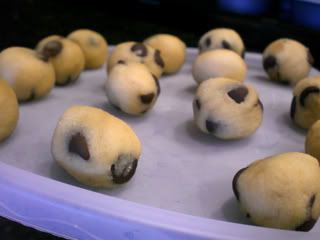 Then I set off to make the cupcake batter. Usually for the Cupcakes of the Week, I make 1/4 of a batch, so I only get about 8 cupcakes. This week, Daniel requested I make a slightly larger batch of the beauties so he could bring some to work. So, I prepared a half batch of
my favorite vanilla cupcakes
. The only difference was that I added 1/2 C of semisweet chocolate chips to the batter. After spooning the batter into 15 non-stick sprayed cupcake wells until they were about 2/3 full, I plopped a little frozen cookie dough ball right on top, and then stuck them in the oven.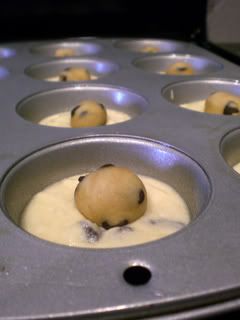 Results?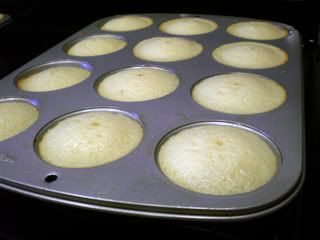 Look cute! But upon removal from the pans.... well...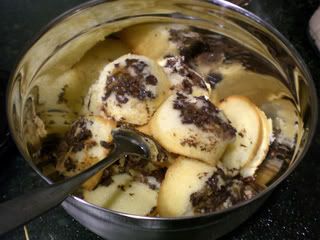 Slightly less than perfect results I'd say.
Of course. Figures. The one time I make more cupcakes than usual, its a total disaster. The problem? It was the chocolate chips. I never really use cupcake liners for the cupcakes of the week, because I like people to be able to see the cake. But in this case, some of the chips sank to the bottom and, in effect, glued my cupcakes to the liner.
Oh well, you live you learn.
ROUND TWO:
After seeing the broken remains of the cupcakes in the bowl, I decided it looked like too much chocolate, and that it might taken away from the beautiful ooey gooey ball of cookie dough hidden inside. So, this time, I omitted the chocolate chips in the batter altogether. And though there were no chocolate chips in the mix this time, I still decided to use cupcake liners... just to not tempt the wrath of the cupcake baking gods. Luckily, I made extra balls of frozen cookie dough.
The results this time?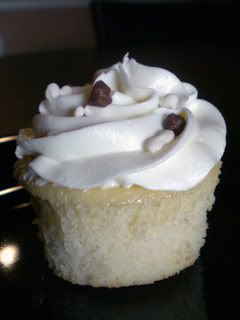 Cupcake perfection!!
Successo!
I used
my favorite vanilla buttercream frosting
recipe, and garnished with some
Nestle Crunch Marble Mix-Ins
, which kinda taste like crunchy chocolate cookie bits.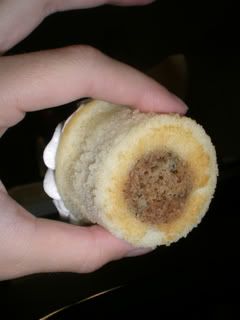 You can even see the little ball of cookie dough!!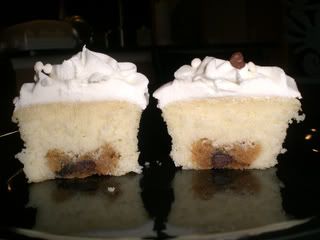 Mm, bellissima.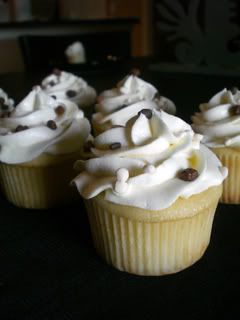 ** NOTE: THIS GIVEAWAY IS NOW CLOSED.

Thank you

for your entries! **

Oh right. Now for the

GIVEAWAY!!!!

I suppose its not so much as a giveaway as it is a contest, because I'm asking something from you. I'm asking you to solve my problem. You see, I need a very cost effective way to package single cupcakes for sale. I need it to be extremely affordable, as I only sell my cupcakes for a very small price... if I have to spend 40 cents per package, I'll barely break even. These are for sale in a small store, so the packaging method needs to be done at a moment's notice, and needs to be presentable. I also need it to effectively hold the cupcake to protect its perfectly piped frosting from squishing. In addition, it needs to be easy to use - easy to get the cupcake in, and easy to get the cupcake out without destroying it. I have tried using chinese food take out containers

like these

, but found that its nearly impossible to fit your hand/fingers in there to get it out without ruining the frosting. Even putting the cupcake

in

seemed to be a problem as it kind of needed to just be dropped in - sometimes resulting in a tipped, and as a result, destroyed cupcake. Also, it is important that the solution does not involve me buying 5,000,000 pieces. Many places offer packaging, but they have a minimum order of a million pieces. And lastly, it needs to be close-able, and have some sort of lid or way to cover it. And

So there it is! You need to come up with an idea and solve my Cupcake Packaging Problem.

Requirements

:
1.) Be very very cheap (I'm talking no more than 20 cents a piece, but ideally, they'd be even less)
2.) Effectively protects the frosting from utter destruction
3.) Easy to get the cupcake in and out
4.) No large quantities required for purchase
5.) Be close-able
6.) Be an effective way to package cupcakes for sale, and make them take-home-able
7.) EDIT - To clarify, this packaging method is for store bought cupcakes. I sell them at a small store, and need a way to package them quickly, effectively and presentably.

Thats it! You can post your idea here in the comments, or you can email it to me at Stephanie.Jordan@gmail.com. I'll announce the winner when someone puts an amazing idea up here!!

What do you win?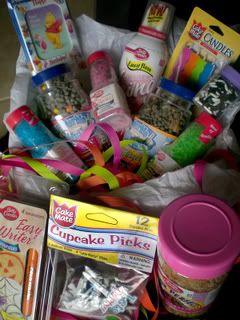 Cupcake Gift Package
Contents Include
:
(1) 6.4 oz Betty Crocker Easy Flow Decorating Icing in Red
(2) Signature Brands Marble Mix-Ins: 1 in Nestle Rainbow Chips and 1 in Nestle Butterfinger Crunch
(1) 7.8 oz Betty Crocker Praline Crunch Topping
(3) 2.3 oz Betty Crocker Decorating Decors Flavored Sugars: 1 blue raspberry, 1 watermelon, 1 green apple
(1) small black and white decoratively shaped sprinkles
(1) 12 pack of Cake Mate Cupcake Picks, 6 balloon and 6 Let's Party
(1) 8 pack Cake Make Squiggle Candles
(1) Disney Picture Perfect Cake Topper
(1) Pack of 4 Betty Crocker Easy Writer Food Decorator Pens
(1) 6 oz Betty Crocker Hollyberry Decor Sprinkles
And maybe a few surprises
Good luck!!!