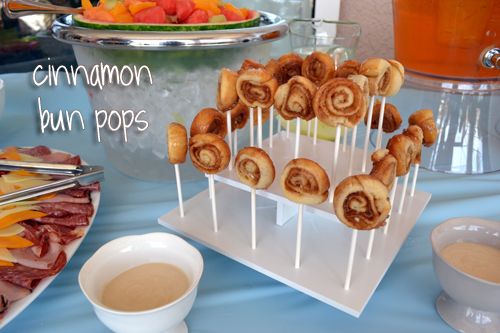 As I was typing the title of this post, I wondered - should I write "Cinnamon Buns" or "Cinnamon Rolls"? Does anyone know what the difference is? I sure don't. Are they interchangeable?
Anyway, yesterday was Father's Day and we went to the family's brunch to celebrate all the dads. Ever since I got the
"On a stick!" Cookbook
by Matt Armendariz I've wanted to make more bite sized things. After all, isn't eating something off a stick just so much funner than eating the same thing NOT on a stick? I thought brunch was the perfect excuse to some bite-sized pop creations. I chose
Mini Cinnamon Bun Pops
, but I used my own recipe instead of that from "On a Stick!" (which calls for store-bought cinnamon buns). However, I did heed their advice and slid the pop stick into the cinnamon buns (which they actually call "cinnamon rolls" in the book) while they still warm. By the way, THANKS to Matt Armendariz I learned that if you let them cool before you try to slip the stick in, it is MUCH HARDER! I can tell this cookbook is going to be very useful. The Mini Cinnamon Bun Pops look really cute on our
Square Cake Pop Stand
.
Since we didn't need quite so many buns, we took off the bottom tier and used it as a Two Tier stand. It worked perfectly. Just the right amount of mini buns for 14 people.
I used the recipe below because I had a bunch of buttermilk in the fridge and nothing to do with it. I'm glad I tried this recipe because the dough was a breeze to put together and they tasted great. However, this yielded A LOT of mini buns, probably around 60 or 70. We made enough mini cinnamon bun pops for brunch, and a few regular sized ones to use up the rest of the dough. To keep this display as neat as possible, instead of pre-drizzling the vanilla glaze on the buns before putting them in the cake pop display, I put it in two small bowls so people could dip and get as much or as little glaze as they want. This method really worked out well.
Mini Buttermilk Cinnamon Bun Pops
, adapted from
Food.com
(2) ¼ ounce packages active dry yeast
¼ cup water (110 degrees F)
4 ½ cups all purpose flour
Filling
(I doubled the filling recipe below because I am a cinnamon-sugar monster and liked the way they came out with this amount, but feel free to reduce it if you like):
In the bowl of an electric mixer with the dough hook attached, empty the yeast packets and add the warm water. Let stand until creamy and slightly thickened (10 minutes)
In a small saucepan, heat the buttermilk until warm to the touch.
Pour the warmed buttermilk and oil into the yeast and mix well.
In a medium bowl, combine the flour, salt and baking soda.
Stir the flour mixture into the liquid mixture 1 cup at a time, until a soft dough forms.
Turn dough out onto a lightly floured surface and knead 20 times.
Cover the bowl with plastic wrap and let rest for 15 minutes.
While dough is resting, combine melted butter, brown sugar and cinnamon.
Cut the rested dough in half, and roll it out into a large rectangle on a lightly floured surface.
Spread the cinnamon-butter-sugar mixture over the dough and roll it up into a log. Pinch the seam to seal. Diameter of the log will have to be about the width of a mini muffin tin, approximately one inch. Thin out the log if necessary by stretching it out with your hands.
Using thread or unwaxed floss, wrap around the log and tie a knot to cut slices - make slices around ¼ in to 3/8
th
in wide.
Place slices into greased mini cupcake tin and wrap with plastic wrap. Let rest 30 minutes (or cover and refrigerate overnight). Repeat with other half of dough.
If baking right away, preheat to 325 and bake 12 – 16 minutes, until lightly golden. Let stand approx 2 minutes before removing from the tin with a spoon. If turning into pops, insert pop stick right away.
1 heaping cup of powdered sugar
1 ½ teaspoons pure vanilla extract
¼ cup + 1 tablespoon heavy cream
Place sugar in a medium bowl and whisk in the heavy cream and vanilla. Add milk one teaspoon at a time to achieve desired consistency. Pour into dipping bowls to serve.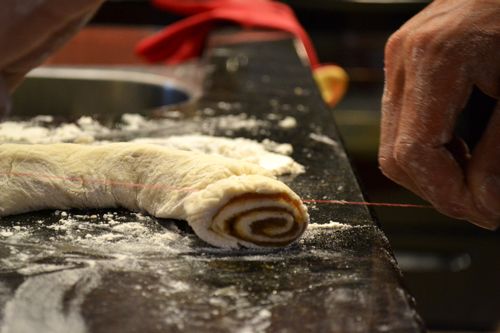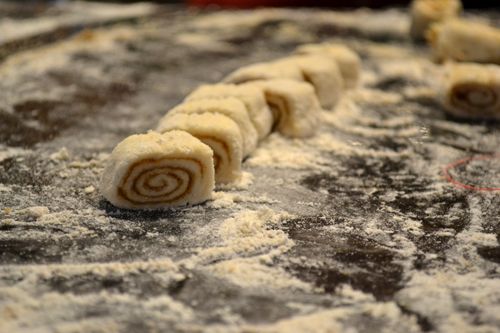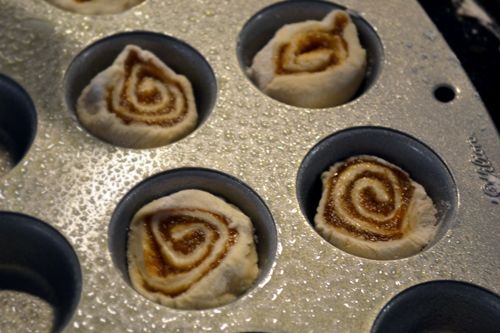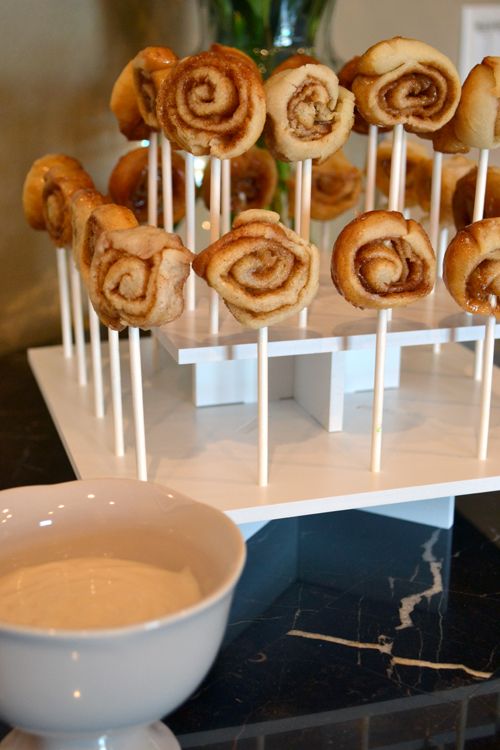 Recipe Card! Click to enlarge