Do you keep your ice cream maker bowl in the freezer? It takes up a lot of room, but for whatever reason ice cream is one of those things I don't think about making long before I get started. So if I don't keep a bowl in the freezer, I'll probably lose interest by the time the recommend 24 hour freezing period is over. As soon as Spring comes around and Winter is over, I need to make room in the freezer for my ice cream maker bowl so it can always be ready for me.
Luckily when I came across Handle the Heat's Easy Vanilla Ice Cream, I had a bowl in the freezer just waiting to be put to use. With only 4 ingredients, it really is quite simple to throw together, and if you happen to have a bowl in the freezer at all times for whenever a homemade ice cream craving strikes, you can be eating your frosty creation in under an hour. If you have just a little bit more patience, you can throw together a quick Eggless Cookie Dough to add into the ice cream. I'm glad I was able to muster up the patience because the cookie dough really made this ice cream special. I used only half of the prepared Eggless Cookie Dough in the ice cream, so I'm excited to put the rest to use in other recipes!
If it's hot where you are right now (I feel like it couldn't get any hotter in Florida!) then make up a batch of this Cookie Dough Ice Cream for your family, they will surely thank you. And they won't believe it's made from scratch!
1 generous tablespoon pure vanilla extract
Using a handmixer set to low speed, combine the milk and the sugar. Stir in heavy cream and vanilla. If you're making plain vanilla ice cream, pour the mixture into the bowl of your ice cream maker and follow the directions on your ice cream maker. If you are making the Eggless Cookie Dough, put the ice cream mixture in the refrigerator to chill.
Eggless Cookie Dough
, adapted from
Cupcake Project
Ingredients
:
2 cups all purpose flour
1/2 tsp fine sea salt
3/4 cup unsalted butter, melted
1 cup packed light brown sugar
1/2 cup granulated sugar
1 generous tablespoon pure vanilla extract
2 - 4 Tablespoons milk
Combine butter, vanilla and sugars in the bowl of an electric mixer. Add in flour and salt and mix on low to combine. Add in milk by the tablespoons as needed to achieve a cookie dough consistency. Put in the refrigerator until chilled. When firm enough to handle, form several thin sheets (about 1/4 - 1/2 inch thick). Put in the freezer for about a half an hour. While Ice Cream is churning, take out the chilled cookie dough sheets and cut into small cookie dough chunk pieces. After ice cream is finished churning, remove from the ice cream maker and stir in the cookie dough chunks. Freeze for 2 hours before serving.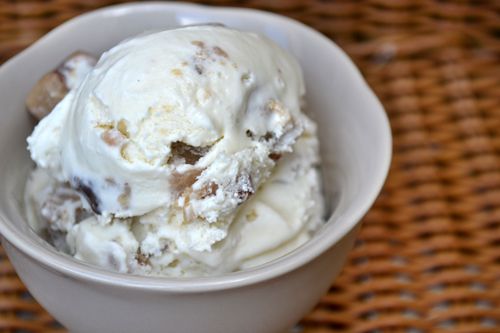 Recipe Card! Click to enlarge