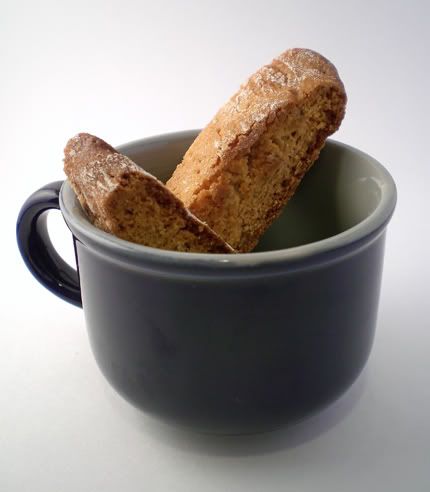 I have always wanted to join in on some of the weekly baking events that go on in the Foodie Blogosphere like Tuesdays with Doris and Hey Hey It's Donna Day, but I was too intimidated: they already had so many members, and had existed for so long that I thought it was too late and complicated to jump on the bandwagon. When I saw that Lorelei of
Mermaid Sweets
had created a new Baking Group in honor of
The Sweet Melissa Baking Book
, I saw the opportunity to participate in a group from the very beginning. Today is the group's very first post, so it was perfect timing for me to join! The generous and super cool Elyse of
Elyse's Confectionery Creations
offered to email me the first recipe (since my copy of the book would not have arrived in time for the group's first post) and I was set! I think this baking group will be a good opportunity to get me to try recipes that I normally may not chose on my own.
The very first recipe chosen for
Sweet Melissa Sundays
was
Honey Beescotti
. Be sure to check out
Lorelei's blog, Mermaid Sweets
for this week's recipe! And see all of the
Sweet Melissa Sunday's members'
posts of Honey Beescotti as well!
The recipe called for Candied Orange Peel, either store-bought or homemade. I opted to make mine myself, but chose to do Candied
LEMON
peel instead of orange, because we are not big fans of Orange flavor in our desserts in this household. [see
here
for instructions on making Candied Citrus Peel, it's really rather easy!] One other change I made was to reduce the amount of almonds from 1/2 C to 1/4 C, and to use sliced almonds instead of whole, chopped almonds. And since Dan doesn't love almond flavored things, I altered the amount of extracts called for in the original recipe - instead of 1.5 tsp of Vanilla and 1.5 tsp of Almond extract, I used only vanilla and reduced the amount of extract to 2 tsp. Aaanndd I also chose to leave out the carraway seeds.
I didn't really have a super-spreading-out problem like some of the other members. And my dough WAS super sticky, but not unmanageable with lots of extra flour for dusting. Maybe because I chilled it sufficiently? After initially preparing the dough, I chilled it not just for the 1 hour the book called for, but actually overnight because it was getting late. Then the next morning, I made two logs, refrigerated another 30 min and baked. Perhaps that helped?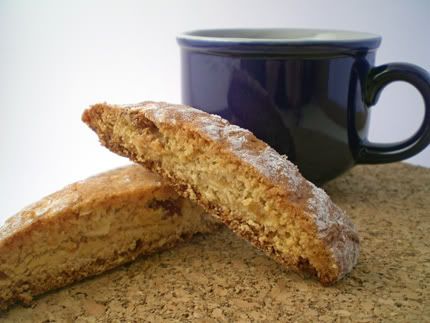 As you may or may not know, the italian cookies "Biscotti" get their name from thei method of baking: it is baked
twice
to get that crunchy, dry texture -- thus the "Bi" prefix ("Scotti" from cooked/burned/scaled - so it literally means something close to "cooked twice"). The recipe from the Sweet Melissa Baking Book calls for the same basic procedure. The recipe makes enough dough to get two logs, which are then baked, sliced and baked again. Since Daniel is not a fan of dry, crunchy cookies, I made one log in the traditional biscotti fashion: baked twice; and made the other log into "Unscotti" cookies: I only baked them the first time the recipe called for. I thought, HEY if it doesn't work out - I'll still have the other log's worth of cookies. But it certainly worked out. My Unscotti's were less dry and more soft, and the Biscotti's came out like your typical biscotti - crunchy and perfect for dunking in coffee. Both were successful. And I must say, if this recipe is any indication of the rest of the recipes in the book - then I am very excited that I joined this group! Both versions of the cookie were absolutely delicious! This is definitely not a recipe I would have chosen on my own to make, but I certainly am glad I made it. See? Getting out of your comfort zone every now and then is a good thing!