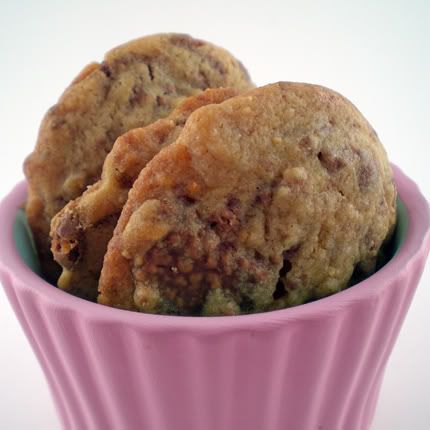 A little while back, we bought a
large
amount of mini Reese's cups to mix in to
brownies
. Since we only used about 12 reese's cups in that recipe, there's still quite a few left. Besides for the occasional snack, they were just sitting idly in the pantry. When Dan requested I make cookies, he suggested I mix in reese's cups instead of chocolate chips (he's a genius, right?). So, we promptly sat on the couch and had a reese's peanut butter cup unwrapping party. 30 minutes and what looked like about 500 foil wrappers later, we had about 43 reese's cups in a bowl. How tempting it was to just sit there and eat it like popcorn.... but alas, our willpower won (well, MINE did, I can't say the same for Daniel... he ate about every other one that he unwrapped), and we stuck the bowl in the frig. I measured out the ingredients for my cookies and waited for my butter to soften while my reese's cups were chilling in the freezer. When chilled enough that they were hard, I put them in my food processor and pulsed until it looked like this: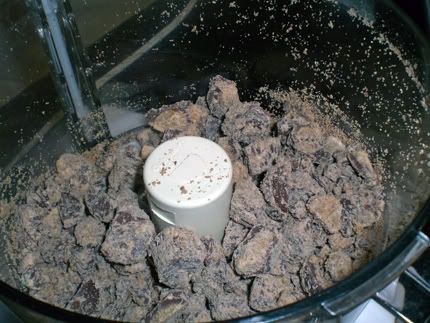 Perfect for mixing in to cookies!
For the cookie recipe, I chose Martha Stewart's
Soft Chocolate Chip Cookies
because I've been reading such good reviews on it lately. The only change I made was to sub in my chopped reese's cups for both the semisweet and milk chocolate chips called for in the recipe.
The cookies came out very good. Martha's recipe produced a very nice, soft, kind of light and cakey cookie, and the reese's cup flavor is excellent. Next time, I would repeat the Reese's Cup add-in idea, but would probably use a sturdier, more dense & chewy cookie. But don't get me wrong, they're still delicious! I might also pulse the food processor a little less and use slightly bigger chunks.
I did not flatten the cookies out like the recipe said, so my cookies are kinda lumpy and ugly... but who says ugly can't be tasty?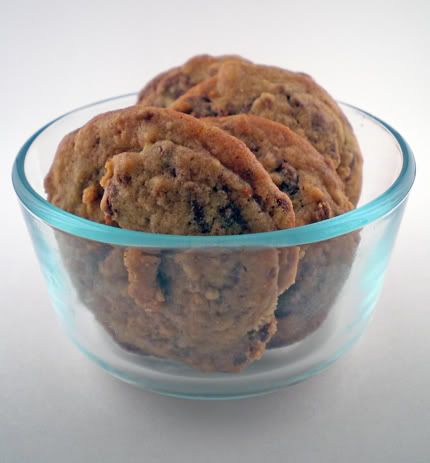 Reese's Peanut Butter Cup Cookies
adapted from Martha Stewart's
Soft Chocolate Chip Cookies
.
Ingredients
:
1 1/4 C All purpose Flour
1/2 tsp salt
1/4 tsp baking soda
7 tblspn unsalted butter, softened
1/4 C granulated sugar
1/4 C packed light brown sugar
1 large egg, room temp
1 tsp vanilla
3 tablespoons sour cream
~43 miniature reese's peanut butter cups, frozen and chopped
Directions
:
Preheat to 350. Whisk flour, salt, and baking soda together to combine. Cream the butter and sugars together until pale and fluffy. Beat in the egg and vanilla. Reduce speed to low and add the flour mixture in 2 batches alternately with the sour cream. Beat until just combined - Don't overbeat! Stir in reese's cups. Cover, and chill for at least 10 minutes.
Using a 1 to 1 1/2 inch cookie scoop and drop on to parchment lined baking sheets (you will probably need a teaspoon to ease the sticky dough out of the scoop and on to the baking sheet. Bake 12 - 15 minutes, until cookies are slightly golden.