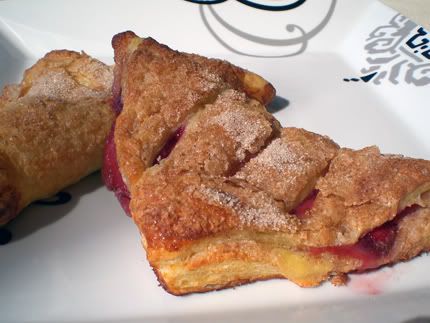 This week's recipe, chosen by Tracey of
Tracey's Culinary Adventures
, was for Caramel Apple Turnovers with Sweet Ricotta Filling (p. 25 of the
Sweet Melissa Baking Book
). Since Daniel doesn't like his apples warm or cooked (he only likes 'em cold and crispy - fresh and straight from the fridge), I decided to adapt the recipe in honor of his birthday. Yesterday was his actual birthday, but as he spent the past two days sick, I decided to make these the way he would like for the first day he could eat normally again.
Instead of Caramel Apple filling, I decided to substitute strawberries in for the apples.
by the way, if you ever need to make perfectly sized strawberry slices, and make them quick, use an egg slicer...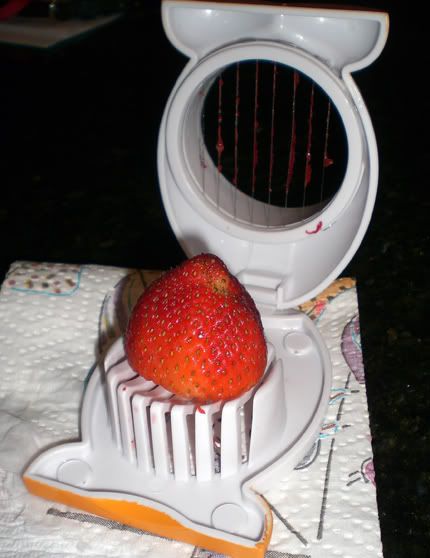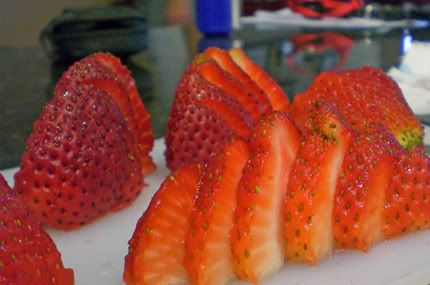 Like a few other people, I had trouble getting my water & sugar to turn amber without turning into crystallized chunky sugar clumps. The first attempt ended in total gloppy madness. The second attempt went slightly better, though I wound up having to add all the water in before adding the strawberries to avoid a second clumpage. I just decided to go with it when it turned amber, even though I did it out of order. And I too had some trouble assembling... it was difficult to get the edges to seal, but I think it's my own fault, because of overfilling, and filling to close to the edges. Oh wells!
They baked up nicely, and since I made mine a bit smaller than the original recipe called for, mine were totally done in 20 minutes.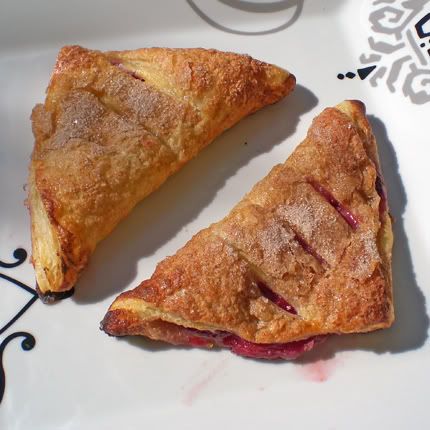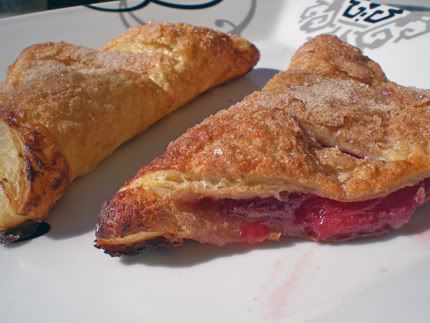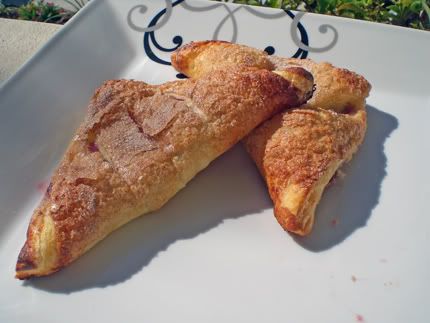 The result was quite good. I really enjoyed the strawberry filling... it was a bit like jam. Very good. Though I didn't really taste the ricotta filling. Maybe the strawberry flavor was too overpowering.
With the remaining scraps from trimming my puff pastry sheets, I brushed with egg wash, and sprinkled with cinnamon sugar...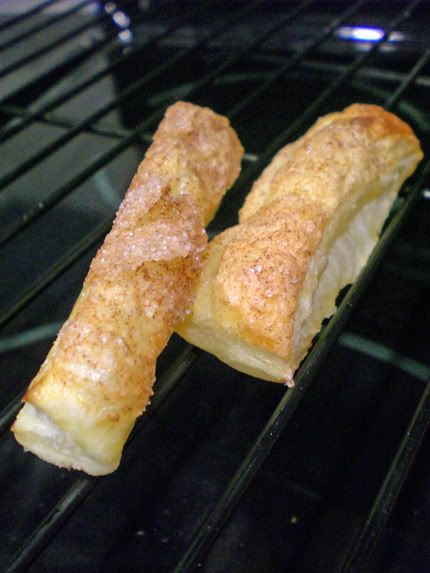 Though the Turnovers were tasty, Dan probably would have been just as happy if I just made these simple little scraps!
Be sure to check out the rest of the
Sweet Melissa Sunday's Bakers'
posts to see their results!