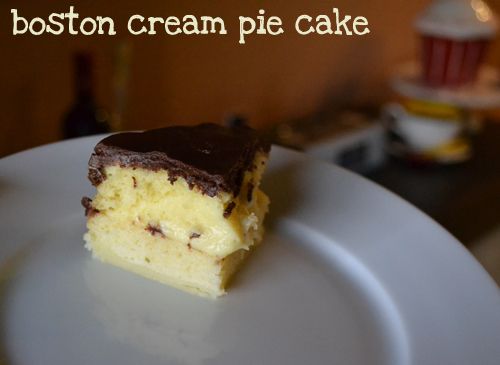 I honestly don't think I've ever tasted a traditional Boston Cream Pie but I've had (and thoroughly enjoyed) my share of its donut counterpart. When Boston Cream Pie came up on our schedule for Club Baked - I knew I'd be baking along that week.
But I'm late! I made the cake by September 1st, our date for this recipe. But didn't get to make icing and pastry cream until yesterday
I put a tiny spin on this recipe. Since my only real experience with Boston Cream Pie is with donuts... I made a giant Boston Cream Pie Cake in the shape of a donut! It was the first time I got to use my Giant donut pan. Instead of making a chocolate pastry cream and a vanilla pastry cream, I made only vanilla and put just one layer of cream in the cake. I thought I had all the ingredients on hand after a shopping trip, only to realize I had no heavy cream for the chocolate glaze, so I improvised and made an alternate version.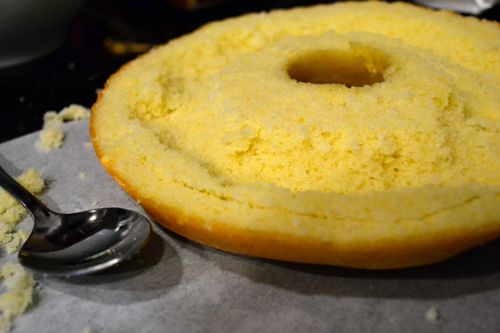 Half of the donut cake, hollowed out slightly to make room for pastry cream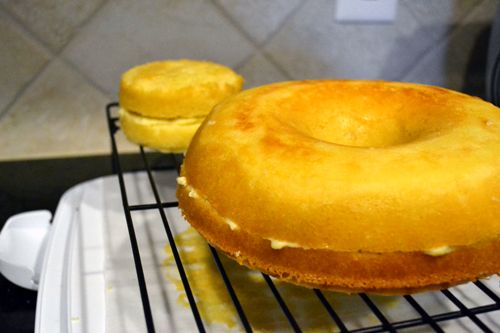 This recipe made enough for one giant donut (equivalent to 2 8-inch round cakes) and one 4 inch cake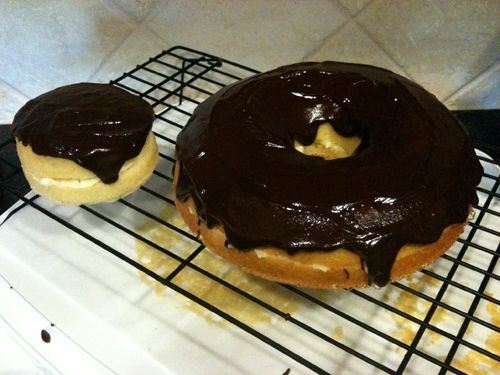 Quite a large chocolate glazed Boston Cream donut. :) And the biggest donut hole ever!
Quick and Simple Satiny Chocolate Glaze, adapted from AllRecipes
Combine all ingredients in the top of a double boiler and stir until completely smooth.
While still warm, spread on top of cake and let drip down the sides.
Overall, this recipe was pretty good. Anything I didn't love about it was probably my fault. For example, We thought it was a tiny bit on the dry side, but I think that would have been better if I had more layers of pastry cream like the original recipe said. Plus, my pastry cream was very thick. Like thicker than pudding thick. But I think perhaps I overcooked it.