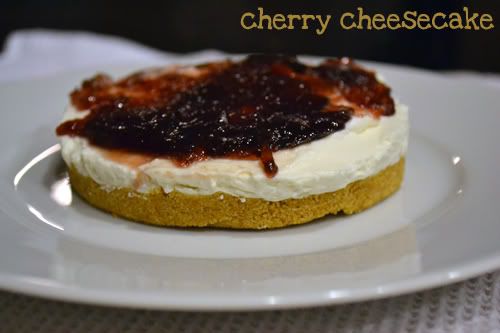 Have you ever prepared a recipe, and has it turn out totally different from what you were expecting? But you wound up really liking it? I was a bit careless while preparing this recipe and made a little mistake. As a result, this quick and easy Cherry Cheesecake recipe produced a unique, light texture that I really wasn't expecting from a no-bake cheesecake. The airiness made it actually very little like cheesecake and more like a mousse. But everyone who tasted it absolutely loved it. It won't be replacing my favorite cheesecake recipe just yet, but when you want something quick and easy (no baking involved!) and light, this might be the cheesecake for you. (And no, by "light" I do not mean low in calories. Sorry!).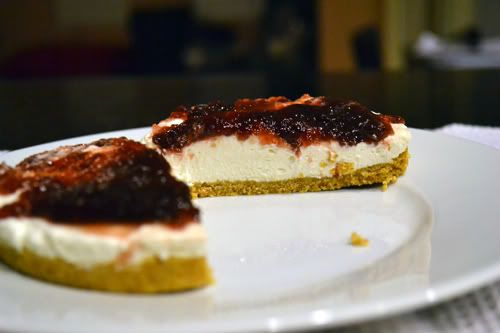 Quick and Easy Light Cherry Cheesecake, adapted from Nigella Lawson
Ingredients:
1 1/4 cups graham cracker crumbs
2 tablespoons sugar
3/4 stick unsalted butter, soft
10 ounces cream cheese, room temperature
1/2 cup powdered sugar
1 teaspoon pure vanilla
1/2 teaspoon lemon juice
1 cup heavy cream
1 (1o-ounce) jar black cherry spread (or conserves)
Grease an 8 inch springform pan.
Pulse the graham cracker crumbs in a food processor turning it into crumbs, then add the sugar and butter. Pulse again to make the mixture clump. Press the graham mixture into the bottom and slightly up the sides of the springform pan.
Beat together the cream cheese, sugar, vanilla and lemon juice until it is smooth.
Whip the heavy cream until it is the consistency of whipped cream (**See Note Below)
Fold the cream into the cream cheese mixture. Spoon the cheesecake filling on top of the graham cracker crust and smooth with an offset spatula. Refrigerate for 3 hours to overnight.
When ready to serve, un-mold the cheesecake and spread the black cherry conserves over the top.
**(This is where I strayed from Nigella's recipe. She only lightly whipped her cream, but I got careless and overbeat it. I think this is what added to the lightness of my cheesecake. If you want it light, beat the cream until stiff peaks form. If you'd like a more traditional texture, only lightly beat the cream).