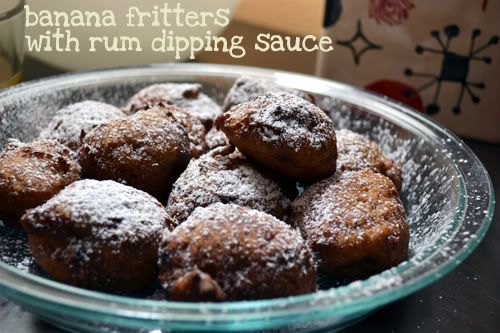 I love banana bread. My grandmother used to make it all the time when I was young, and me and my sister would always look forward to having slices when we got home from school for several days after. When I moved to Florida, she gave me her recipe. Now, at any given time, if you were to take look in my freezer you'd find a zippy bag full of ripe bananas just waiting to be baked into something. But very rarely do I ever actually make banana bread. For some strange reason, the husband doesn't love banana bread. He doesn't dislike it, but if I were to make it, it'd either sit on the counter until it went bad or until I ate the entire thing by myself.
...but he does love doughtnuts, zeppoles and other similar blobs of fried doughy goodness.
When it was my turn to host Club Baked - I chose the Bananas Foster Fritters to make both of us happy.
These little fritters were very well received - and very easy to make! I made the dough and sauce in advance and chilled it in the fridge until after dinner, since I knew they were best served right away. After dinner we heated up the oil, ice-cream scooped some dough into the hot oil and a few minutes later we had some hot, fresh banana fritters.
My one issue was with browning. I watched my oil temperature very carefully, but they still browned far too quickly. It probably had something to do with the small size of my fritters. I got about 13 fritters and the recipe said 6 - 10. At 375 F, they needed barely 1 minute per side until they were done on the outside. Even at 355 - 360 degrees, they still didn't need a full 2 minutes per side like the recipe said. But for some reason, they were still a tad underbaked in the middle. Oh well - that didn't take away from how much we all enjoyed them.
I opted for a different rum sauce than the one in the book (because of the ingredients I had on hand). We loved the rum sauce, and I think it really finished these off nicely. I'm including both recipes below.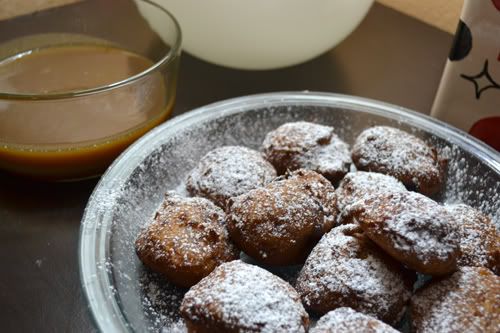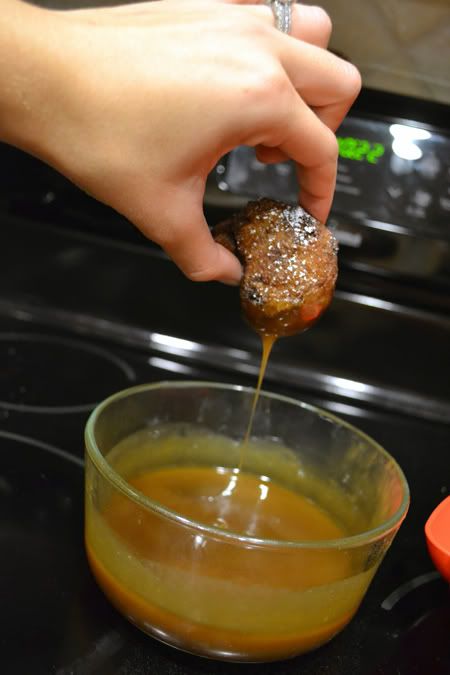 Bananas Foster Fritters from Baked Explorations
Ingredients for Rum Dipping Sauce (recipe I used is below):
4 Tablespoons unsalted butter, cut into 1 inch cubes
1/3 cup firmly packed dark brown sugar
1/3 cup heavy cream
1 teaspoon banana liqueur (or pure vanilla extract)
2 Tablespoons dark rum
Pinch cinnamon (optional)
For the fritter dough:
1 1/4 cups all purpose flour (+ more if needed)
3 Tablespoons firmly packed dark brown sugar
1 teaspoon baking powder
1/2 teaspoon salt
1/4 teaspoon ground allspice
1 teaspoon cinnamon
3 medium ripe bananas
1 tablespoon dark rum
1 teaspoon
banana liqueur (or pure vanilla extract)
1 Tablespoon unsalted butter, melted and cooled
Vegetable oil for frying
1/4 cup confectioners sugar
Make the rum dipping sauce:
In a medium saucepan over medium heat, stir the butter and sugar together until smooth. Add the cream and bring to a boil. Remove the pan from the heat and stir in the liqueur, rum and cinnamon if using. Set aside until serving time. (The sauce can be made ahead. Allow it to cool, then cover it tightly in plastic wrap and refrigerate. Rewarm it over low heat in a saucepan or microwave it in short 15 second blasts before serving).
Make the fritter dough:
In a large bowl, whisk together flour, brown sugar, baking powder, salt, allspice, and 1/2 teaspoon of the cinnamon. Use your hands to rub the chunks of sugar into the flour mixture and whisk again (it is ok to have a few chunky sugar pieces remaining).
In another large bowl, mash the bananas with your hands or a heavy spoon and stir in the rum, liqueur and butter.
Use a eubbwe spatular to fold the dry ingredients into the banana mixture. The mix should look wet, but it should hold its shape when scooped into a small ball. If dough is too thin, keep folding in flour 1 tablespoon at a time until it stiffens up. Refrigerate the dough while the frying oil heats up and you prepare the sugar topping.
Pour enough oil into a deep skillet to fill it 3/4 inch to 1 inch deep. Slowly heat the oil over medium-high heat until it registers 375 degrees F on a deep-frying thermometer.
While the oil heats, in a small bowl, whisk together the confectioner's sugar and remaining 1/2 teaspoon cinnamon. Set aside.
Fry the fritters:
Line a plate with double layer of paper towels and set it near your work area.
Using a small spatula and a small spoon, two spoons, or an ice cream scoop with a release mechanism, drop heaping spoonfuls of dough into the oil. Do not crowd the skillet. Cook until the fritters have browned on one side, 2 to 3 minutes. Using a slotted spoon or tongs, turn them over to cook for another 2 minutes or until browned. Do not overcook or burn the fritters. Use the slotted spoon to transfer the fritters to the prepared plate and continue frying dough until finished.
Place the fritters on a serving plate and sift the cinnamon sugar over them. Serve immediately with rum dipping sauce.
Rum sauce (the one I used),
adapted slightly from Epicurious
Ingredients:
6 tablespoons (3/4 stick) unsalt
ed butter
1 cup (packed) golden brown sugar
1/3 cup whipping cream
2 tablespoons light corn syrup
2 tablespoons dark rum
Melt butter in heavy medium saucepan over medium heat. Add brown sugar, cream and corn syrup and stir until sugar dissolves. Boil 1 minute. Remove from heat. Mix in rum. Boil 1 additional minute. Cool slightly. (Can be made 1 day ahead. Cover and refrigerate. Rewarm before using.)
See how the other Club Baked bakers did with the fritters by visiting Club Baked's site!