There have been a few different Red Velvet Brownie recipes floating around the internet for a little while. One that I've had on my To-Do list for a long time now comes from
How Sweet It Is
. I finally decided to put this one at the top of my "Things to bake" list, but I didn't want to make the White Chocolate Frosting that goes with it. First, I don't love white chocolate. Second, I don't know about you but I always dread having to melt down white chocolate. It always seems to be temperamental for me. It usually winds up chunking up and looking less than tempting. So, I decided to skip it and go with a traditional match for Red Velvet... Cream Cheese Icing. I whipped up my favorite cinnamon bun cream cheese frosting and spread that on top of the bars. How'd it turn out? Well, I did get a comment that night, "This is the best thing I've ever put in my mouth". I'd say it went over well. The brownies found that perfect medium between the fudgey chocolatiness of a brownie, and the only-barely-cocoa-ness of Red Velvet. I'm glad I went with the Cream Cheese Icing because it really finished these off perfectly.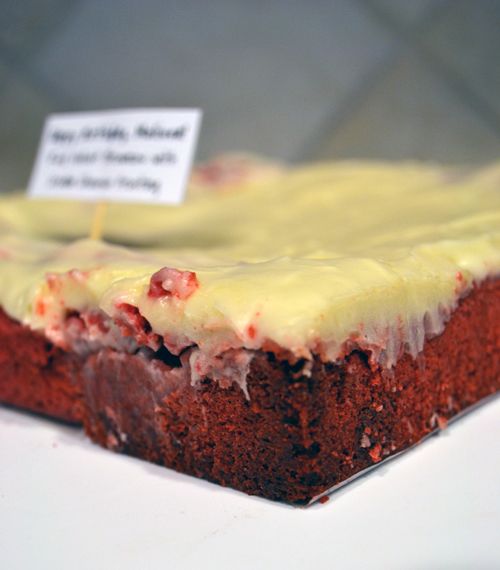 Ingredients:
1/2 cup butter, room temperature
2 teaspoons vanilla extract
1 1/4 cups all purpose flour
3 tablespoons cocoa powder
2/3 cups chocolate chips (optional)
In a medium bowl, combine flour, salt and cocoa powder.
In the bowl of an electric mixer, cream butter and sugar until fluffy. Add eggs one at a time, then add remaining teaspoon of vanilla. With the mixer on medium speed, add in the flour mixture. Add food coloring and stir until incorporated. Stir in the chocolate chips if using.
Spread in the 8 x 8 p

an. Bake for 25-30 minutes, or until toothpick inserted in center comes out clean. Let cool almost entirely before frosting.
My favorite cream cheese cinnamon bun frosting recipe
:
Ingredients:
2 ounces cream cheese, room temperature
4 tblspn unsalted butter, softened
1.5 c confectioner's sugar
1/2 tsp pure vanilla extract
Beat cream cheese and butter together until mixed and fluffy. Add sugar, mix until incorporated. Add vanilla and stir to combine. Spread on the barely warm brownies.