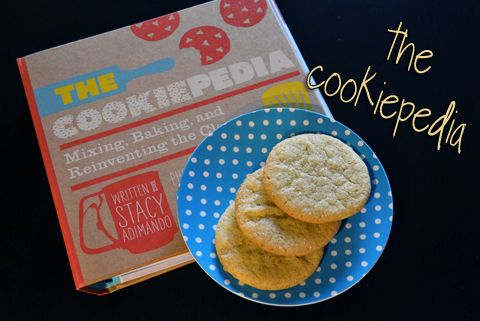 Recently I was asked to review a new cookbook, The Cookiepedia: Mixing, Baking and Reinventing the Classics by Stacy Adimando. SURE I said, who doesn't want more cookie recipes? Soon enough, the little book arrived in the mail, and honestly, it was so cute I couldn't wait to start making some of the recipes.
First, I noticed that the book is a spiral bound. This one simple little thing immediately made me happy. How many times have you been working from a typical cookbook only to have it slam closed when you're in the middle of a recipe with fingers covered in butter and eggs? The spiral binding allowed it to lay flat on the counter and stay open throughout prep time.
Second thing I noticed before I even started baking was how absolutely adorable the book was. It is packed full of darling little illustrations that appear on almost every page. And, I don't know about you, but I'm a visual person. This book has an index of its recipe that made selecting a recipe so much easier. There are 6 categories or chapters of cookies: Buttery, Chocolaty, Fancy, Fruity, Spicy, and Nutty & Seedy. Each chapter has a two-page introduction that serves as an index: Each cookie in the following chapter has a portrait in this little pictorial table of contents. They say you eat with your eyes first! With a glance at this chapter intro, I was able to quickly pick out which cookie I wanted to make.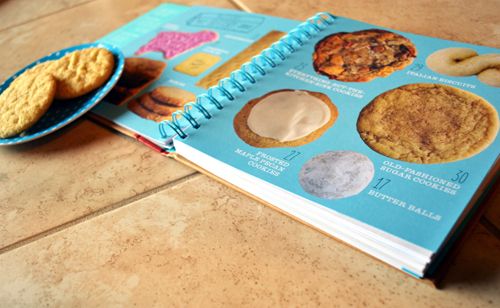 i love this picture index!
I've made two recipes from the book so far. First up, I made the Crinkle Cookies. I've always thought these cookies were so pretty but have never made one before because I've heard they're on the dry side. The description in this book, though, said they have a "down-home fudgy flavor". I was sold.
The dough came together rather quickly. Besides chilling time, these cookies were fast and simple. The result? Moist, chocolaty perfection. They were almost truffle or brownie like. Very unlike the dry crumbly crinkle cookies I've heard about. I brought them to work where they were very well received (and all gone!) The only adjustment I made to the recipe was to use a combination of bittersweet and semisweet chocolate instead of all bittersweet. I can't wait to make them again and try the Espresso variation Adimando includes at the end of the recipe.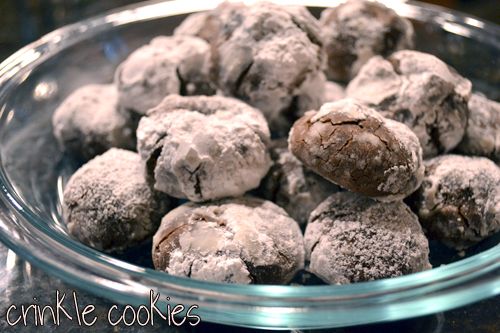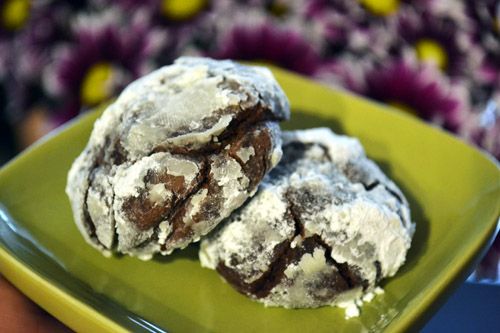 The second recipe I made was Old-Fashioned Sugar Cookies. Once again, the dough was simple to put together. Really! Daniel went to help a neighbor change a fire alarm battery, and by the time he came back a few minutes later, the dough was finished and chilling in the fridge. The only variation I made on this recipe was to dunk the top of my cookies in turbinado sugar rather than sprinkling vanilla sugar on top (but I bet that would have been so delicious!). These came out moist, flavorful, and chewy. They very well might have made their way into my top 3 favorite sugar cookie recipes.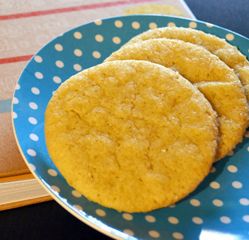 Below is the recipe for Crinkle Cookies, posted with permission from Quirk Books (recipe shown with my small alterations). For the other recipes, pick up a copy of The Cookiepedia by Stacy Adimando.
The Cookiepedia is set to come out in September. The "re-invented-ness" of the recipe make them perfect for a seasoned baking pro, while the helpful guides, instructions, and glossaries make it great for beginners, too. If you want to try out some new versions of classic cookie recipes, be sure to pick up a copy when it comes out.
Crinkle Cookies, from The Cookiepedia by Stacy Adimando
Ingredients:
3 oz bittersweet chocolate, finely chopped
3 oz semisweet chocolate, finely chopped
1/4 cup + 2 Tblspn unsalted butter at room temp
1/2 cup sugar
2 eggs, room temp
1 tsp pure vanilla
1 1/2 cups all purpose flour
2 Tblspn cocoa powder
3/4 tsp baking powder
1/4 tsp salt
Powdered sugar for rolling
Set a pot of water on the stove and bring to a simmer. Place the chopped chocolate and butter into a glass or metal bowl and set the bowl over the simmering water. Let the chocolate start to melt, then stir occasionally until it's smooth. Remove from heat and set aside.

Beat the sugar and eggs on medium speed for several minutes until thick and smooth. Add vanilla and melted chocolate and continue beating on medium-low until combined.

Sift the flour, cocoa powder, baking powder and salt in a separate bowl. Add the mixture in two batches, beating each time until just combined. Cover the dough with plastic wrap and let chill for about 2 hours, or until firm enough to scoop. Then, preheat to 325.

Line several cookie sheets with parchment. Roll 1 inch balls, then toss in powdered sugar, coating completely. Place about 1 1/2 inches apart on the cookie sheet. Bake 8 - 10 minutes or until starting to feel firm to the touch. Cool for 5 minutes before transferring the cookies to wire racks to cool completely.