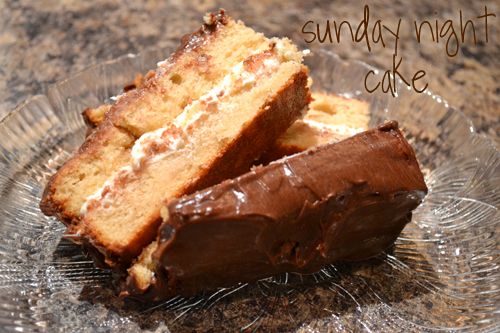 Every once in a while, I find myself in a comfort baking rut. It's not that I haven't wanted to bake lately, but that I keep turning to tried and true favorites. Does that ever happen to you? When you find you aren't in the mood to experiment with new recipes, and would rather go with one you know will come out just the way you want.
Luckily, that is one of the main reason I join online baking clubs. Someone in the club chooses the recipe, and we all bake along. It really gets me to go outside my comfort zone and try something new. While I love the cookbook Baked Explorations: Classic American Desserts Reinvented, the "Sunday Night Cake" is probably not one I'd have picked on my own, especially not when I'm in an un-adventerous baking mood. I already have a favorite plain vanilla cake recipe, so this is not one that would have stood out to me as a "need to bake asap!" recipe. But, Julie of A Little Bit of Everything chose this recipe as our bake-along for August 15th... and I'm SO glad she did! It was such a hit. Whenever I make something "plain" I always worry that it'll just sit there at Sunday dinner and not get eaten. But everyone loved this cake. The cake itself was on the dense side, and the small 1/2 teaspoon of cinnamon really shined through. The frosting was very unique - I love the idea of a chocolate pudding frosting!
The one change I made to the recipe was to cut the 8 inch square cake in half and add a vanilla buttercream layer. I thought the sweetness of the vanilla layer played very well with the richness of the chocolate pudding frosting. All the flavors worked together very nicely. This is a definite will-make-again!