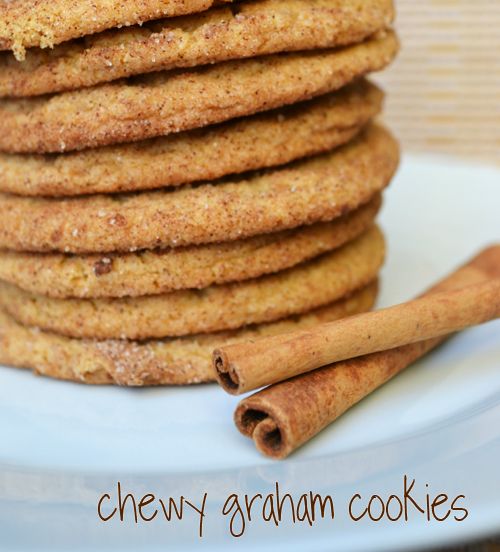 When I make chocolate chip cookies, there always seems to be a cookie or two made from the very last bits of dough at the bottom of the bowl that have no chocolate chips in them. And those cookies are undoubtedly Daniel's favorite ones of the whole batch. If you are like Daniel and sometimes just want a plain ol' cookie without the mix-ins then these are the cookies for you.
These remind me of what a graham cracker would taste like if it were chewy instead of crunchy. The recipe is adapted from one created by My Kitchen Addiction.
I've actually made this recipe before but they served as the base for my Smore Bites with Homemade Marshmallow. The cookie base was so good, I needed to try them in straight up cookie form. They did not disappoint. I did make a few changes to both the original recipe and what I did last time in the smore bites, so I'm posting the adapted recipe below. Enjoy alone, or sandwich some more deliciousness between two of them (nutella or vanilla ice cream cookie sandwiches anyone?)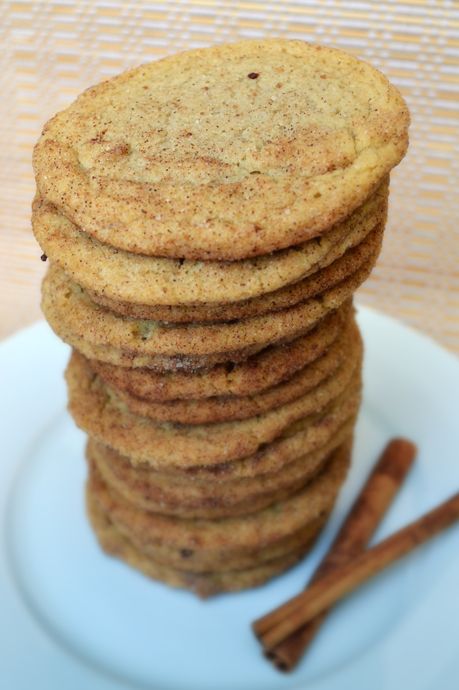 3/4 cup (1 1/2 sticks) unsalted butter, softened
1 1/4 cup granulated sugar
1 teaspoon pure vanilla extract
2 1/2 cups all purpose flour
1 1/2 teaspoons baking soda
1 teaspoon ground cinnamon
1/2 teaspoon cream of tartar
Approximately ¼ cup to ½ cup cinnamon sugar
Preheat to 375 F and line baking pans with parchment paper.
In the bowl of an electric mixer, cream together butter, sugar, molasses, and syrups. Add the egg and vanilla and beat until incorporated.
In a medium bowl, whisk flour, baking soda, cinnamon, cream of tartar, and salt to combine. Stir in the flour mixture and mix just until combined.
Using a 1 ½ Tablespoon cookie scoop, scoop out dough balls and roll them in cinnamon sugar. Place cinnamon sugar coated cookie dough balls on the prepared baking sheets and bake for 9 – 10 minutes, when cookie is just started to turn golden at the edges. Be sure the cookie is set but do not overbake! Allow cookies to cool for about 5 minutes on the cookie sheets before removing to a wire rack to cool completely.