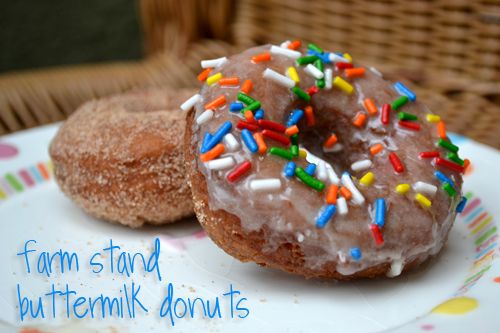 Lately I've been baking and making all the things I've always wanted to try, but never got around to it. I've always wanted to try making marshmallows from scratch - CHECK! And now, thanks to Gloria of
The Gingersnap Girl
, I can now cross another off my list. Gloria was our host for this week's Club Baked and she chose... drum roll please... Farm Stand Buttermilk Donuts!
I've always wanted to try my hand at homemade donuts but I was always afraid of frying. I assumed frying causes dangerous hot oil splatters, burns, and that it stinks up your house for weeks... and I suppose it could do all of those things... but I didn't have that problem (besides the stinky house part, because it
does
smell like a carnival in here now). I heated up the 1 inch of oil in a dutch oven, and the sides were tall enough to prevent splattering and burns. So besides the funnel cake aroma lingering in the air, this really was a breeze. This recipe was great. The dough was simple to put together, it was sticky but easy to work with, and held together nicely when cut into a donut shape with biscuit cutters.
I halved the recipe and made 9 medium size donuts and 13 donut holes. The end result was quite amazing, and left me wondering - WHY hadn't I tried this sooner?? It produces a cakey donut with a great texture - not too dry or dense. I used the cinnamon sugar coating and vanilla glaze from the Baked book and they were terrific.