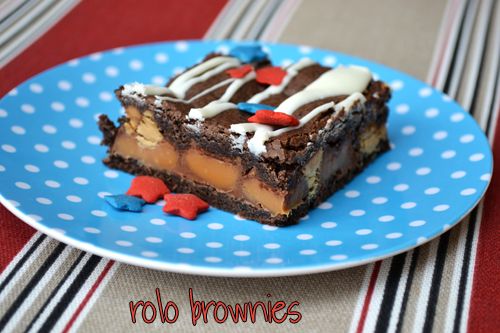 Happy Fourth of July everyone! I hope you are all enjoying your day with family and friends, eating lots of food and watching fireworks. If you are going to a barbecue and you need something to bring, this is a great idea that can be made at the last minute.
The second I saw these Rolo Brownies on My Baking Addiction, I knew I'd be making them at some point. When it came time to pick what to make for a Fourth of July party, I thought these would be the perfect thing to bring. They're pretty quick to throw together - it involves a short cut - a boxed mix, something I very rarely do! But it tastes like homemade. If you're not a fan of boxed mix flavor, don't worry - neither am I, and these taste nothing like something you get from a box. Plus, they're quite unique! I doubt anyone else will be bringing Rolo-stuffed brownies to your barbecue.
I've added the simplest, quickest Fourth of July decorating idea that will turn these brownies, or any brownie recipe for that matter, into a festive, Star-Spangled dessert. :)
Star Spangled Rolo Brownies from My Baking Addiction
Ingredients:
1 box chocolate fudge cake mix
1/3 cup evaporated milk
1 stick unsalted butter, melted
5 packages Rolo (or 40 rolos) unwrapped
Peanut Butter Chips
Preheat to 350 F. Lightly spray an 8 inch square baking pan with non-stick spray. Line with 8 in Cake Pan Pre-Cut Parchment Square.
In a large bowl, combine cake mix, evaporated milk, and melted butter until combined. Divide the batter in half, set half aside. With half of the batter, press into the bottom of the prepared pan in an even layer. Bake for 8 minutes, then remove the pan from the oven and set aside to cool for 10 minutes.
Arrange rolos over the surface of the brownies, close together. Sprinkle peanut butter chips in all the spaces in between the rolos. On another 8 in Cake Pan Parchment Square, pat the remaining brownie dough into an 8 inch square. Turn the parchment over on top of the rolo layer, dough side down, and then peel the paper away. Bake for another 20-25 minutes.
Let brownies cool completely before removing from the pan or cutting.
Want the quickest, simplest way to decorate your dessert for 4th of July? Take any white frosting, microwave for 10-15 seconds are stir until frosting is pourable. Drizzle over the top of your dessert, and sprinkle with Red and Blue Star Shaped Sprinkles. Voila! I used this technique on the Rolo Brownies and on some Blondies I made.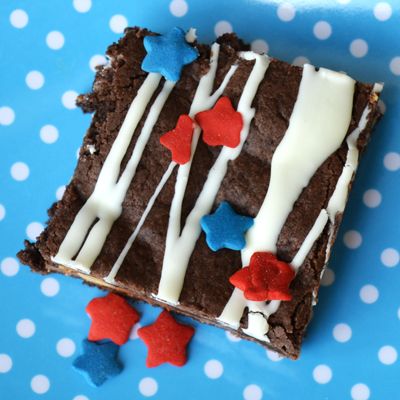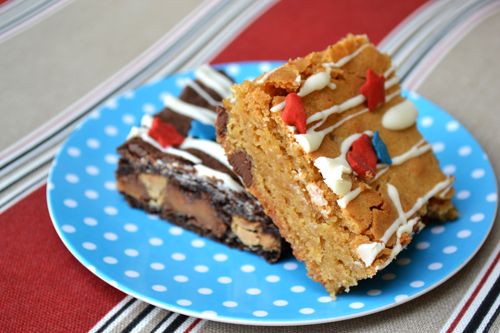 Recipe Card! Click to enlarge: