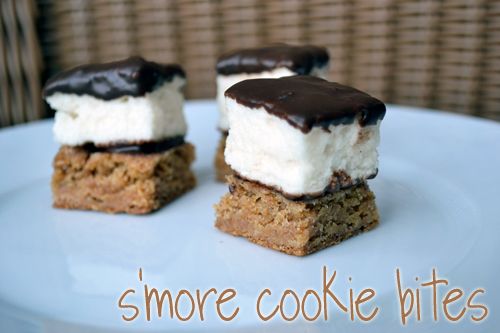 During my baking adventures on this blog, I've discovered that some recipes are more difficult than they appear, and some recipes are actually a lot easier than they would seem to be. For example, some people make using yeast look effortless, however, I generally wind up staring at a beautiful dough ball that refuses to rise. But on the other hand, I would have assumed that homemade marshmallows were a difficult confection to put together. I've wanted to make them for some time, but fear of hot stickiness, 3rd degree burns, and candy thermometers made me hesitate. Finally, I gave in. And I'm SO glad I did because, as it turns out, homemade marshmallows are actually quite simple to make. Plus, they're unfathomably more delicious than their store-bought evil twin counterparts. These cloud-like vanilla bites of heaven were much less dense, more moist, and a whole lot more flavorful than the perfectly cylindrical bags of mallows from the grocery store... but don't get me wrong, I'd still eat a bag of those :)
I can't wait to make all different flavors of marshmallows now that I know how easy they are.
After I made the marshmallows, I decided I needed to turn them into something else. Since many different s'more concoctions have been making their way across the food blogosphere, I hopped on the bandwagon and made bite sized s'more bites. The bottom layer is a Chewy, Graham cookie. A homemade marshmallow is "glued" to it with some chocolate, and some more chocolate tops off the whole thing. Consensus? They're amazing.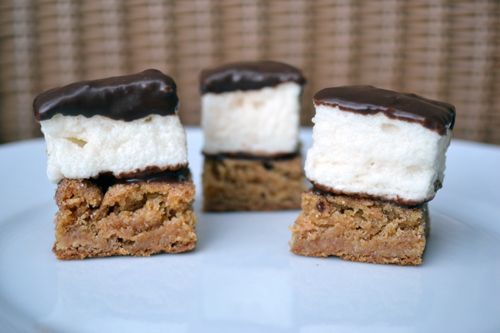 2 envelopes (17g) unflavored gelatin
1/2 cup + 1/3 cup cold water
4 large egg whites, room temperature
2 teaspoons pure vanilla extract
1 cup cornstarch, 1 cup powdered sugar
In a small measuring cup, sprinkle the gelatin over 1/2 cup of cold water. Let dissolve and soften.
In a small saucepan, mix the sugar and corn syrup with 1/3 of cold water. Place over medium to high heat and set a candy thermometer in it.
In the bowl of an electric mixer, beat egg whites on low until frothy. Add pinch of salt.
When the mixture on the saucepan reaches 210 F, increase the speed of the mixer to high to beat the egg whites until they are thick and fluffy.
When syrup gets to 245 F, remove from heat and slowly pour it into the whites, being careful so that the syrup doesn't fall on the whisk and splatter to the sides of the bowl.
Add the gelatin/water to the saucepan and stir with rubber spatula to dissolve. Pour this liquified gelatin slowly into the whites as they are whipping. Add vanilla and whip for 10 - 15 more minutes, until the outside of the bowl feels completely cool.
*If making s'more bites and not just marshmallows, please see below for my Assembly note as I found a much easier way to do this after I was done!!
Lightly grease a 9 x 13 pan with non-stick spray. Lay a pre-cut parchment sheet into the pan. Using a sift or a metal strainer, generously coat the sides and bottom of the pan with the marshmallow mixture.
Use an offset metal spatula (which has been lightly sprayed with non-stick spray) to spread the marshmallows into an even layer in the pan. Sprinkle a layer of marshmallow mixture on top of the marshmallows. Reserve any extra mixture. Allow to set overnight or 24 hours.
When marshmallows have been allowed to sit, roll a pizza cutter in the extra marshmallow mixture and cut the marshmallows to the desired size. When cut, toss the marshmallows in marshmallow mixture and shake vigorously in a wire strainer to remove excess powder.
For the Chewy Graham Cookie Layer
: adapted from King Arthur Flour Cookie Companion as seen on
My Kitchen Addiction
1 1/2 sticks unsalted butter, softened
1 1/4 cup granulated sugar
1 1/2 teaspoons baking powder
1 teaspoon ground cinnamon
1 teaspoon pure vanilla extract
1/2 teaspoon fine sea salt
2 1/2 cups all purpose flour
Lightly grease a 9 x 13 inch baking pan and line with parchment paper. Set aside. Preheat oven to 375 F.
Put butter in the bowl of an electric mixer and turn on to mix until creamy. Add the sugars and molasses and cream together. Then add honey, corn syrup, baking powder, cinnamon, vanilla, baking soda and salt. When combined, add egg and beat to incorporate. Stir in the flour. Using an offset spatula, spread the cookie dough into an even layer in the 9 x 13 pan. Sprinkle the top of the cookie dough with Cinnamon Sugar.
Bake for 12 - 18 minutes or until cookies appear set and doesn't jiggle when pan is gently shaken. Cookie should be slightly golden.
Allow to cool in the pan on a cooling rack for 5 minutes, then slip the parchment paper and cookie dough out of the pan and allow to cool directly on the cooling rack.
Your choice! I used a combination - (3) 2.25 ounce bars of Wilbur's Semisweet Chocolate, 6 squares of chocolate bark, and a few tablespoons of shortening (to thin for dipping). Melt in the top of a double boiler and once melted, keep on low and stir occasionally to avoid burning or overheating. Be sure the chocolate is not TOO hot when you are dipping your marshmallows in it, as it could cause your marshmallows to melt if it is too hot!
*I cut 1 inch squares of cookie, and 1 inch marshmallow squares. Then, I took the marshmallow, dipped the bottom in chocolate, and then used that chocolate to adhere the marshmallow to the cookie. Once the chocolate had cooled, I picked up the s'more bite and dipped the top of the marshmallow in the chocolate mixture.
BUT an easier way to do this
would have been to
1) Bake the chewy graham cookie first and allow to cool.
2) Pour hot marshmallow mixture directly onto the graham cookie and allow to set.
3) Then cut into squares and dip in chocolate.
Since I didn't know what I was going to turn the marshmallows into when I first made them, I didn't think to do this!