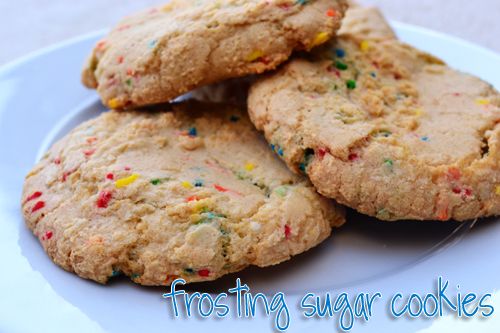 When you think cookies and frosting, you imagine cookie-cuttered cookies in cute shapes that are nicely decorated cookies with royal frosting. Well, not these cookies.
The Caramel Cookie
had the amazing idea to
mix frosting into the cookie dough
before baking.
What Katie's Baking
adapted the recipe and added melted white chocolate into the cookie dough, too. I used
my favorite homemade Vanilla Buttercream
that I use to frost cupcakes, and instead of regular white chocolate melted and mixed into the dough like Katie did, I used Wilton Candy Melts (because that's what I had on hand). The result? Delicious! The husband said these taste just like the sugar cookies you can get at the bakery. I think that's a good reaction! But my favorite thing about these cookies has got to be the adorable-ness created by mixing rainbow sprinkles right into the dough. My slightly adapted recipe is below, but be sure to see both
What Katie's Baking's version
and
The Caramel Cookie's original version
too.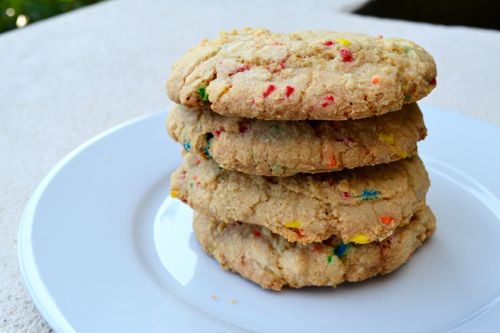 Frosting Sugar Cookies
Ingredients
:
1 1/2 cups all purpose flour
1/4 tsp sea salt
1/2 tsp baking soda
3/4 cup + 1 tablespoon vanilla buttercream frosting
1/2 cup of Wilton white candy melts
1 large egg, room temperature
1/2 tsp vanilla extract
1/4 cup granulated sugar
Directions
Preheat to 350. Line a cookie sheet with parchment paper.
In a medium bowl, whisk together the flour, salt and baking soda.
In the bowl of an electric mixer, beat together the frosting, vanilla and sugar. Then add egg and beat for two minutes on medium speed.
Add frosting mixture to the flour mixture and stir until combined. Once combined, add the melted Candy Melts while mixer is set to low speed. Finally add sprinkles and mix just to incorporate, don't over-beat.
Using a 1 1/2 Tablespoon cookie scoop, make dough balls and place on lined cookie sheet. Bake 10-13 minutes or until edges of cookies are lightly browned. Do not remove too early or cookies will sink in the middle and crack.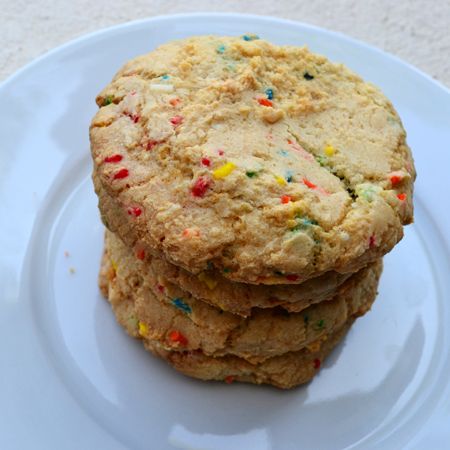 In other news, May has been a record breaking month for The Smart Baker's Cupcake Tower sales! To celebrate this achievement and the holiday weekend, we have a Memorial Day Sale going on. Go to
The Smart Baker
now to take advantage of a 10% off site wide Coupon Code! Limited time offer, good until May 30, 2011.