Sandwich
(n): a food item, typically consisting of two or more slices of bread with one or more fillings between them.
Ok, I know you know what a sandwich is. But if you look at the definition of a sandwich, you realize it's pretty impossible for someone to not like sandwiches. The definition leaves room for a lot of creativity: one can use a variety of types of bread, and put an infinite amount of things in between. Even by quickly breezing through Susan Russo's
The Encyclopedia of Sandwiches
, you see just how endless the combinations of bread + fillings can be. For example, on one page is the traditional Classic Breakfast Sandwich: Eggs, cheese, bacon on an English muffin. On another page, the much less traditional Doughnut Sandwich: Ham, cheese, and fruit spread in between two halves of a glazed doughnut. So no matter how traditional or non-traditional your tastes are, everyone can find a sandwich to enjoy in
The Encyclopedia of Sandwiches
.
I was recently given the chance to review this book, and, being a sandwich-lover myself, I jumped at the opportunity. I sometimes fall into a Nutella+Fluff+Peanut Butter, or a Buffalo Chicken + American cheese rut, so I'm more than willing to expand my sandwich repertoire. This book reminds me I can stick almost anything between two glorious pieces of carb and enjoy it for any meal.
The first sandwich I made from Russo's book (by the way, Susan Russo also has several other delicious books and a fabulous
blog
that has been a necessary element in my google reader for some time now) was her Chicken Cutlet Sandwich. I've had Chicken Cutlet sandwiches for years, but never thought to put Crushed Red Pepper infused Rappini on it. What a delightful, spicy edition to a classic sandwich.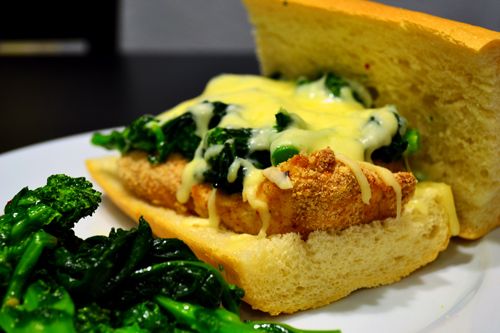 So even if you're just looking for a way to spice up your favorite sandwich,
The Encyclopedia of Sandwiches
can provide some extra spice to your usual sammy routine. Next up... I'm thinking I'll sample one of her sweet sandwich ideas (um, hello Banana Bread sandwich!)