Back when I made the Cherry Clafoutis tart, I found myself with leftover frozen Dark Sweet Cherries and no plan of what to do with them. I decided to whip up a quick and easy tart cherry sauce topping to serve with the clafoutis. I'm so glad I did because the cherry clafoutis was perfectly complemented by the super tartness of this topping combined with the sweetness of the homemade whipped cream. In fact, I really don't think I would have enjoyed the clafoutis nearly as much without these toppings. With both the sauce and the whipped cream, the whole clafoutis was happily eaten up at our family dinner.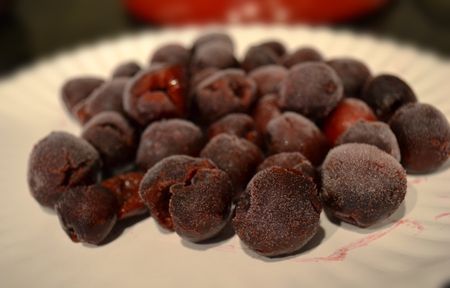 Frosty dark sweet cherries
Quick and Easy Tart Cherry Sauce Topping
: adapted from
epicurious
10 ounces frozen pitted dark sweet cherries, thawed
3/4 of a lemon, cut into thirds (1 lemon cut into quarters, discard one quarter piece)
2 tablespoon cornstarch mixed with 2 tablespoon water
Combine cherries and lemon in a saucepan over medium heat, stirring occasionally, until cherries are tender (approx. 5 minutes). Add cornstarch mixture and bring to a boil stirring constantly. Discard the three lemon pieces and allow to cool. Store chilled in the refrigerator but remove and reheat into microwave prior to serving.