Happy Mother's Day to all of the mothers out there!! I hope your day began with breakfast in bed and that it was prepared with lots of love! :)
This week for Sweet Melissa Sundays, Tess of Cookin' Chemist hosted and chose something I've never made (or even heard of) before. We made a Cherry Clafoutis Tart - a perfect treat to bring to your mother for Mother's day... well, I think so. It looks beautiful, but I haven't actually tried it yet... because I'm bringing it to Mother's Day dinner!
It was fairly easy to put together. The crust was a little troublesome (a bit on the sticky side!) but the custard was very quick to make. I had no idea what on creation a "Clafoutis" was until this week. And even then, I was pronouncing it "Cla-fow-tis" up until yesterday when I googled it and found out it was really pronounced "Klah-foo-tee". A traditional Clafoutis is a baked French dessert of cherries arranged in a dish and covered with a thick flan-like batter. The Sweet Melissa recipe is a tiny bit different I guess, because it has a sugar cookie crust. We'll see later how it tastes! I made a cherry sauce and some freshly whipped cream to go with it - more pictures later!
I didn't have a deep dish tart pan, so I had some extra custard: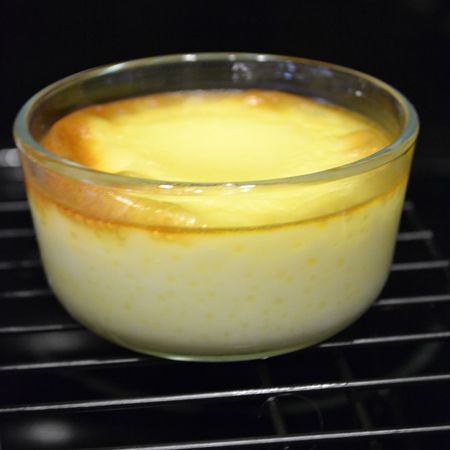 Click here to see how the
other bakers
' Cla-foo-tee's baked up. And happy mother's day!