Not too long ago I finally made a batch of Snickerdoodle Blondies and the result was perfect - just as I'd hoped it would be. Who wouldn't love the combination of a moist vanilla blondie + a cinnamon sugary snickerdoodle cookie?? The entire 9 x 13 inch tray was quickly eaten up and enjoyed. I wanted to make them again, but found myself dangerously low on cinnamon (how did THAT happen?!?). Instead of making something else entirely as I was tempted to do, I decided to use a tried and true blondie recipe that makes a smaller batch (9 x 9 inch pan), and adapt it to be Snickerdoodley. The result this time was also perfect... but I suppose it'd be hard to go wrong with a cinnamon sugar blondie. If you find yourself needing a little slice of snickerdoodle heaven to plop some vanilla ice cream on and don't want to have an entire 9 x 13 inch pan lying around (because let's face it, the whole pan will be gone in a matter of days hours no matter how large the pan), then bake up a batch of these. They're dense, fudgey and perfectly Snickerdoodley.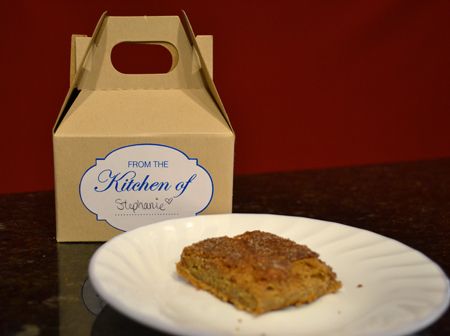 If you decide to be generous enough to give these to friends, our new product can help you do that in a chic and heartfelt way. Check out our "From the Kitchen Of" stickers in use. In this case, I put the stickers on our Small Kraft Gable boxes and they are all ready to be given out to friends, neighbors, co-workers or party guests. The stickers would also be cute on cellophane baggies filled with treats, mason jars, bakery style boxes and more. Occasionally we like to leave desserts on family members' doorsteps as a surprise (ring and run! - we're weird that way), so t
hese stickers are very handy for quickly packaging and letting recipients know where their gift came from. How do you give your homemade desserts to family and friends?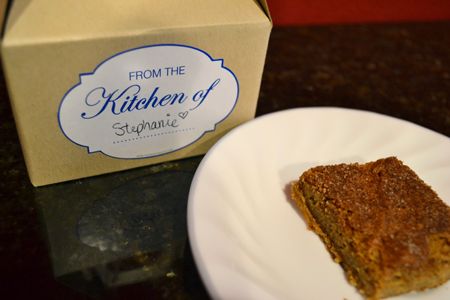 Snickerdoodle Blondies
Ingredients:
1 1/2 sticks unsalted butter
1 1/2 C all purpose flour
1 tsp Baking Powder
1/2 tsp salt
1/2 tsp ground cinnamon
1 C light brown sugar
1/2 C dark brown sugar
2 Large Eggs
1 1/2 tsp vanilla
Cinnamon Sugar topping:
1 heaping tablespoon sugar

Directions:
Preheat over to 350 F. Non-stick spray a 9 x 9 pan, and line with parchment.
In a medium bowl, combine flour, baking powder, cinnamon and salt. Whisk to combine.
Melt the butter in a small saucepan. When melted completely, add the sugars and whisk until the sugar is fully melted (about 3 - 5 minutes). Transfer this butter mixture to a medium bowl and let cool slightly. Then, whisk in the eggs and then the vanilla just until incorporated. Add flour, mix until just incorporated, don't overmix. Transfer this mixture into the preprared 9 x 9. Sprinkle the cinnamon sugar over the top of the batter.

Bake for 30 - 35 minutes or when a toothpick inserted comes out with only moist crumbs, no raw batter. Allow to cool in the pan on a wire rack.
Recipe Card! Click to enlarge.