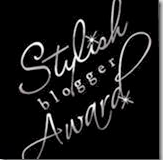 Recently, I got an email that I received a Stylish Blogger award from Stephanie at Cupcakes and Sundry. Thanks so much Stephanie! I'm completely flattered. Cupcakes and Sundry is a great food blog that you really shouldn't miss (umm Coffee & Donut cupcakes?! YUM). So I am extra honored to receive this from her! Plus, she's got a great name. :)
Those who receive this award:
must link to the person who awarded it to you

share 7 things about yourself

must award five recently discovered blogs

contact those blogs and tell them how stylish you think they are!
Thanks again, Stephanie! I'm excited to be able to nominate some of my favorite blogs.
But first, 7 things about myself:
Baking fact: I started baking after moving from University of Miami back home to NY.

Going from 85+ degrees to negative temperatures was too shocking to be able to go outside at all.

So I spent my time teaching myself to bake!

Now it is an obsession and a de-stresser.

Career fact: I'm a brand new K-6 Art teacher.

I graduated in December and in February I was lucky enough to be offered a full time elementary art position.

It has been an interesting journey so far!

College fact: My undergraduate degree was in Art History and after a semester in Italy, I now sometimes daydream about an alternate universe where I could be an art restorer in Florence.

Personal Business fact: I have a baking products business with my husband – keep your eye on The Smart Baker because we are rapidly expanding!

Several new products coming out soon (I'm super excited about these new products, I can hardly wait to tell you about them!)
Crazy Dog Mom fact: I'm obsessed with my shih-tzu, Sadie.

She appears on my blog from time to time.

Nerd fact: I love art historical fan fiction.

The saucier the better.
Mega Nerd fact:

My thesis during my undergraduate degree was entitled, "Roman Women: A study of public sculpture and its significance in the Augustan program of cultural reform".

Yep, I'm a mega ancient Rome nerd.
The five blogs I nominate for the stylish blog award are: