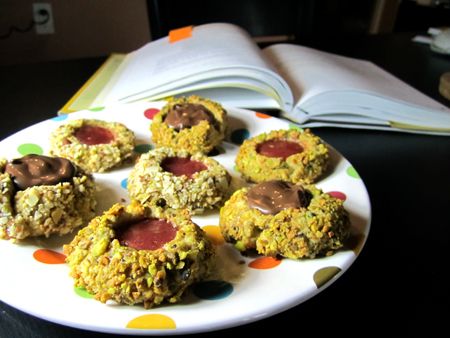 The host for this week's Sweet Melissa Sundays is the gracious
Tracey
of Tracey's Culinary Adventures. The recipe, originally chosen by Dawn of Growing Up (And Having Fun) After 40, was
Pistachio Linzer Thumbprint Cookies
. I'm glad this recipe came up because I've so often seen thumbprint cookie recipes I've wanted to try, but never had an excuse. Now, I finally had one!
These were a breeze to make - everything is done right in the food processor. I love recipes like these, especially when life is busy. While the cookies are in the over, all you have to do is pop the processor bowl in the dish washer and clean-up is pretty much done.
Since I already had a bag of pistachios in the pantry, I decided to use them... even though they were salted. I placed them in a colander, rinsed them with cold water, towel dried them and toasted them for about 10 minutes at 180 degrees to dry them. I think this trick actually worked out okay.
Due to a very busy week, I wound up chilling my dough for about a day and a half. I read that some other's had problems with it being too stiff and cracking, so I took my dough out of the fridge about while I prepared the cookie sheet, egg whites and chopped nut toppings. Thankfully, I had no problems with the stiffness of the dough. I also had a great little tool that made the Thumbprinting process nice and easy. It is intended to use in cake decorating - I've used it for making fondant flowers and such, but it really was quite helpful with these cookies.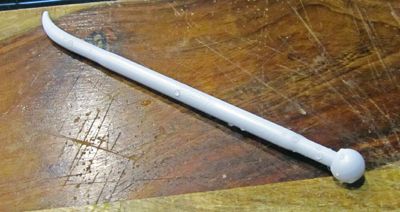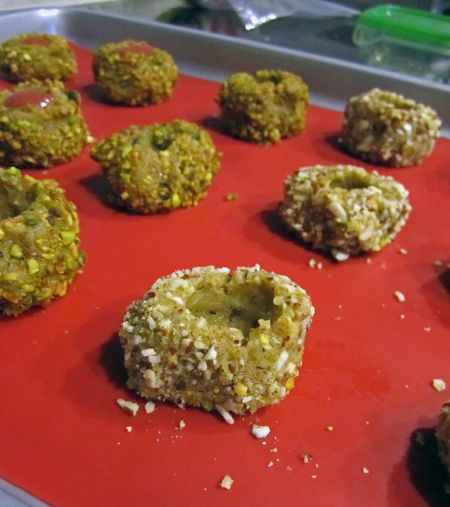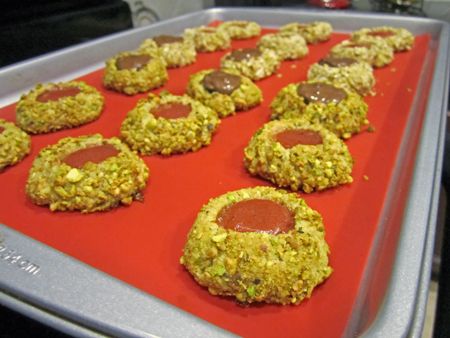 In the middle of coating my cookies in chopped pistachios, I ran out of pistachios! So I chopped up some sliced almonds for the remaining half of my cookies. Also, since the fiance isn't such a fan of jam in his cookies, I filled about a third of the cookies with chocolate chips instead of jam... even though he isn't such a chocolate lover either. I thought the chips would get melty in the oven and that I could just spread them when they were removed. However, that wasn't really the case and I decided to pipe some nutella to fill in the gaps.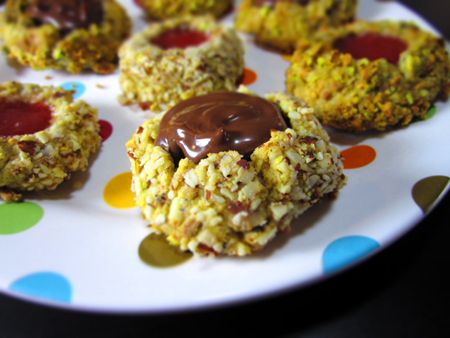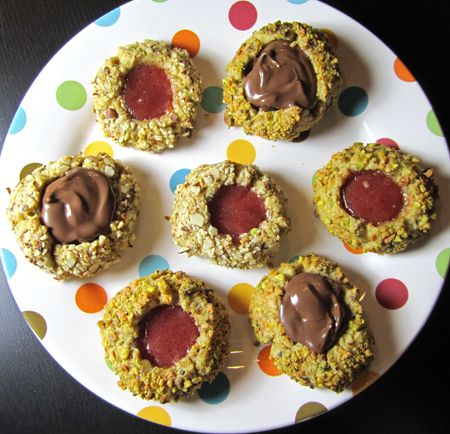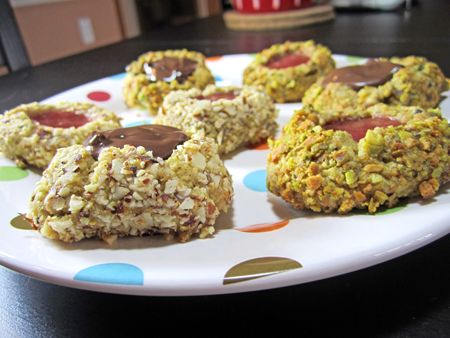 These were quite tasty - both the chopped almond & chopped pistachio coating worked well. And the chocolate-nutella filling was equally as delicious as the strawberry jam filling I used. The cookies were surprisingly soft. I thought they'd be very dry and crumbly like shortbread, but they weren't so much so. Thanks for helping out and hosting,
Tracey
! For the recipe, see her blog post
here
. Visit the other SMS bakers'
blogs
to see how their Thumbprint cookies came out. I love cookie month!