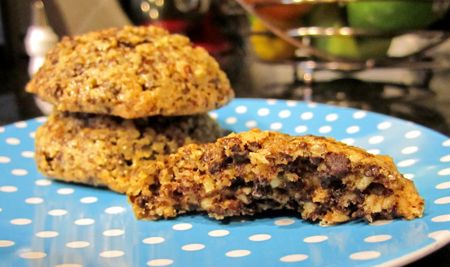 Is it ever the case with you that you just
know
you don't like something? The thought of chocolate and orange together is not something that sounds good to me, though I can't specifically remember ever actually trying it. I've seen Giada make delicious looking goodies with this "classic combination" and singing its praises after tasting it, but in my brain the two just don't seem to go together very well. But, how often do we ever
try
the things that we just innately
know
we don't like? They say your taste buds change likes and dislikes every 7 years, so shouldn't we really give the things we think we don't like another shot every so often? I only recently discovered that I like coconut... So, why not give it a try with the chocolate-orange combo? Maybe I'll like that, too. That is exactly why I decided to give this week's recipe a shot.
Since I didn't know how I felt about them yet, I decided to halve the recipe. Since the fiance does
not
like coconut, I halved that recipe again and did some with coconut and the others with chopped slivered almonds (I got this idea from
Gloria
of the blog Gingersnap Girl! Thanks, Gloria! See her post
here
)
They were a breeze to put together. The longest part of making these was probably the chopping of the chocolate, which didn't take more than a few minutes.
So how did I feel about them? Well, it turns out I don't hate chocolate-orange. I don't think I love it either, but I definitely don't hate it. :) I liked the consistency of the ones with the finely chopped almonds. But, it turns out Daniel
does
dislike chocolate-orange, so those weren't a big hit. The coconut variety was good too, however, next time I'd try to maybe roll the lumps of macaroon "dough" into balls to avoid the straggler pieces of coconut from sticking out - those pieces got too crispy and crunchy in the oven and took away from the pleasant overall texture of the cookie. I'd like to give this recipe another shot with other flavors, too.
Chocolate-Orange Almond Macaroons: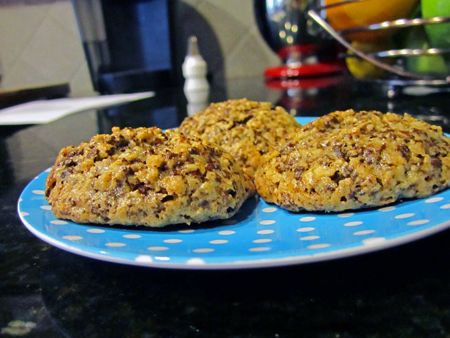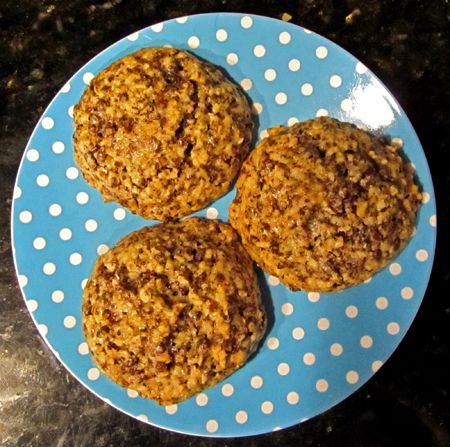 Chocolate-Orange Coconut Macaroons: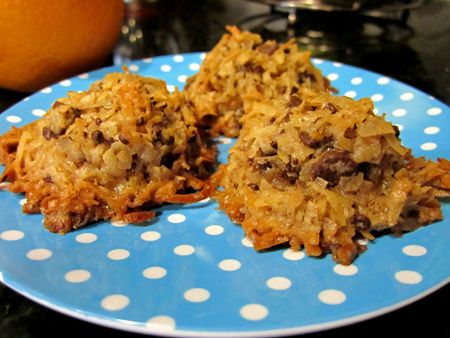 Thanks for hosting this week,
Ellen
, and expanding my taste buds! See Ellen's blog,
Blue Tree Green Heart, for the recipe
. And be sure to visit the rest of the
SMS bakers
to see their take on this week's cookies. For a list of the SMS Bakers who participated this week, click
HERE
.